Do you have white cabinets and feel like you're stuck with white countertops too? Do you want to know what countertop goes with white cabinets? The good news is that there is a range of countertop options.
The way you decorate your kitchen speaks a lot about who you are as a person. White may appear to be a boring color for a kitchen at first glance, but when it comes to cabinets, there is much you can do with the rest of your kitchen.
The countertops in your kitchen have the potential to be the focal point of the room, and the color you pick will set the tone for the rest of the design.
But what countertops will look nice with white cabinets?
This article will explore the different countertops that go best with white cabinets.
How To Choose Countertop Colors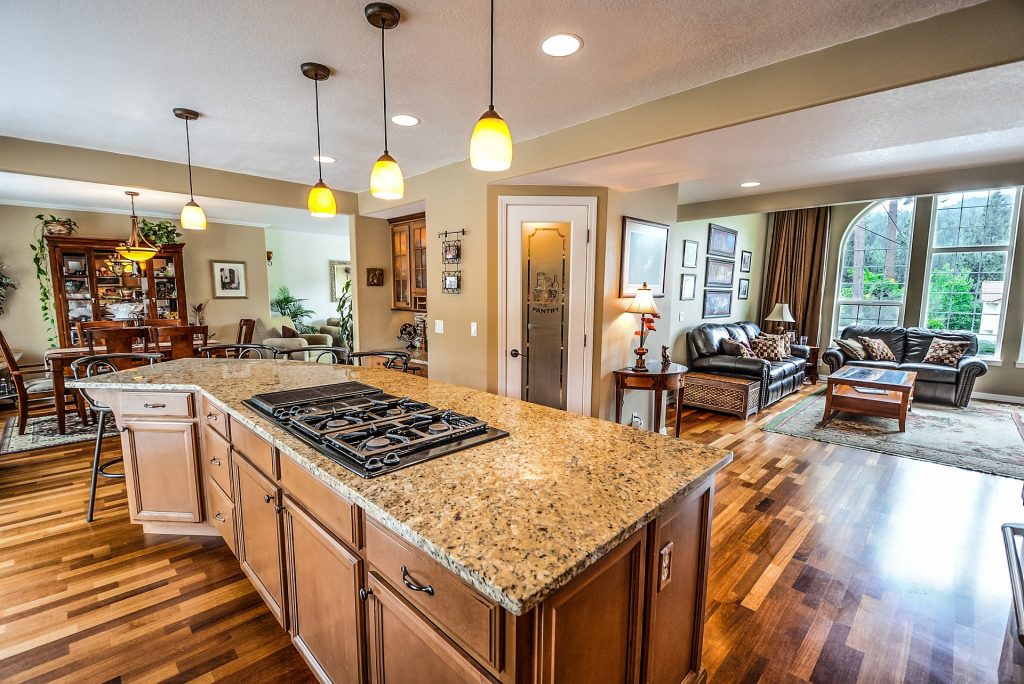 Before we get into the specifics, let's take a step back and discuss how to choose countertop colors.
✅ Figure Out Your Style
You want your kitchen countertops to convey your sense of design and character. Kitchen countertops in either a contemporary or classic color scheme are a great starting point for a visually appealing space.
If you're willing to put in the effort to learn about various kitchen layouts, picking out new countertops may be a fun and rewarding experience.
Consider your preferred style and color palette when deciding on a kitchen countertop finish. Countertops in the kitchen are a great place to express individuality. Changing out the color of your kitchen countertops is a fun way to put your personal stamp on your home's decor.
✅ Choose A Theme For Your Kitchen
It's vital to narrow down your options for countertops before making a final decision. Look around the entire house and see what you can find. Which categories best describe your taste: muted tones, natural elements, bold accents, or cutting-edge design?
In general, you will have one of two goals in mind regarding your countertops.
If you're looking for an easy and timeless look, consider a white countertop. White is always a classic choice that will complement a wide range of colors and materials. White countertops also bring out the subtle nuances in your cabinets, such as hardware and accents.
If you want a more modern look, dark countertops like black or gray may be the way to go. Darker colors create a stark contrast that can make your kitchen look bold and modern. Be sure to consider accent colors for the rest of your kitchen if you opt for a darker countertop.
✅ Complement the Cabinets
White cabinets look great when they are paired with the right countertop color. When it comes to white cabinets, there are a few different directions you can go with the colors of your countertops.
Opt for a classic look for marble or granite countertops in neutral colors such as white, light gray, or beige. For a more modern look, go for darker black or deep blue countertops.
If you're looking for something with more pop color, consider installing countertops in bright colors like green or yellow. You can also go for a classic yet bold look by opting for patterned countertops like quartz or soapstone.
✅ Pair Different Tones Together
If you want to create a unique look, consider having countertops in different tones. A popular option is to pair white cabinets with darker countertops like black, deep blue, or dark green. This juxtaposition of tones can create a beautiful and inviting kitchen space.
You can also go for a two-toned look by pairing white cabinets with light gray or beige countertops. This softer approach can make your kitchen feel more spacious and bright.
✅ Consider Other Accessories
When choosing countertop colors, don't forget to take into account other accessories. If you have stainless steel appliances, consider selecting a countertop material that will complement them. It's also important to think about the kitchen flooring, backsplash, and window treatments when selecting a countertop color. 
The Different Countertop Material Options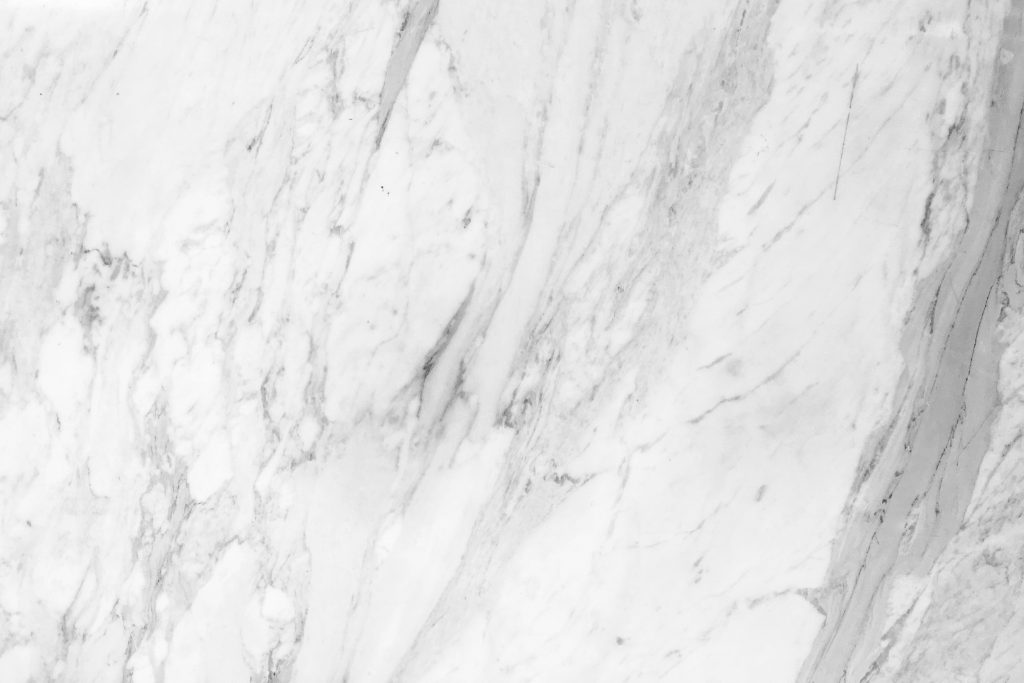 The countertops in a kitchen are a crucial design element. Because of how much time you spend there, having a countertop that doesn't match the rest of the room's design can be a major distraction.
When they are in harmony with or complement the rest of the room's decor, they look their finest. Whites, grays, blacks, reds, metallics, and mattes are just some of the hues available for them.
Numerous materials, such as soapstone, marble, natural stone, and engineered stone, are used to create countertops. Each of these materials has advantages and disadvantages, but in the end, it's up to you to decide what you like most.
Here are some of the popular materials used for countertops:
📍 Granite Countertop
Granite countertops are a popular choice for many kitchen designs. Granite is a natural stone that provides an aesthetically pleasing yet durable option for kitchens, bathrooms, and outdoor places. Not only can granite countertops increase the value of your home, but they are also heat-resistant and very hygienic due to their non-porous nature.
It won't harbor bacteria, making it a safe choice for food preparation. Additionally, granite counters come in various shades, so you're sure to find one that suits your design taste and style. Choose granite countertops for a kitchen that looks great and lasts!
📍 Quartz Countertop
Quartz countertops are the perfect combination of practicality and beauty. Quartz is an engineered stone made up of a mix of quartz and resin. Unlike other stone types, quartz is non-porous and available in various colors and styles that can match any room's design. Furthermore, quartz is extremely durable and easy to clean and maintain.
📍 Soapstone Countertop
Soapstone countertops are a luxurious and unique option for homeowners looking to add a touch of elegance to their kitchen. Soapstone is a natural stone that has been used in kitchens for centuries. It's known and admired for its beautiful, unique patina that you can achieve over time with regular maintenance. Soapstone is also durable, heat-resistant, and non-porous.
📍 Marble Countertop
Marble countertops are a timeless classic that has been used in kitchens for centuries. Marble is a natural stone, and its luxurious, glossy look will make your kitchen stand out with elegance and class. Although marble can be a bit more fragile than other countertop materials, its beauty and sophistication make it a popular choice.
📍 White Corian
White Corian countertops are a great choice for any kitchen or bathroom due to their classic marble look and ability to match any style. This material is crafted from an innovative blend of natural materials and pigments, making it strong and durable without sacrificing its glamorous white design.
As well as being heat-resistant and easy to clean, this type of countertop has the added bonus of being non-porous and stain-resistant – perfect for those who love to cook.
📍 Wood Countertop
Since their installation, wood countertops have become popular for homeowners seeking to provide a welcoming and natural aesthetic to their kitchens. Wood countertops, sometimes known as "butcher blocks," are a form of work surface that resembles a butcher shop cutting board. Butcher blocks are sturdy cutting surfaces made from hundreds of individual square pieces of wood that have been bonded together at their ends.
Wood countertops add a welcoming, homey feel to any kitchen because of their inherent beauty and warmth. Wood is extremely resistant to heat, so you may confidently place hot pans and pots on a wood countertop.
However, keep in mind that wood necessitates frequent upkeep, so this is something to think about. Maintaining the beauty of your wood countertops over the years will require frequent sealing using a solution like Aqua spar.
9 Kitchen Countertop Color Ideas With White Cabinets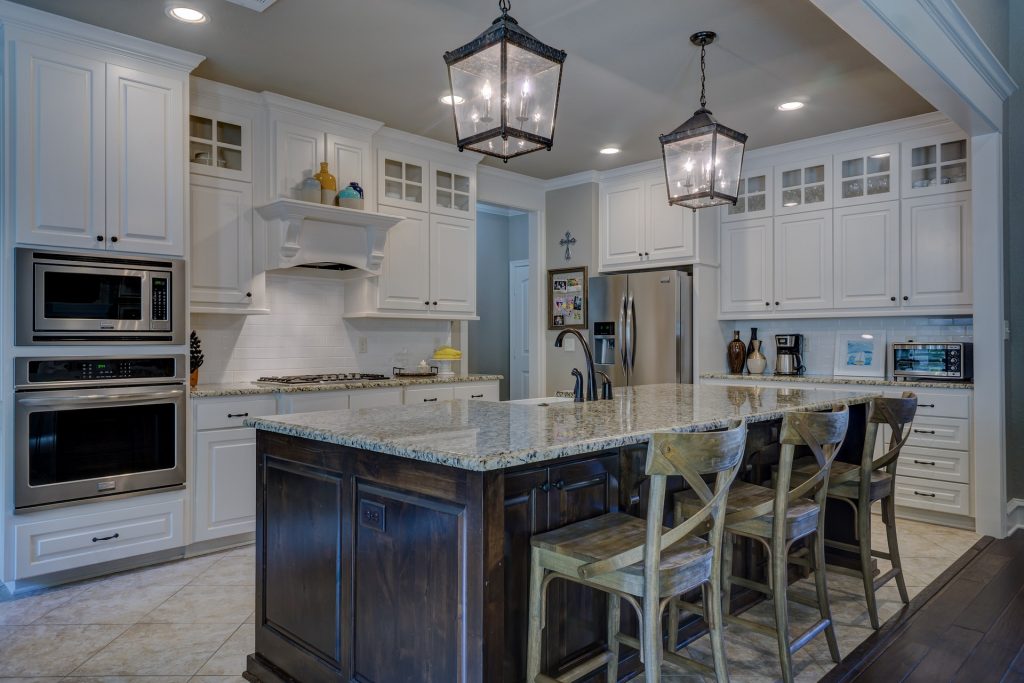 The versatility of white cabinets allows you to choose any other kitchen finishes you like, as they go with practically every countertop color. White cabinets can be used in a wide variety of kitchen layouts and decor schemes.
With the right choice of countertop material, white kitchen cabinets can take on a variety of looks. Below are a few ideas for kitchen countertops to pair with white cabinets.
① Black Granite Countertop
A combination of black granite countertops and white cabinets is one of the most timeless, elegant design choices in a kitchen. The pairing creates a neutral palette that lets other elements in the kitchen, like accessories and artwork, be the true stars of the space.
The sleek black of the granite provides an unmistakable elegance and pairs beautifully with many cabinet colors. The possible combinations with white cabinets are virtually endless thanks to a wide variety of black granites available to choose from, including Absolute Black and Galaxy Black.
Any ever-popular combination of black granite countertops and white cabinets will elevate any design to the next level for generations to come.
② White Quartz Countertop
White quartz countertops and white cabinets make for a beautiful combination that brightens up any kitchen. Quartz is an excellent countertop material, as it's resilient and easy to clean, allowing more time to enjoy its beauty. In addition, the light whites in both the cabinet and surface bring out the subtle details of each one and make the space look larger without sacrificing luxurious appeal.
In comparison, some worry that all-white cabinets may look too sterile or uninviting; pairing them with quartz will certainly add a warm touch.
③ White Marble Countertop
Marble countertops and white cabinets bring a touch of sophistication to any kitchen. White marble is one of the most sought-after materials for both its beauty and durability. This material is available in a wide range of textures, tones, and shades, so you can find the perfect one to match any kitchen style.
The pairing of white cabinets and marble countertops is classic yet still modern; it's a timeless look that will never go out of style. Plus, it's easy to incorporate other colors and materials with this combination to create a truly unique look.
④ Natural Wood
Natural wood countertops are aesthetically pleasing to any kitchen when paired with white cabinets. Not only do they look great, but their durability makes them a worthwhile investment for those who have wanted to enjoy their countertop for many years.
The appearance of the wood gives off a warm, inviting vibe while still maintaining a level of sophistication that will elevate the entire atmosphere of your kitchen. When compared to other materials on the market, natural wood has long been a top choice among homeowners opting for a classic yet modern look.
⑤ Terra Cotta
White cabinets can look cold, but when paired with a warm, vibrant countertop color like terra cotta, they take on a whole new aesthetic. This warm, burnt orange shade is ideal for southwestern or Moroccan-style interior design.
In addition, terra cotta tiles are long-lasting and resistant to scratches, mold, and bacteria so long as they are resealed regularly. You can easily pair this material's earthy hue with various colors, textures, and materials to create an eye-catching space.
⑥ Stainless Steel
Stainless steel countertops are a great way to match any kitchen with white cabinets. Stainless steel has become a popular choice among homeowners, as it is not only stylish and modern but also durable and easy to clean. This material provides a sleek look that can be paired with any color, from black to brown and even white.
The stainless steel will help to reflect light, making the space appear larger and brighter. Additionally, it is a timeless material that is sure to remain in style for years to come.
⑦ Beige and Black
This color combination can truly modernize your kitchen. The beige and black countertop is a great way to add visual interest to the space. The light beige creates great contrast with the bold black, giving depth and texture that elevates the entire room's look.
White cabinets further emphasize this contrast, creating a refined and on-trend look that will make your kitchen stand out while still remaining timeless. With this combination, you can create a high-end designer feel in your home without a lot of effort!
⑧ Mauve
The combination of mauve countertops with white cabinets creates a modern yet timeless look. Mauve is a delicate shade that adds elegance to any kitchen space. Its hint of purple and pink hues brightens up the room while still maintaining a crisp and clean aesthetic.
Because mauve is more subtle than bolder statement colors, pairing it with white cabinetry helps keep the style polished. The contrast between both tones also makes the kitchen appear brighter and more spacious, allowing for easy organization of items and appliances.
⑨ Cornflower Blue
Cornflower blue countertops provide a unique and captivating focal point of interest to any kitchen. This hue is a timeless classic that works fabulously with white cabinets to create an overall appealing look. Whether you are leaning toward a contemporary or traditional look, the combination of cornflower blue and white cabinets offers a modern take on both. The striking color variation brings balance, providing light and dark hues for an amazing texture that additional accents can complement in the room.
Frequently Asked Questions
Q: Can I use brown granite with a white cabinet?
A: Yes, brown granite is a great option for pairing with white cabinets. Its warm tones make it great for creating a cozy yet bright kitchen. Additionally, it is incredibly durable and easy to maintain, making it a popular choice for many homeowners.
Q: What can I do with my kitchen island countertop?
A: You have a few options for your kitchen island countertop. You can choose to match the color and material of your main countertops, or you can opt for something different. For a more eye-catching look, consider pairing brown granite with white cabinets and your kitchen island countertop in a different material such as stainless steel, terra cotta, beige and black, mauve, or cornflower blue. This will add visual interest and texture to the space.
Q: Do I need to match my wood floor with my countertop?
A: Generally, it is recommended to match your wood flooring with your countertops in order to create a cohesive look. However, you can play around with different color and material combinations to create a unique look that fits your style. A dark wood floor paired with white cabinets and light countertops, such as beige and black or cornflower blue, can be a great way to create a modern yet timeless kitchen ambiance.
Q: Why should I use quartz countertops with white cabinets?
A: Quartz is an incredibly popular material for countertops because of its durability and low maintenance. It is also very versatile in terms of color, allowing you to choose a shade that complements your white cabinets. Quartz countertops are also easy to clean, scratch-resistant, and nonporous, making them a great option for busy kitchens.
Q: What paint colors work best with white cabinets?
A: Neutral colors such as white, gray, beige, and taupe are great options for painting walls that will complement white cabinets. You can also choose a slightly more vivid hue to create a bolder statement and add visual interest, such as sage green, butter yellow, or even mauve. Whatever you choose, make sure to test the color on a small patch of the wall before committing to it for the entire space.
Final Words
As you can see, there are a variety of countertop materials and colors that can help you create the perfect look for your white cabinet kitchen. Whether you are going for a modern or classic style, there are plenty of options to help you achieve the aesthetic that you desire. From dark and dramatic brown granite to subtle and soft beige and black or a vibrant cornflower blue, you'll be sure to find the perfect countertop for your white cabinet kitchen.