Kitchen island vs. breakfast bar: Which is better for your kitchen setup? It is a common question that many homeowners face when it comes to kitchen design and remodeling. Both kitchen islands and breakfast bars have their advantages. Still, depending on the size of your kitchen and the available space, either one can provide you with an attractive and functional kitchen workspace.
Both have pros and cons, so it comes down to your priorities. Do you value extra counter space more than seating? Are you looking for a more compact option? Or are you looking for a kitchen centerpiece that doubles as an entertaining area? To help with your research, here's a quick comparison of kitchen islands and breakfast bars.
What is a Kitchen Island?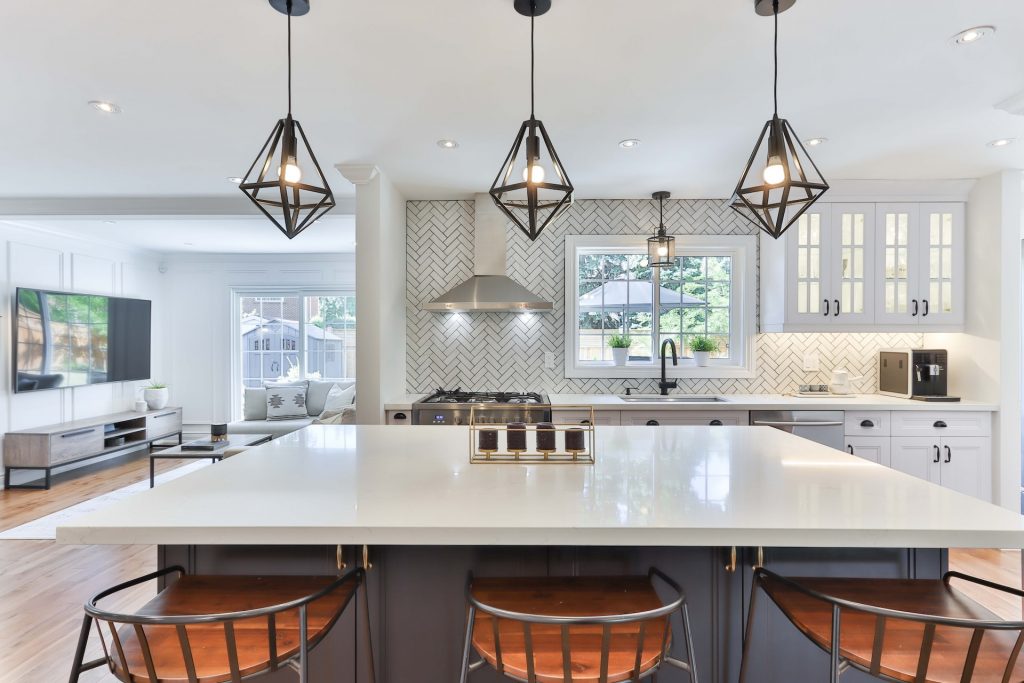 Most people know a kitchen island when they see one. It is essentially an extra counter in your kitchen that is useful for food prep, as a makeshift dining table, or as extra storage space. But there is so much more to a kitchen island than meets the eye!
🍽Multi-Purpose Island
A kitchen island does not have to be relegated to just one use. With creativity, you can turn your kitchen island into a multi-purpose tool that can help with everything from food prep to storage. Here are some ideas:
Food Prep Station: If you do a lot of cooking, you know that having extra counter space is a godsend. You can create a mini-kitchen that will make meal prep a breeze by outfitting your kitchen island with all the necessary appliances, such as a sink, stovetop, or dishwasher.
Storage Space: Is your kitchen feeling cramped? If so, you can use your kitchen island as additional storage space. Adding some cabinets or shelving to your island will give you the perfect place to stow away all those pots and pans that are taking up valuable real estate in your cabinets. You could even install a wine rack to give yourself easy access to all your favorite vintages!
Informal Dining Area: Another plus is that a kitchen island can serve as an informal dining area. If your kitchen is small, adding an island with bar stools can give you the extra seating you need for larger gatherings. And if you have guests staying overnight, a kitchen island with a built-in microwave or mini fridge can be a lifesaver!
🍽Design Considerations
When choosing a kitchen island, there are several factors to remember. First, consider the overall style of your kitchen. If your kitchen has a modern aesthetic, you'll want to choose an island that complements that look. For example, a glass-top island would be a good choice for a contemporary kitchen. If your taste leans more traditional, then a wood-top island would be better suited for your space.
Next, think about the size of your kitchen. If your kitchen is on the smaller side, you'll want to choose an island that doesn't overwhelm the room. Conversely, if you have a large kitchen with plenty of room, you can go for a bigger island with more features. Just make sure you leave enough room for people to move around comfortably!
Finally, think about what features you would like your island to have. As mentioned above, some islands come with built-in storage or appliances. Others have drop leaves that extend the counter space when needed but fold down when not in use. And still, others are added simply for decorative purposes. It's up to you to decide which features are most important for your needs!
Benefits of Having Kitchen Island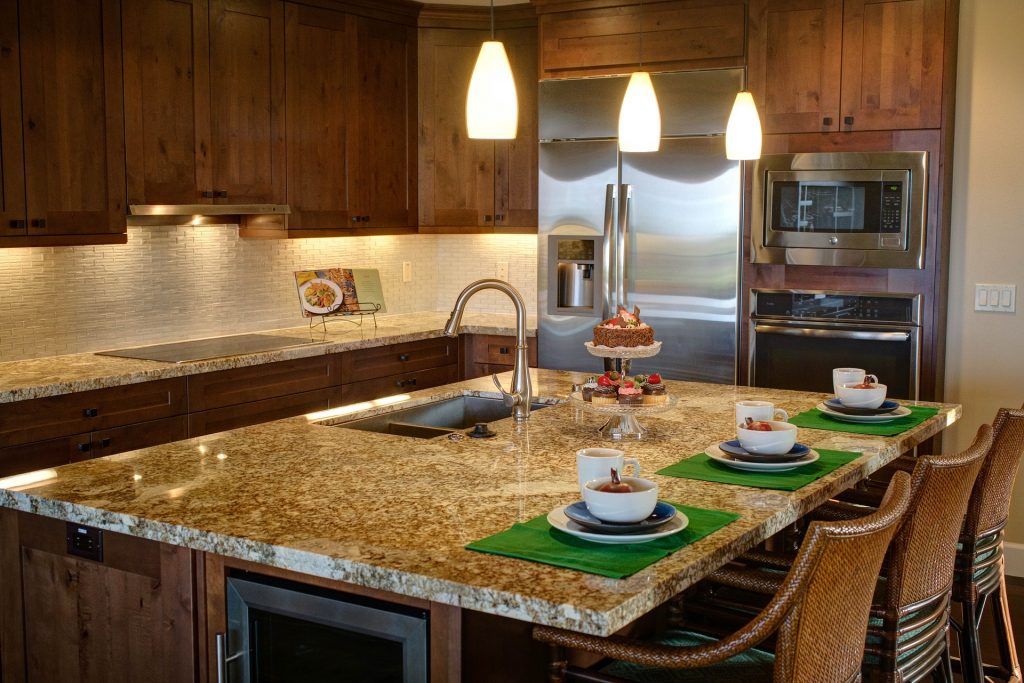 Here are some benefits of installing a kitchen island in your home.
✅Extra Counter Space
One of the biggest benefits of having a kitchen island is its extra counter space. A kitchen island is a great solution if you're always running out of room when you're cooking or preparing food. You can use it for food prep, as a place to set down platters and serve dishes, or even as an extra workspace for completing cooking tasks.
✅Storage
Another benefit of having a kitchen island is the extra storage it provides. You can use it to store pots and pans, Kitchen appliances, dishware, and more. Most kitchen islands come with cabinets, drawers, or shelves that you can use to keep your belongings organized and out of the way.
✅Functional Addition
A kitchen island is also a great way to add more functionality to your kitchen layout. You can create additional work areas, such as a baking station or a place to chop vegetables. You can also install features like a second sink or an induction cooktop to make cooking easier and more efficient.
✅Increased Home Value
Some homeowners worry that installing a kitchen island will be too expensive and won't offer any return on investment (ROI). However, this isn't the case! Most real estate experts agree that adding a kitchen island can increase the value of your home by upwards of 4%. So you will enjoy all the benefits of having a kitchen island while you live in your home, and you'll also get some money back when it comes time to sell!
✅Better Flow
One last benefit of having a kitchen island is improved workflow in your kitchen overall. With an additional work surface and storage area, you'll be able to move around your kitchen more easily and have everything you need right at your fingertips without having to search through cabinets or walk across the room for appliances or tools. It can lead to improved efficiency and less stress while cooking meals for yourself or your family!
What is a Breakfast Bar?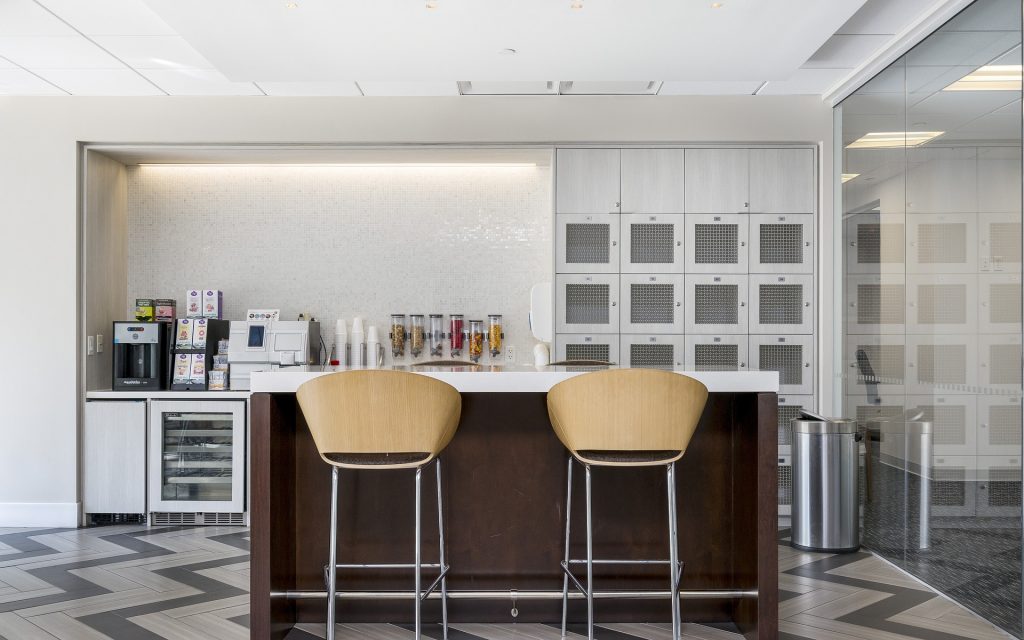 A breakfast bar is a kitchen counter meant for eating breakfast, as the name implies. They vary in size and shape but are typically long and thin, like an island or peninsula. Breakfast bars are usually between 2-4 feet long and can be as wide or as narrow as you want.
One of the reasons why breakfast bars are so popular is because they offer a quick and easy way to eat breakfast without having to sit down at a table. If you're short on time in the morning, you can grab a stool and eat breakfast at the bar. Plus, it's a great way to socialize in the kitchen while cooking breakfast or to get things ready for the day.
📌Types of Breakfast Bars 
There are three main types of breakfast bars:
Free-standing: You may choose a freestanding breakfast bar if you're having trouble fitting a fixed breakfast bar into your kitchen. It would allow you to relocate it anywhere you need it to be while potentially taking up much less space than a permanent one.
Floating or wall-fixed: This breakfast bar is attached to the kitchen wall and protrudes. This kind of arrangement is fantastic if you're attempting to squeeze a breakfast bar beneath a window or into a narrow spot. However, you may add legs to the worktop if you are keen on having a breakfast bar but do not want it anchored simply to the wall. It would guarantee the surface's stability while ensuring that it complements and matches the rest of your kitchen.
U-shaped: This breakfast bar is installed in kitchen islands or along kitchen peninsulas. It's great for socializing and seating multiple people at once, but it will take up more space than a floating or wall-fixed breakfast bar. Ensure you have enough room to install the breakfast bar and yet be able to maneuver around it easily.
Ledge: A kitchen ledge breakfast bar is essentially a shelf that extends from the kitchen wall and provides an additional surface for eating or food preparation. This breakfast bar is usually very narrow, so it's best suited for smaller kitchens.
📌Choosing a Breakfast Bar for Your Kitchen 
Now that you know a little more about the different types of breakfast bars, it's time to choose one for your kitchen! Here are a few factors to keep in mind:
Size: How much space do you have in your kitchen? If you have a tiny kitchen, you'll want to choose a smaller breakfast bar, so it doesn't overload the space. On the other hand, if you have a large kitchen, you can go for a bigger breakfast bar since there will be more room for it. Just make sure to leave enough space around it so people can move around comfortably without bumping into it all the time.
Shape: Breakfast bars come in all shapes and sizes, so think about what would look best in your kitchen before deciding. For example, if your kitchen is long and narrow, a rectangular or oval-shaped bar would probably work best since it would fit nicely into the space without taking up too much room. On the other hand, if your kitchen is more square-shaped, then a round or square-shaped bar would be ideal since it would better use the available space.
Material: Breakfast bars can be made of all materials, such as wood, granite, quartz, marble, laminate, etc. Think about what material would look best with the rest of your kitchen before making your final decision. For example, if your countertops are made out of granite, then choosing a granite breakfast bar would create a cohesive look throughout your entire kitchen design scheme.
Benefits of Having Breakfast Bar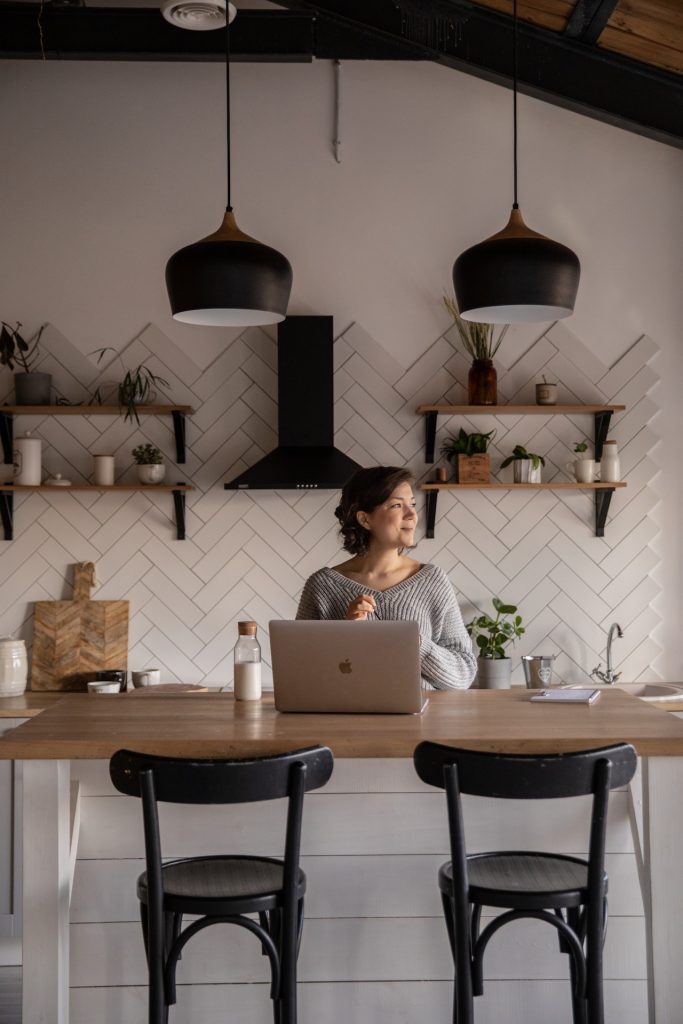 A breakfast bar can be a wonderful addition to any kitchen, providing extra counter space and a spot for quick meals or casual entertaining. But what are the other benefits of having a breakfast bar? Let's take a look at a few.
🍳They Can Save You Space
If you have a small kitchen, chances are you don't have a lot of extra space for a formal dining table. A breakfast bar can provide necessary seating without taking up valuable square footage. And if you don't have room for stools, you can always opt for tall chairs that can tuck underneath when not in use.
🍳They Provide Extra Storage
Many breakfast bars come with built-in storage, such as shelves or cabinets. It can be great for storing things like cookbooks, plates, or even small appliances you don't use daily. And if your breakfast bar is adjacent to an open floor-plan living area, it can provide some much-needed visual separation between the two spaces.
🍳They Can Serve as a Workstation
A breakfast bar can make a great workstation if you work from home or just need a place to pay bills and handle other administrative tasks. Just add a few baskets for corralling mail and other paperwork, and you're all set! You can even install USB ports or outlets to charge your devices while you work.
🍳They're Incredibly Versatile
One of the best things about breakfast bars is their versatility. You can use these as cooking prep stations, buffet tables for parties, craft stations for kids, and much more. A breakfast bar is definitely worth considering if you're short on space and need multi-functional furniture.
🍳They Add Visual Interest
Last but not least, breakfast bars are simply beautiful to look at. Whether you choose one with granite countertops, stained glass accents, or carved wooden details, it's sure to add visual interest to your kitchen and become the focal point of the room.
Kitchen Island vs. Breakfast Bar: Can You Have Both?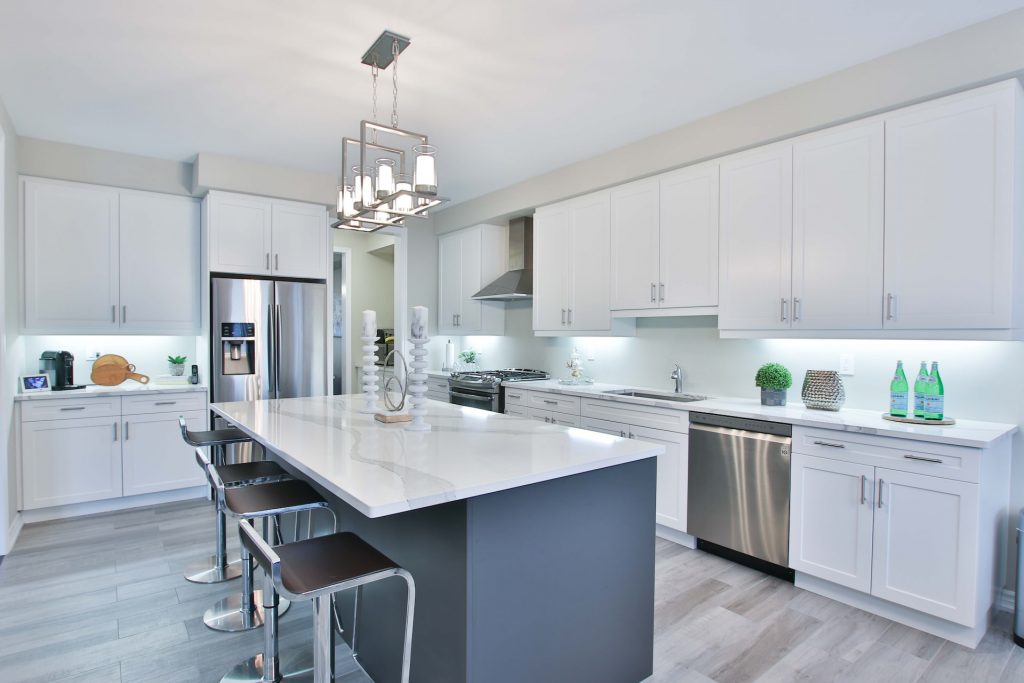 You may wonder if you can have the best of both worlds regarding kitchen design. After all, who wouldn't want the additional storage and prep space of a kitchen island AND the extra breakfast bar seating? If you have a large kitchen and ample counter space, then you may be able to fit both a kitchen island and a breakfast bar. Make sure there's enough room for people to move around comfortably without bumping into either piece of furniture.
When It's Possible to Have Both in Your Kitchen
If you have room in your kitchen, you can have both an island and a breakfast bar. However, there are a few things you need to keep in mind. First, your island will need to be large enough to accommodate the extra prep space and the additional seating. Second, you'll need to ensure enough clearance between the breakfast bar and the island so that people can comfortably get in and out of their seats. Depending on the layout of your kitchen, this might not be possible.
When It's Not Possible to Have Both in Your Kitchen
If your kitchen is on the smaller side, you might not have room for both an island AND a breakfast bar. In this case, you'll need to decide which is more important. If you entertain often or have a large family, then having extra seating at a breakfast bar might be more important than having the additional storage space of an island. On the other hand, if you love to cook and entertain, having the extra prep space and storage of an island might make more sense for your needs.
Frequently Asked Questions
Can a kitchen island double as a dining table?
Yes, kitchen islands can double as dining tables in smaller kitchens. To make it more comfortable for seating, you can add bar stools or tall chairs around the island.
What kitchen countertop is best for a breakfast bar?
Many people opt for granite in kitchen breakfast bars because it's durable and easy to clean. However, other kitchen countertop materials, such as quartz or marble, can also be used.
How do I light a kitchen island?
Task lighting is usually the best way to light kitchen islands. You can add kitchen pendant lights, wall sconces, or even under-cabinet lights. Ensure that the fixtures you choose provide enough illumination for your kitchen island.
How much space do I need for a breakfast bar?
The amount of space you need for a breakfast bar will depend on the size of your kitchen and the type of seating you'll be using. Generally, a kitchen island with seating requires at least 48 inches in width.
How do you choose the right size kitchen island?
When selecting a kitchen island, it's important to take into account the size of your kitchen. You'll also want to consider how many people you plan on seating at the kitchen island and what activities will take place there.
Which one is better for families?
The kitchen island or breakfast bar that is best for families depends on the size of your kitchen and your family's needs. A breakfast bar might be the better choice if you have a larger kitchen and need extra seating. However, an island could be a better option if you need more storage and prep space.
Final Words
When it comes to kitchen design, kitchen islands and breakfast bars both have their unique benefits. Depending on the size of your kitchen and the activities you plan on doing there, one may be better for you than the other. If you have the room and often entertain, having both can be a great way to make the most of your space. Remember to consider the space requirements and lighting needs when making your decision. With a little bit of planning and thought, you can create a kitchen that is both functional and beautiful.