Do you want to know how to meal plan for one person? Have you ever tried meal planning but felt overwhelmed or didn't know how to get started? Then this guide is for you!
Cooking for one is very different than feeding a family and requires a different approach to meal preparation. Your personal tastes are the only ones that matter. Ingredients remain significantly longer, making food waste a greater issue.
It's more challenging to stay on track when your mood, routine, and motivation are all unstable. Meal planning is a great way to save time and money while ensuring you get proper nutrition.
These methods of menu planning are tailored to the needs of the single home cook, who desires a greater degree of diversity in their diet without sacrificing the number of meals they can prepare in a given week.
Why Should You Meal Plan?
Meal planning is the key to success when it comes to eating healthy and saving money. It helps you save time, energy, and money by providing a plan for what to eat each day. You can also use meal planning to control portion sizes and ensure that your grocery bill stays under budget.
Plus, taking the time to plan out meals can help you stick to a dietary plan and be mindful of what foods you're putting into your body. Meal planning can also reduce stress and make it easier to eat healthier because you know exactly what ingredients will go into each meal.
Rules To Follow for Single-Person Meal Planning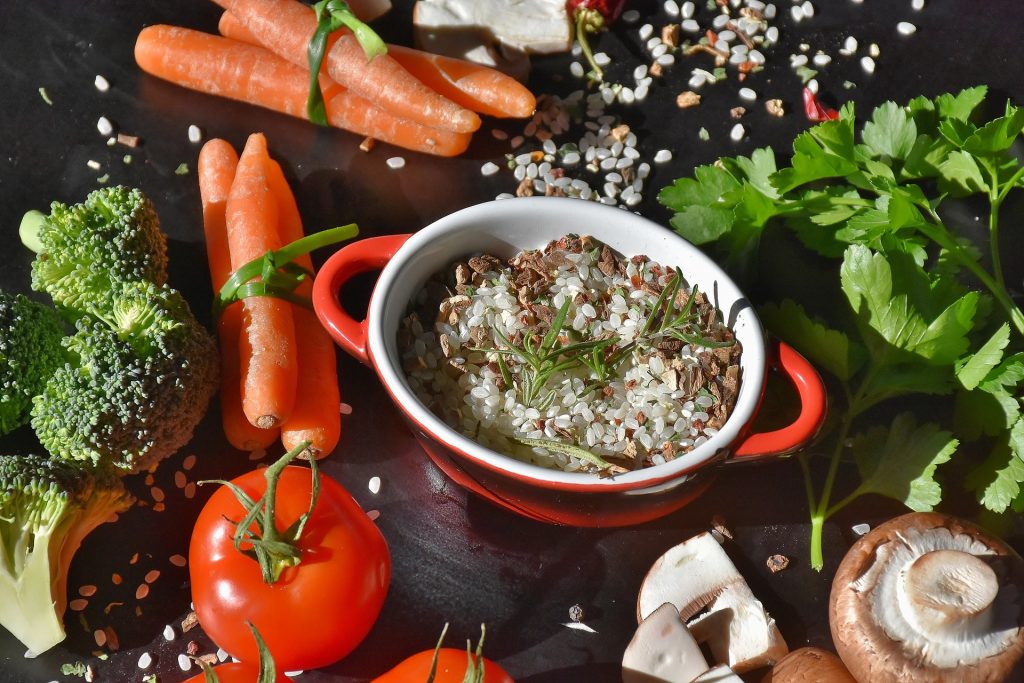 You are now responsible for meal planning and have only yourself to answer to. There is a lot of material out there, but it can be hard to locate anything that specifically addresses meal planning for one person. While many general concepts and guidelines for meal preparation are universal, there are several factors to consider when preparing for one person only. Here are five simple rules for getting started:
✅ Don't Force Yourself To Cook
If cooking isn't your thing, don't force yourself to do it. The good news is that you can choose from a wide range of possibilities. Meals that are frozen, partially prepared, taken out, purchased at a deli in a grocery shop, meal delivery service, etc.
There's no end in sight to the plethora of possibilities. You will never learn to enjoy cooking if you force yourself to do it every day. It will only deepen your loathing for it. Planning your own meals is about more than just eating healthy and saving money. 
Maybe there's just one thing about cooking that you really dislike, but that's the one thing you can easily alter to start enjoying the process again. Now is the moment to reflect on your feelings toward cooking and determine why you dislike it so much.
It's possible that you'll realize that meal preparation is the part of the process you despise the most, so you'll know to explore other possibilities.
✅ Be Flexible With Your Meals
Eating the same pre-planned meals day after day can get boring, but with a flexible approach to dieting, meals can become an exciting hobby! Planning ahead and experimenting with different flavors will give you the freedom to incorporate your favorite foods into healthy dishes.
By trading processed and unhealthy ingredients for whole food alternatives, you can experiment in the kitchen while still following optimum eating and balanced nutrition principles. Flexibility isn't only about what goes into your meals – it also applies to when you eat.
Eating at regular intervals throughout the day will improve digestion, maintain steady blood sugar levels, and even optimize your overall health. With some basic guidance and creativity, embracing a flexible approach to cuisine creates room for fun and good health!
✅ Eat Seasonally And Locally
Eating seasonally is a great way to ensure you're eating fresh, nutrient-dense foods while keeping your grocery bill in check. Eating locally also supports the local economy and ensures that your food travels less distance from farm to plate.
The produce section of your supermarket usually has a section with local produce, so be sure to check it out before you go any further. Not only is shopping locally beneficial for the environment, but when in-season fruits and vegetables are at their peak of flavor – and cheaper.
✅ Make Use Of Leftovers
If you find yourself with leftovers after a meal, save them. Leftovers can be a great way to save time and money, plus reduce food waste. With some thoughtful planning, leftovers can be reused creatively, like transforming cooked vegetables into salads or repurposing cooked grains as the base for soups. For adding flavor to simple ingredients, try making your own spice blends or sauces.
✅ Create A Meal Prep Routine
Creating a meal prep routine can be as simple or complex as you want it to be. It's important to have a routine that works for you and helps you stay organized while still enjoying the cooking process.
Start by figuring out the days when you plan on prepping. Then decide what type of meals you want to make and how much time you'll spend cooking each day. You can also prepare food for the entire week in a single day or take a few hours each day to cook smaller batches of food.
Whatever routine works best for you, stick with it! This way, you'll be able to enjoy the cooking process and stay organized simultaneously.
Tips On How To Meal Plan For One Person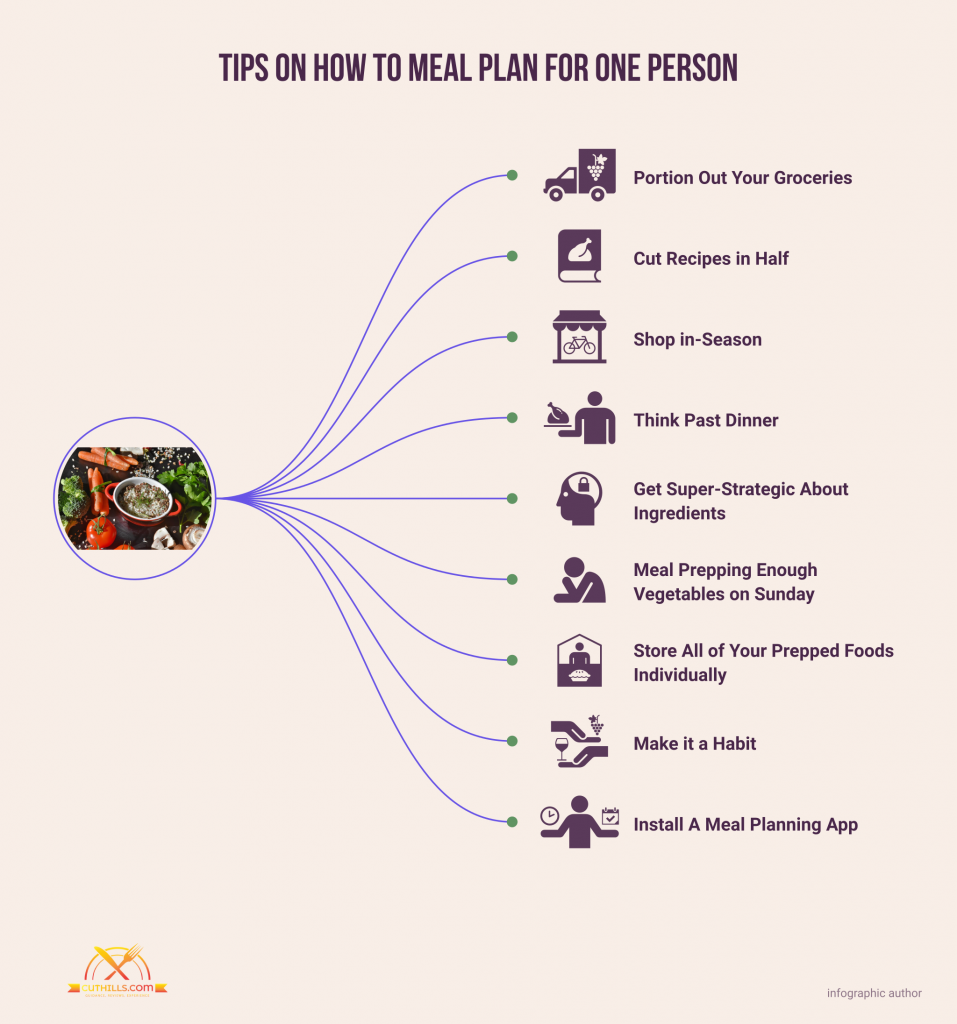 Meal planning for one person doesn't have to be complicated or time-consuming. With a few simple tips, you can create delicious meals without breaking the bank.
🍜 Portion Out Your Groceries
To make the most out of your grocery shopping trip, be sure to portion out each item for the meals you plan to make. This means that you should try to buy only what you need for each dish so that nothing goes to waste.
For example – only buy a large bag of potatoes if you are going to prepare mashed potatoes with just enough for one serving. This will also help with budgeting, as portioning out your groceries allows you to save money by only purchasing what is necessary.
In addition, eating the right amount can help maintain a healthy weight and avoid eating too little or too much. Begin by researching the recommended portions for different food types based on your desired calorie intake and body size. Then, use measuring cups and spoons to divide out the appropriate amounts when you go grocery shopping so that each item has the right amount set aside.
Above all, planning your meals and being mindful when portioning each item is essential in staying organized and avoiding food spoilage.
🍜 Cut Recipes in Half
If you're cooking for just one, there's no need to make a recipe that serves four. Halving recipes can give you plenty of variety without the hassle of leftovers. It's important to follow the directions for halving ingredients carefully, as some recipes can be easily reduced by half, while others will only work if exact measurements are used.
Pay attention to ingredients that must remain whole, like herbs and spices, as these may not double in amount even if all other ingredients are proportionally changed.
Moreover, keep things interesting by adding different ingredients or switching up your seasonings from meal to meal. This will help keep your meals fresh and exciting – plus, you'll have more time to enjoy all your favorite dishes!
🍜 Shop in-Season
When it comes to eating on a budget, shopping for the freshest produce can help save money and time. Check your local farmer's market or grocery store for seasonal fruits and vegetables that are at their peak of flavor – and cheaper. This can be an easy way to get creative with your meals without the extra cost of out-of-season produce. 
Also, don't forget to look out for discounted items such as day-old bread or overripe produce, which can be frozen and used in recipes later on. Making the most of what's already available is a great way to save money while still enjoying homemade meals.
🍜 Think Past Dinner
Part of the reason it's easier to plan meals for one is that there's less chance that someone will sneak into the fridge at night and help themselves to the ingredients or leftovers you were saving for another dinner. That also implies that you can plan your meals from breakfast all the way to dinner. (This becomes much more challenging when you're feeding a family of four.)
Those chickpeas you cooked up in a sauté last night? If you sprinkle them over some greek yogurt first thing in the morning, you'll have a healthy meal. Or, if you're looking to switch things up, make a quesadilla or breakfast burrito with leftovers and eggs.
🍜 Get Super-Strategic About Ingredients
When you're cooking for just one, it can be easy to get stuck in a meal-planning rut. Try getting creative with your meals by making sure each dish uses different ingredients that can all be used together in various ways.
For example – make an omelet on Monday with spinach and mushrooms, then use the leftovers to make a quiche on Tuesday. When you're shopping, take note of items that can be used in multiple dishes – like buying frozen shrimp when making jambalaya one night, then using it as an ingredient in a shrimp-salad wrap later in the week.
In addition, be sure to take advantage of bulk items like nuts, dried fruits, and quinoa – these are great sources of protein and can be used in an array of dishes.
🍜 Meal Prepping Enough Vegetables on Sunday
If you want to make dinner in a pinch, one of the best solutions is prepping vegetables ahead of time. Spend an hour or two on Sunday cutting and chopping enough vegetables for a few days' worths of meals. Leave them in airtight containers in the fridge, so they're always ready when you need them.
Another great tip is roasting vegetables on Sunday. Roasted vegetables are versatile and can be used in various dishes such as salads, pasta, sandwiches, and more. Plus, they taste even better when reheated!
🍜 Store All of Your Prepped Foods Individually
Storing your prepped ingredients separately can help you make meals quickly. Instead of measuring out, chopping, and preparing each ingredient every time you want to cook dinner, you'll have almost everything ready.
Label each container with the date it was prepared, so you know how long it's been in the fridge. This will save you time, energy, and money because you don't have to worry about throwing away spoiled ingredients.
🍜 Make it a Habit
The key to successful meal planning for one is consistency. Once you get into the habit of making meals ahead of time, cooking with fresh ingredients, and using leftovers, you can get creative and make delicious homemade food without the hassle.
Planning your meals in advance can also help save time and energy, giving you more time to relax and enjoy your meals. So why not give it a try? With just a little bit of planning, you can make delicious meals for one at home that are both healthy and budget-friendly!
🍜 Install A Meal Planning App
There are tons of meal-planning apps out there that can help you stay organized and save time. Meal planning apps usually come with a built-in grocery list, allowing you to keep your ingredients in one place. This will make your life easier when it comes to shopping for groceries.
You'll also be able to find recipes that are tailored to your tastes and needs, so you can easily cook up delicious dishes for one. Plus, many meal-planning apps come with helpful features like quick-start nutrition guides or calorie-counting insights.
With an app in hand, you'll be ready to take on the challenge of meal planning for one!
Meal Planning Recipes For One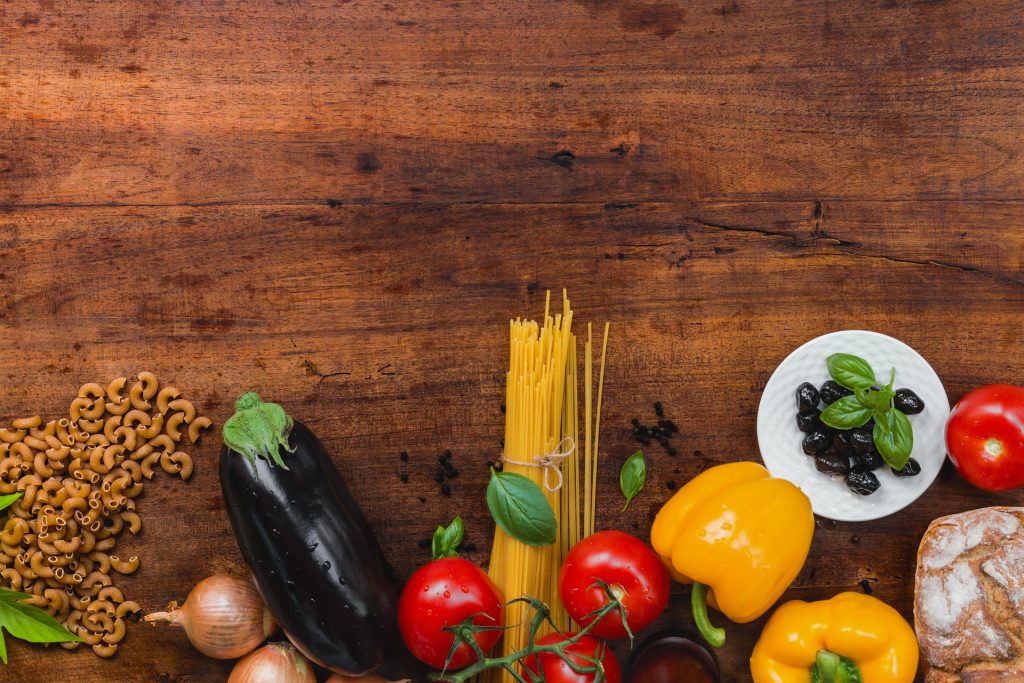 1. Avocado Toast: Start your day off right with a delicious and nutritious breakfast of avocado toast. Toast the bread, spread mashed avocado on top, then sprinkle on some salt, pepper, and red chili flakes for flavor. 
2. Baked Chicken and Vegetables: Bake up a savory dish of chicken and vegetables – marinate the chicken in olive oil, herbs, and garlic for extra flavor. Then bake it with your favorite vegetables and serve alongside a fresh green salad.
3. Tofu Stir-Fry: Whip up a hearty stir fry with tofu, veggies, and flavorful spices. Serve over brown rice for a complete meal that's rich in protein and fiber.
4. Fish Tacos: Go south of the border with a delicious fish taco recipe. Combine corn tortillas, sautéed fish, crunchy cabbage, and creamy sauce for a tasty meal that's ready in minutes.
5. Lentil Soup: Get creative with lentils and turn them into a filling soup. Add in your favorite vegetables, herbs, and spices for a delicious meal that's full of flavor.
6. Quinoa Salad: For a light lunch or dinner, whip up a simple quinoa salad with fresh veggies and your favorite dressing. This dish is packed with protein, fiber, and vitamins – the perfect way to fuel your day.
7. Tomato Basil Risotto: Enjoy the flavors of summer with a creamy tomato basil risotto recipe. This dish is easy to make and can be served as either a side or main course.
8. Veggie Wraps: Create a convenient meal on the go with easy-to-make veggie wraps. Simply fill a whole wheat tortilla with your favorite veggies, add some hummus or other condiments, and get yourself a tasty lunch in minutes.
9. Egg-Fried Rice: A satisfying dinner doesn't have to be complicated – try making this simple egg-fried rice recipe with leftover rice and your favorite veggies.
10. Chickpea Curry: Enjoy a warm, comforting bowl of chickpea curry. Cook up a mix of fragrant spices, onion, garlic, and tomato for a delicious, ready meal.
Frequently Asked Questions
Q: What does a meal kit for one include?
A: Meal kits for one usually contain pre-measured ingredients, recipes, and instructions. These kits usually make enough to feed one person for a few days, depending on the size of the kit. Some meal kits also come with additional items like seasonings or sauces.
Q: Does healthy eating for one have to be expensive?
A: Eating healthy doesn't have to be expensive! Look for recipes that use affordable, shelf-stable ingredients like canned beans, frozen vegetables, and whole grains. Buying in bulk can also help you save money and plan ahead. Meal planning is a great way to ensure you're sticking to your budget while eating nutritious meals.
Q: What other meal ideas can I try?
A: Soup, sandwiches, and salads are great meal ideas for one person. You can also make single-serving casseroles or skillet dishes that are easy to prepare. Don't forget about leftovers – they're an easy way to get two meals out of one! With a little bit of creativity, you'll be able to create delicious and nutritious meals with ease.
Q: How can I make a weekly meal plan?
A: Start by making a list of your favorite meals and ingredients. Consider what you have on hand and what you can buy in bulk. Then make a shopping list to ensure that you have the necessary ingredients. Finally, create your meal plan for the week and write down each recipe, along with any additional items needed for preparation. With practice, meal planning can become second nature!
Q: Which freezer meal recipes can I make ahead?
A: Freezer meals are a great way to make sure you always have a delicious meal on hand. Lasagna, enchiladas, and burritos all freeze well and reheat easily. Soups and stews also work well for freezer meals – just let them cool before transferring them to an airtight container or freezer bag. You can also pre-portion meals into individual servings for quick and easy reheating.
Q: What are some tips for cooking for one?
A: Cooking for one person doesn't have to be a chore! Choose recipes that freeze well and make enough to last several days. Look for recipes with short ingredient lists, as these are usually easier to make with fewer leftovers. Investing in smaller kitchen appliances like a mini slow cooker or an electric skillet can also help you save time and energy when it comes to meal preparation. Finally, don't be afraid to experiment – try adding your own spin on classic recipes for new flavor combinations!
Final Words
Having a meal plan for one person can be a challenge, but with the right recipes and meal planning tips, it's easy to create delicious and nutritious meals that you enjoy. Plus, with the right ingredients and a bit of advanced preparation, you can make meals in no time. With practice and creativity, meal planning for one person can be quick and fun!
Give it a try and see what works best for you! Bon appétit!