Vegetables play a key role in the diets of many different cultures. Their high nutritional content has many positive effects on health. However, preparing vegetables is a time-consuming process. It's not easy to cut them to the required dimensions and shapes if you don't have the proper equipment. So the question of what is the best knife for chopping vegetables arise.
An excellent knife for chopping vegetables is one that is both sharp and sturdy, as this is a demanding chore. Even so, a good knife for cutting vegetables should have a versatile blade that can slice through many different types of produce. Additionally, the knife needs to be simple to use and manage. To guide you more about this matter, come and read along with us 'til the end!
What is a Vegetable Knife?
Vegetable cutting is a skill that every home cook must acquire, so it seems logical that you would require a dedicated vegetable knife. What, though, does the term "vegetable knife" actually imply? Why not just use the old chef's knife we have lying around? Can we get by without a knife designed specifically for cutting vegetables?
Actually, a chef's knife is all you really need for the vast majority of your day-to-day cooking duties. But if you're serious about becoming a top chef, you need to put yourself in a position to succeed. In order to chop, slice, and dice any food to perfection, you need the proper equipment.
How Does a Sharp Knife Aid in Vegetable Chopping?
 It's common to accidentally mash a soft tomato instead of slicing it into even, tasty bites. One immediate benefit of buying a good vegetable knife is that tomato slices look better when you serve them. Put jokes aside; a good knife really does make it easier to cut vegetables uniformly and cleanly every time. A high-quality blade can cut through many different materials.
How to Use a Vegetable Knife?
Nakiri knife's one of the most obvious characteristic is its flat blade. The flat blade of your vegetable knife is one of its most noticeable parts and a big reason why it works so well for chopping vegetables.
A more in-depth breakdown is as follows:
🔪Take hold of Nakiri's handle.
Your fingers and index finger should be grabbing on just forward of the handle's end. So, slide your hand in the air until you reach that point. You'll have a better command of the knife if you do this.
🔪Roll in an inward motion.
Roll the tips of your fingers inward to form a "claw" with your other hand. Putting this over the food you're chopping will keep your fingers from getting cut.
🔪Glide down and forward.
Use your knuckle as a guide and glide the fork down and forward into the meal. Nakiri knives make quick work of this, and the thud of freshly hacked meat on a chopping board is a wonderful auditory reward.
🔪Up and back movement.
Just bring the knife up and back, and you're good to go. When you're having fun, you won't want to stop what you're doing. Watch out; you might not have any more vegetables to chop!
How to Choose the Right Vegetable Knife?
A replacement vegetable knife is in order, but not until you keep a few things in mind. Among them are some of the followings:
✔️Knife Build and Material
The construction of the knife is a crucial aspect to think about. In an ideal world, the blade would be made of a strong material that could withstand being sharpened over and over and being used to cut things sharply. Also, it should be easy to use for long periods of time without making your hands tired.
✔️Knife Handle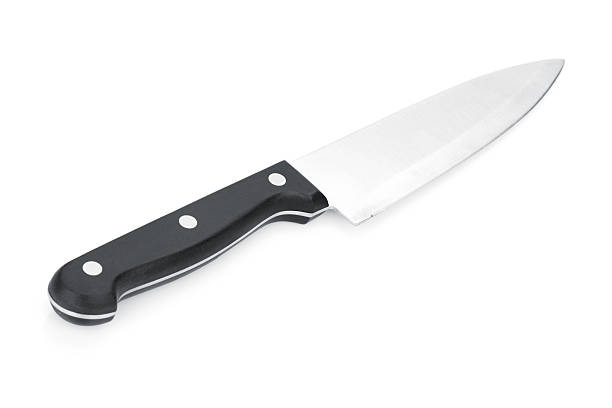 The knife's handle is also crucial. Your fingers shouldn't have to squeeze together to use it, so make sure the grip is nice and wide. In addition, it needs to be constructed from a sturdy material that won't easily chip or break.
Typically, knives have wooden handles. Handles made from wood are often long-lasting and easy to grip. However, they can easily break or crack if not handled with care. Blades made of stainless steel are another viable alternative for knives. Unlike other metals, stainless steel does not rust or corrode over time. As an added bonus, it's simple to sharpen, allowing you to always have a razor-sharp blade.
✔️Blade Material
A knife's effectiveness can also be affected by the metal used to craft the blade. High-carbon steel is used to make blades that are both durable and sharp. Their vulnerability to oxidation and corrosion is a drawback, though. Blades made from stainless steel are more resistant to rust and corrosion, but they are not as durable as those made from high-carbon steel. It's also trickier to get a good edge on them.
✔️Weight and Balance 
The knife's balance and weight are also crucial. It will be more challenging to maintain control with a heavier knife, but it will make short work of any tough vegetables. A lighter knife may be simpler to hold, but it may not be up to the task of chopping tough vegetables. After all, you must have to look for a satisfying tool.
✔️Cutting Edge
There are two main types of knives available: Japanese and Western (German). The majority of people's knives are Western-style blades. Among the many things they can do are chop, slice, and dice. Japanese knives were designed specifically for chopping vegetables; therefore, that's what you should use them for. 
The blades on these knives are narrower and far more razor-sharp than their Western counterparts. Because their blades are curved, German knives are known for how versatile they are, while Japanese knives are known for how sharp they stay for a long time.
Best Vegetable Cutting Knife
You'll find reviews of knives suitable for chopping veggies below.
OUR TOP PICK

Product Name: Wüsthof's Traditional 12-Inch Chef's Knife
Product Description: Wusthof has a lot of entries on this list because they are well-known in their field. It's essentially an upgraded version of their multipurpose chef's knife. Built from high-carbon steel, this tool quickly returns to a razor's edge and keeps it there. This chef's knife is a little more cumbersome to store due to its length, but it is ideal for chopping melons, squash, and other large produce. The knife is easy to use because it has an ergonomic handle, and the blade will last a very long time because it is made of high-quality steel and has a full tang.
Availability: InStock
Ergonomic

Craftsmanship

Maneuverability

Versatility
Summary
This magnet, which is shaped like the handles of your international knives, can be mounted on the wall to provide a convenient spot for stowing and showcasing your collection. You can mount it next to your range or along any wall; its eye-catching dimpled design will look great no matter what else you have hanging around the kitchen. The exclusive blend of low and high frequency serrations ensures unparalleled efficiency making it an excellent choice for chopping vegetables!
Pros
☑️ For larger vegetables, a longer shape is preferable.
☑️The longer shape is more suited to heavier vegetables.
☑️ The handle is seamless, making it convenient to clean.
☑️ Comfortable, ergonomically-minded handle construction
☑️ Complete flavor
☑️ Extremely fine point, high carbon steel
Cons
✖️ Popular product, many knockoffs on the market
✖️ Coverage for safety must be purchased individually or as part of an expensive package.
---
RUNNERS-UP
★ Mercer Culinary Santoku 7-inch Knife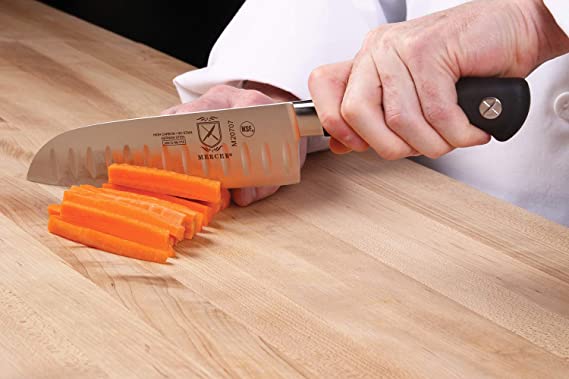 This 7-inch Santoku knife is an excellent choice if you want a reasonably priced knife that is nonetheless sturdy, sharp, and well-made. The blade is made of high carbon stainless steel, and while it is flexible enough to deal with most veggies, it is not so flexible that it cannot handle more difficult vegetables and fruits such as squash, yams, and melons. The ergonomic design of the handle not only makes it comfortable to hold for extended periods of time, but also gives you a firmer grip that will help you get the job done.
The relatively compact shape of this Santoku contributes to it having a degree of versatility and precision that is superior to that of larger models. The Granton coating on the blade's edges also prevents product from adhering to the blade as you cut. Unfortunately, out of the box, some of these knives do not have the same level of sharpness that I would want. However, you can easily sharpen them yourself, and the edge treatment ensures that they will maintain their edge for a longer period of time than other knives.
---
★ Classic WÜSTHOF 4582/20 8-Inch Chef's Knife

Then we'll move on to the chef's knives. This knife would be a great addition to most kitchens because of its flexible shape, strong full tang, and high-quality steel. You can trust this knife to cut through anything you throw at it, so it's a great choice if you're in the market for a new knife. 
It's sharp enough to cut tomatoes and sturdy enough to cut through squash, making it ideal for a wide range of detailed tasks. In comparison, it is not a highly specialized field, and that's not necessarily a terrible thing. This knife can be sharpened to a very high degree, doesn't need much maintenance, and can be kept in a standard knife block.
---
★ DALSTRONG Nakiri Gladiator Series Asian Vegetable Knife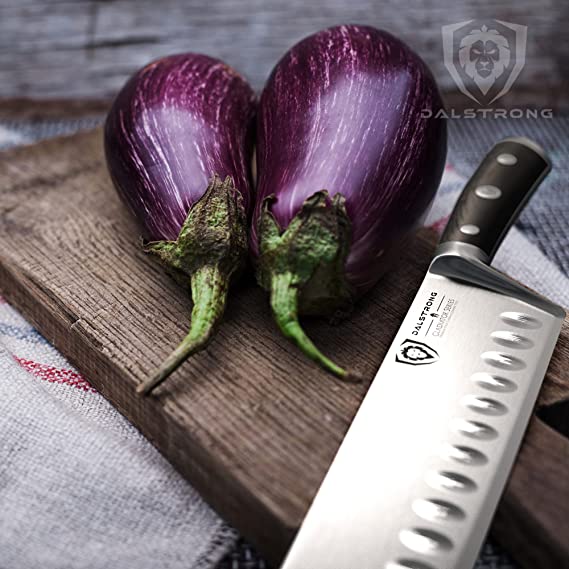 The Dalstrong Nakiri can be thought of as a cleaver for vegetables. A superb edge may be achieved and maintained with this high-quality steel. It can easily slice through many different types of veggies and requires nothing in the way of upkeep. The full tang provides a lot of grips. It is also an excellent knife for chopping plants, which can be messy with certain other types of knives.
---
★ Gladiator Series DALSTRONG Cooking Knife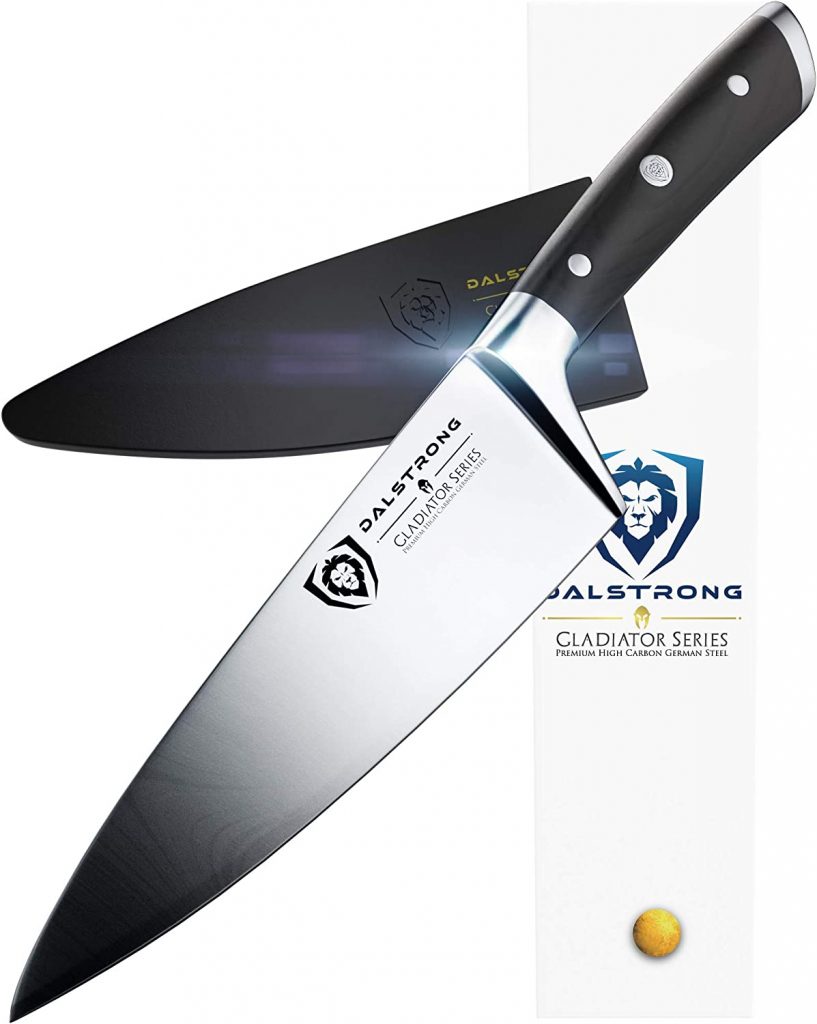 This particular chef's knife stands out because of its versatility, although there are more specialized variants on the market. There are shorter and longer versions of this, but I still like the original, traditional form best because it is tall and well-balanced.
This unique design is a big help when you need to quickly chop a lot of vegetables for your favorite recipes. It's ideal for large families, meals with lots of vegetables, and chefs who do a lot of chopping and slicing, thanks to the knife's slight curve in the belly.
---
★ Phantom Series by DALSTRONG, a 4″ Paring Knife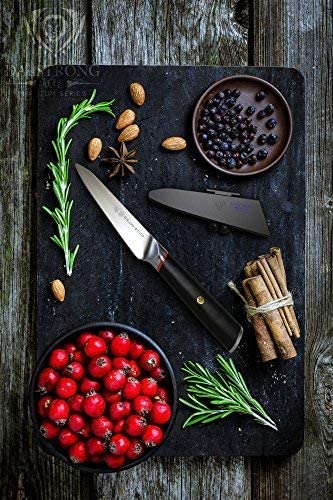 Lastly, a paring knife is required to round off this set of vegetable knives. The paring knife is different from the others we've discussed since it is smaller and more suited to finer tasks like those described in the article.
This knife is four inches long, making it somewhat longer than the standard three-inch length for paring knives. The Phantom series may be longer than most, but it is still ideal for cutting herbs and other small vegetables.
---
Frequently Asked Questions
Q: Which knife is ideal for chopping up vegetables?
The chef's knife is the best option for chopping vegetables. It's a multipurpose knife that excels in slicing, dicing, mincing, and chopping. When chopping larger, more robust veggies, the chef's knife comes in handy. It is designed to keep its edge even when slicing through tougher materials.
To replace it, a Santoku knife is a great option. Vegetables are less likely to get stuck in the blade's hollow ridges. It's a fantastic substitute for a chef's knife, and some people might even like using it more for chopping vegetables.
Q: Can vegetables be chopped quickly and easily?
Good knife skills are just as important as using a knife designed specifically for chopping veggies. Considering the importance of using a razor-sharp knife, this is obviously crucial. Cutting vegetables of any kind requires the appropriate motion and technique. Unfortunately, mastery requires a significant time investment. Being proficient with a knife requires regular practice. If you want faster chopping times, this will help a lot.
Q: What's the finest knife for slicing potatoes?
Make thin slices of potatoes is done great with a chef's knife. Because of its wide blade, you can use it to quickly and easily cut through potatoes without having to make multiple cuts. Cutlery of a smaller size might get jammed up in the middle.
It's ideal if the chef's knife is razor sharp. A great piece of advice before you begin slicing is to find the potato's most stable position. That's the side that naturally prefers to lay on the cutting board. After that, you can safely cut the potato.
Q: Which knife is best suited for slicing carrots?
Carrots and other vegetables can be easily chopped with a Nakiri knife, which is why it is my go-to knife. The blade's inherent arc makes repeated slicing unnecessary. This knife's deep blade makes quick work of chopping carrots. This also means that the cut carrots won't stick to them. If you don't have a Nakiri knife, you can always use a chef's knife instead. It works wonderfully for slicing through tougher foods like carrots.
Q: What additional tasks besides cutting vegetables would benefit from my Santoku and Nakiri knives?
When it comes to cutting meat, fish, and cheese, the Santoku knife shines, but it's also great for slicing vegetables and fruit. However, the Nakiri knife is ideal for slicing and dicing fresh produce. In fact, it excels magnificently at its task.
As with the butter knife or filet knife, the Nakiri knife has a specific function. Even though your Nakiri knife works great for slicing butter and chopping pork, I recommend saving it for cutting veggies. This is the best method to reap all of the benefits it offers.
Q: Which knives are essential for any kitchen?
Who wouldn't desire a selection of knives that make cooking more pleasant and convenient? A chef's knife, a multipurpose knife, and a scalpel blade are the only three tools each cook needs. Most individuals will concur that the chef's knife is the ideal instrument for cutting food. Its primary function is chopping, although it can be put to use for any task that requires a knife. 
Therefore, if you are only going to buy one knife today, make it this one. The utility knife is like a smaller version of the chef's knife. It's for finer cutting work that would be difficult with a large chef's knife. A utility knife is ideal for slicing through onions, garlic, and fruit.
Chopping Up
It's not only that a poorly chosen knife results in poorly sliced vegetables. It's also about getting the most out of your time in the kitchen, staying safe, and equipping yourself with the essentials for a successful culinary adventure. When you have a blade that makes prep work simple, you'll be shocked at how quickly you can start producing elaborately sliced veggies and beautifully arranged platters.
Buying the best knife, you can afford will save you money in the long run, in addition to making meals easier and more enjoyable. After all, if you take care of a good knife, it will serve you well for many years. That's a lot less expensive than having to repeatedly replace a cheap knife over the same time span.