Are you tired of being cramped while cooking? Or do you simply want more space in the kitchen? Either way, learning how to maximize kitchen counter space is the best solution. It's efficient, cheap, and anyone can do it! Explore the ten DIY foolproof hacks below to get the most room from your kitchen.
See which one fits to be in your kitchen expansion!
---
How to Maximize Kitchen Counter Space?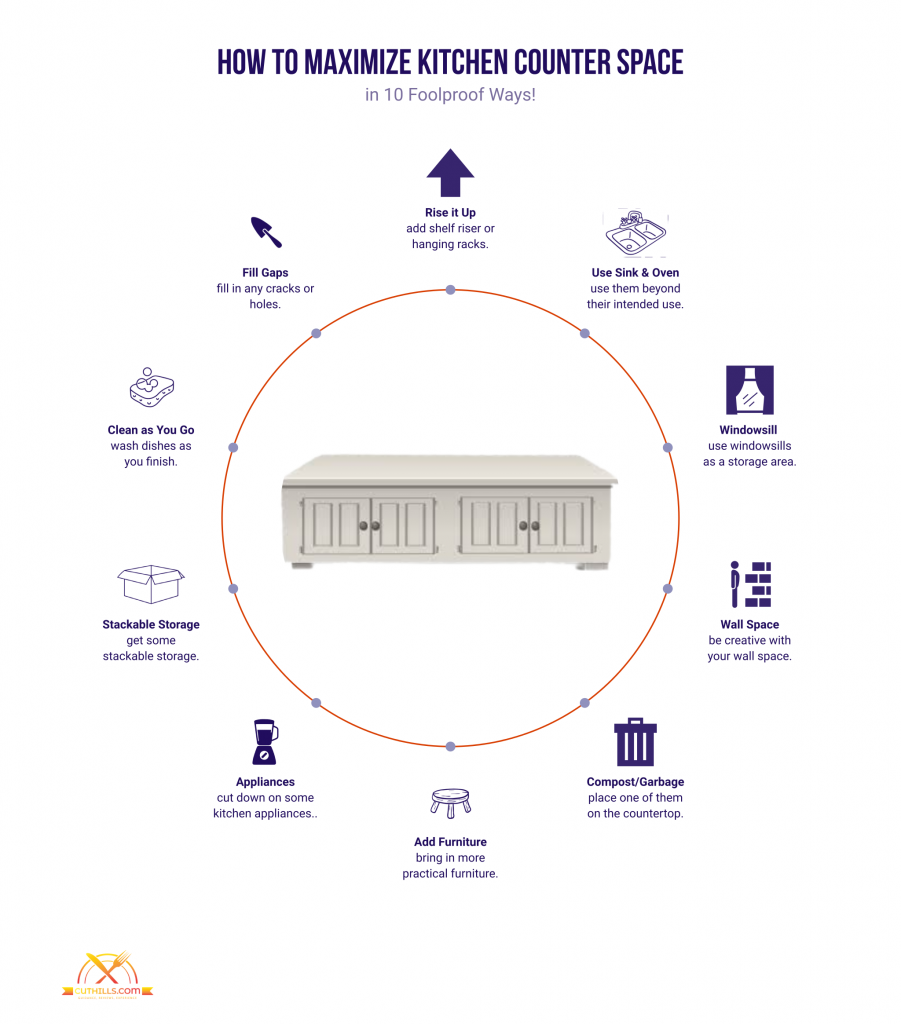 ✅ Rise it Up
You're likely surprised that the first hack is to add something to your cramped counters. But this method is for the best as it gives you some new room and value for your home. I'm not implying anything massive; just a couple of shelf risers should do.
Shelf risers give you more storage space without cramping your kitchen countertops. I suggest mounting these on your walls to create more storage space. Not only does this get things up and out of your way, but it manages to stay in reach.
So, this shouldn't affect your daily kitchen routine. 
Aside from that, you can opt for kitchen racks. These are smaller and easier to squeeze into tight spaces. I recommend mounting some rocks above or near your stove to hang some of your cookware.
Be it frying pans or small pots—these racks should be able to give you the space-saving solution you need. And with that, of course, comes more room for your kitchen counters. 
✅ Be Creative with Your Sink and Oven
Kitchen sinks and oven stovetops are one of the most versatile features of any kitchen. That's because, beyond their intended use, you can also use them as a storage space.
For instance, you can use burner covers to make a makeshift work surface on your oven. 
Alternatively, you may also utilize your sink as a temporary cutting area. All you need for this is a long cutting board that goes across your sink. It gives you more room to work whenever needed.
So, as long as you turn off the faucet and the burners, you can reclaim these dead spaces.
Just be careful when making your prep zones!
✅ Use Your Windowsill as a Storage Area
Windowsills are often unoccupied in kitchens. So, unless you have potted plants or other things on your windowsills, this can be a great storage area. As a result, you can maximize your kitchen's counter space.
You can place some of your seasonings or other condiments in this area, saving you more space.
Not to mention, if the windows are near your sink or stovetop, it makes it easier to navigate around the kitchen. 
So, if you're lucky to have a kitchen windowsill that's deep or broad, use it wisely and maximize your space!
✅ Take Advantage of Free/Dead Wall Space
There's only one way to go in the kitchen if you're running out of counter space: to the walls! After all, most kitchen walls are unoccupied. So, get the most out of these dead spaces by installing racks, baskets, etc.
I recommend mounting your microwave on the walls to save you space and make it more convenient for you. After all, this kitchen appliance is hugely bulky and takes too much space.
So, if possible, have it installed on your walls. You can hang it below a kitchen cabinet or above your stove. Either way, mounting your microwave should free up space without affecting utility. 
A foolproof way to maximize kitchen counter space is by sticking knives on the wall. You can install a magnetic strip above your countertop or stove. It frees you from bulky knife blocks while keeping it in reach but out of your way. 
✅ Place a Small Compost Bowl or Garbage Can on the Counter
This foolproof hack keeps your debris to a minimum and maximizes your counter space.
All you must do is put a small bowl beside you when chopping veggies, fruits, or meat. Use this as your mini compost bowl or garbage can to clean on the go.
You can put food scraps and crumbs into it without going around and destroying your kitchen.
This way, you can maximize your counter space and avoid making a mess. 
✅ Bring in the Furniture
Despite the lack of counter space, kitchens usually have plenty of floor space to offer. So, if your kitchen does, I recommend bringing in some practical kitchen furniture. Whether it's a trolley or a storage shelf, these can maximize your counter space in no time.
Trolleys give you a mobile storage unit that you can use around the kitchen. And these are usually cheaper and don't require installation at all. On the other hand, if you have more floor space to spare, consider investing in metal storage shelves.
Metal storage shelves can hold anything from small kitchen cookbooks to medium-sized appliances like blenders.
Another alternative is a kitchen island. This piece of furniture gives you instant counter space as they have many shelves intact. You can get these in smaller sizes, allowing you to squeeze them in most dead areas in your kitchen. 
✅ Cut Off Some Kitchen Appliances
If your kitchen countertops stay cramped no matter how much you clean your kitchen, it's time to cut off some appliances. Decide which ones do you need to sit out on your counters. For instance, if you use your coffee machine a lot, it deserves a place on the counter.
However, items like blenders should be stowed away in your cabinets. After all, you likely only use these occasionally. And if you're short counter space, you can store them in the basement or a different room entirely. 
✅ Invest in Stackable Storage
If you've run out of wall/floor space to make up for your counter space, go up. Aside from hanging things from your ceiling and walls, be creative with multi-level stackable storage units. These help you get the most value out of your counters without making them cramped.
For instance, you can install a spice rack on your kitchen cabinets and have some hooks attached to its bottom. With this, you can utilize the most out of the storage unit. So, be creative and explore other stackable storage options out there.
After all, you have more counter space than you'd think!
✅ Clean as You Go
Are you planning a big day of cooking in the kitchen? Then be proactive and clean as you go to maximize counter space. If not, your area will get cluttered with piles of dirty kitchen tools and dishes.
So, to have as much room as possible in the kitchen, clean as you go. I suggest keeping a pan filled with soapy water ready by your side and loading your dishwasher as you cook.
Either way, this should make your work area clutter-free at all times. 
✅ Fill the Gaps
If you have a lot of dead space between your kitchen cabinets but don't want to replace your countertops entirely, fill in the gaps. You can do this by using a butcher block. Just make sure to cut true to its size, and have it supported by legs.
Moreover, butcher blocks blend nicely with most kitchen countertops.
Regardless, filling in the gaps is a great way to get extra kitchen counter space.
You can do these simple expansions adjacent to remodeling your kitchen for cheap! This way, you can bring the best out of your kitchen without spending much—or nothing at all.
---
Frequently Asked Questions
Q: Does extending my kitchen add to the overall value of my home?
A: Regardless of how significant the expansion is, renovating a kitchen always boosts a home's worth. Besides this, extending your kitchen gives you valuable space and room for improvement. That means you can improve your layout over time. But you need to get planning permission for big projects like this one. 
Q: What do you consider a good amount of counter space in a kitchen?
A: The National Kitchen & Bath Association (NKBA) suggests kitchen countertops should be at least 24 inches deep, stretching 158 inches wide. But remember that this is a general suggestion, and the amount depends on your kitchen layout.
Q: How much space should a kitchen countertop and stove have?
A: Generally, professionals suggest having 24″ to 30″ of space between these two. This gap is crucial as it prevents water from hitting your stovetop. Plus, it gives you more room to work on your counter. But it still depends on your kitchen's layout, and you may need a bigger or smaller space.
Q: Is it illegal to extend my kitchen without getting planning permission?
A: Although not at all, most states allow homeowners to extend their kitchens freely. So, you can now revolutionize your kitchen space without planning permission. You may extend your kitchen up to six meters or eight meters if you have a detached home. If you're planning on expanding it further, you must get planning permission. 
Q: Is it wrong to have too much space on a kitchen countertop?
A: Although space is always welcomed in a kitchen, having too much of it can be a hassle. You might find that the counters might be too far away to use comfortably. And it can make simple kitchen tasks more complicated than it has to be. 
---
Final Words
Counter space is just something everyone needs. Luckily, you don't need to blow your salary this month just to get that much-deserved expansion. After all, you simply learn how to maximize kitchen counter space without spending a dime. So, if you've decluttered but to no avail, explore each hack to get the most space from your kitchen.