Are you planning to remodel your kitchen? Do you know when to do it and where to start? Is your budget enough to peel that wall and change it to your ideal selection? If these questions pop into your head, then this remodeling blog is for you!
Remodeling your kitchen can be one of the most expensive areas to rebuild in your home. Nevertheless, there are various ways where you can save time and money. You don't have to burn your kitchen just to make it new and fresh. You also don't have to buy new appliances, as long as your old ones are still functioning. Are you now curious about how to do this? Don't worry! I will guide you from telling you when to remodel up to the things you need to fix and change. So keep on reading, and let's start designing your kitchen!
WHEN SHOULD YOU REMODEL YOUR KITCHEN?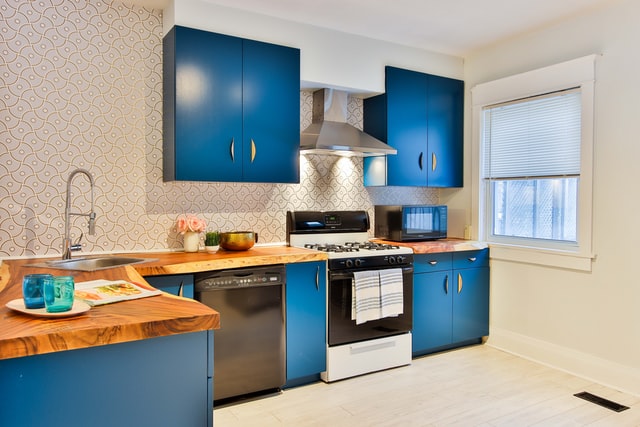 If your think your kitchen needs some love, how do you know if it is the right time for complete remodeling or an aesthetic upgrade? It is advisable to make changes in your kitchen set-up when it just comes down to the fact that you don't like the design of a specific element. But what if there are functional and practical issues?
🏠 Covering the issues
When it comes down to functional problems or those that are broken beyond repair, that is the time to consider making your kitchen fresh again. Kitchen aesthetic improvements are considered a bandaid to cover your kitchen issues.
🏠 Selling the house
When function and aesthetics are lacking, you need to consider doing some major work on your kitchen. And remember that if you plan to sell your house, it is not always necessary to renovate your kitchen. In short, do not renovate your kitchen for someone else; do it for yourself instead.
🏠 Own comfort
Remember that your goal of remodeling and renovating is to make your kitchen feel better, work efficiently, and function smoothly. Do not remodel your kitchen and regret it afterward. That is why it is a great option to consult a professional designer so that your goal will be followed strictly.
THINGS TO CONSIDER WHEN REMODELING YOUR KITCHEN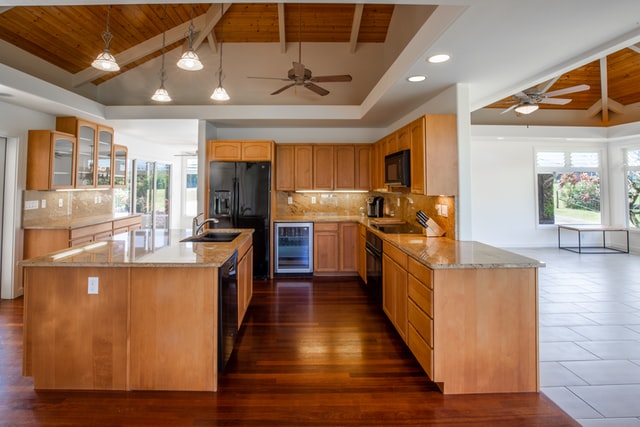 Remodeling your kitchen is an effective plan that you can do in your house. This is because you spend a quarter of your day in your kitchen preparing for your family's meal. That is why it is crucial to plan it properly to maximize your time and minimize your expenses.
🔘 Flexibility
If you are working with a well-qualified designer, trust them that they're going to show you some good options. So work on keeping your mind open to that plan will come together. Remember that you and your designer must agree on some point to lessen the chances of redoing the overall task.
🔘 Non-negotiables
It is essential to list your non-negotiables during remodeling. This means that if nothing else happens in a project, provide things that are got-to-haves. These may not necessarily be specific products. These non-negotiables maybe a kitchen finish, a feeling, or a function you want to have in your kitchen.
🔘 Examining floorplan
It may be exciting to redesign your kitchen but remember to examine your existing floorplan. As mentioned earlier, there are areas in your kitchen that you need to keep in place. Granted, some kitchens are designed in a way that just needs to be blown up and totally recreated. Remember that every time you move a piece, it will cost more money to accommodate that move.
🔘 Countertop options
Countertops are big one that is almost half of your kitchen. So remodeling your kitchen means a countertop is also included. The most common countertop options are granite and quartz. But remember that the prices of these options vary from different manufacturers. You may also look for some alternatives, such as laminated countertops that are cheap and still effective.
🔘 Sinks
Probably, the most affordable sink would be stainless steel. You have to minimize the cost of your kitchen sink because it is one of the most costly areas if you plan to renovate your kitchen. Some don't like stainless steel because they are afraid of the possibility of scratching. But that is the most affordable route to go compared to some porcelain sinks, composites, or cast iron sinks.
🔘 Establish your plan
Regardless of the advice listed above, remodeling your kitchen won't be successful if you don't have a plan. So make sure you have a plan and not just peeling off your kitchen wall and don't know what to put on every corner. By establishing a plan, you will come up with a result where all the materials coordinate with your design. You will also avoid unwanted mistakes that can make your expenses exceed your budget.
ACHIEVING THE IDEAL KITCHEN
Setting up your kitchen correctly is crucial to improving your cooking workflow. A well-organized layout that's easy for you to maneuver will save you so much time and make your cooking flawless. Before you start planning your kitchen layout, think about how frequently you are going to use your kitchen and how much cooking you are going to be doing.
🟢 Steps
You want to have adequate space with everything you do in a kitchen. So having a good kitchen space means you are more organized and can move without bumping into corners. Basically, you just need three to five footsteps to attend to your cooking: from preparation, cooking proper, and washing.
Pre-cooking
Check your fridge door if you still have space behind you and the countertop every time you open it. Remember that the flow of your cooking must not be disturbed by obstacles. You also need to have enough space to lay all your ingredients, especially when you get them from your cabinets. Aside from this, you need to consider being organized whenever you put ingredients on your countertop. Because if you don't have enough space, your carrots and potatoes will just fall down the floor.
Cooking
Ask yourself. Do you still have space for plating your food from the hot pan? You don't want to travel your hot pan to the dining table just to plate and serve. That is also dangerous, especially if you have kids at home that can trip you, causing a huge mess. So keep both sides of your stove clear so that you'll have space for your used plates and hot pans.
Post-cooking
Can you also reach the sink very easily? Hygiene is essential in the kitchen because we want to prevent contamination and poisoning. That is why your kitchen sink must be easily accessible because you need to wash every ingredient and utensil you use. Your kitchen sink will also be a great spot to pile up your used plates while cooking so that they are not scattered on your countertop.
🟢 Spins
Moving around your kitchen is like dancing. You have to do steps and spins. We already talked about the steps, and for the spins, here's the catch. Spinning happens especially if you are unsure where to go or what to do. You can avoid these spins if you are organized enough and if your things are within arm's reach.
Pre-cooking
Washing is part of the cooking preparation. So to avoid spins on where to put all your things while waiting for them to be washed, make sure your sink has enough depth. This is also great for avoiding water splashes on your clothes or coming out all over the place. Aside from the sink depth, wideness is also important so that you can wash large pots.
Cooking
The stove is your primary partner when cooking. If you are using a gas stove, make sure that you have enough space to do it when you bend and turn the canister. Check if your lower back is not bumping anything from behind or your head is not burning from the fire of your stove. Make sure that you won't need to position yourself uncomfortably whenever you operate your canister.
Post-cooking
Cleaning your kitchen after every use is a must-do chore. Some kitchens have hoods where oily fumes get sucked. So, when you clean the hood (by removing the filter and scrubbing), make sure it is spacious enough to reach the filter by arms. It's crucial to clean your filter as often as possible, so to prevent having this issue, keep your hood accessible.
BUDGET-FRIENDLY KITCHEN RENOVATION TIPS
It's an outstanding achievement to have your dream kitchen made into reality. But most household owners are afraid, especially when the bill comes in. But, it's really easy to get your dream kitchen while minimizing the cost. By using your creativity, you can achieve this in no time.
💲 Paint and hardware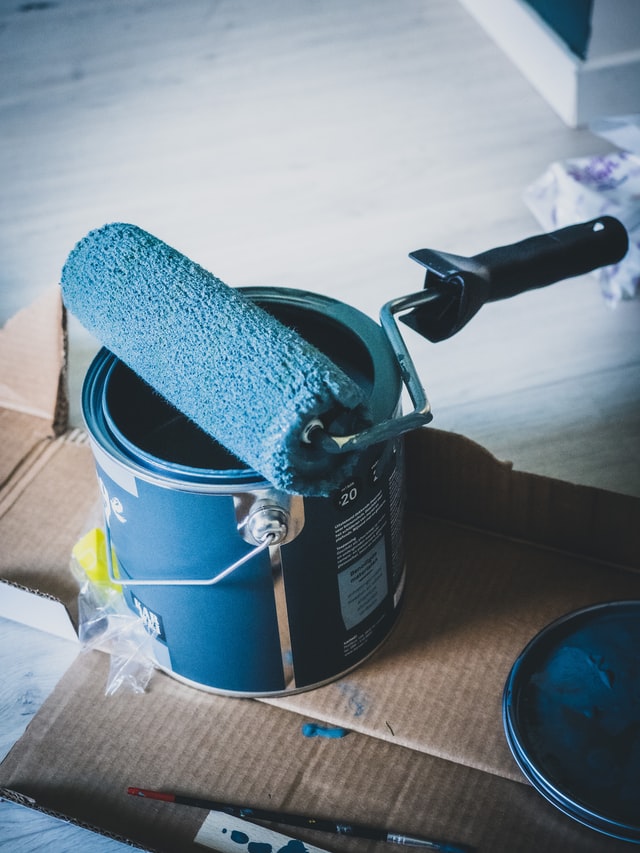 Changing the color (or motif) and finish of your cabinets is the most uncomplicated way to remodel your kitchen. This gives a whole different kitchen identity without the headaches and stress of construction. Plus, when you start painting your cabinets, you have the possibility to alter the materials by filling in the existing spaces and selecting from a vast collection of decorative material parts.
So if you have a dated oak, you can strike new pain like deep charcoal color and highlight it with beautiful brass cabinet parts. This is the fastest, most cost-effective, and most efficient way to remodel your kitchen.
💲 Keeping the layout
The area where your sink, appliances, and cooking surfaces sit in your kitchen is exceptionally crucial to remodel. This is because the functionality of your kitchen is greatly affected. Changing the existing layout will increase your allotment because that means you'll be extending electrical wiring or plumbing. There is also a possibility that you'll remove the walls to make the layout work for you. Anytime you have to reposition pipelines, your expenses go up.
For example, you want to move your kitchen sink because its current place is burdensome. This means you need to realign your plumbing system, and this really costs you a lot. Aside from this, there is also a whole lot of additional alterations that add up to your expenses. So before changing everything in your kitchen, make sure to minimize some movements, mainly if the functionality still works for you.
💲 Architectural design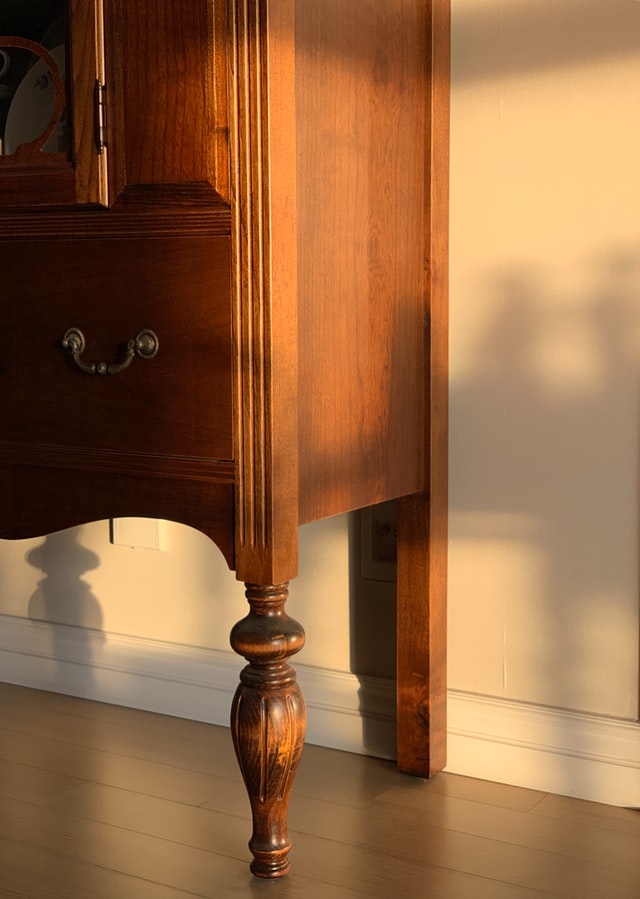 The best way to make your kitchen look new is to add something to it, and it is essential to know what and where to put those designs. You can add architectural elements to your cabinetry, such as corbel.
This element is a decorative wooden bracket that looks great under high cabinets and will surely add sophistication at a very low cost. The next element is ornamental feet to the base of your cabinets. These feet will make your kitchen cabinets look like expensive furniture. 
💲 Trim
For example, you have stock cabinets or standard panel drawers. You can build the illusion of a hidden cabinet door by adding embellishment to the doors and smudging it all out with abstract paint. This will not cost you a lot of money but can make your cabinetry looks expensive.
💲 Filling the gap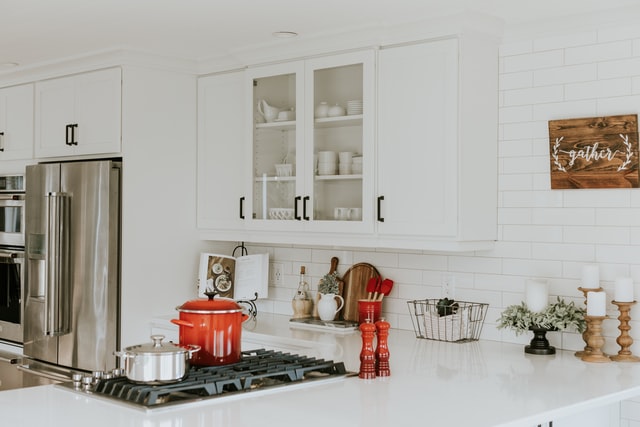 The latest kitchen layout is to have your cabinetry touch your ceiling. In many instances, cabinets fall short of height, leaving a cleft between the head of your cabinet and the ceiling. One way to solve this gap issue is to fill the gaps. You can put small cabinets or organizers in this space.
But perhaps, the less pricey alternative is to fill it in with just some various moldings or plywood boards. By extending your cabinet, you will make your kitchen feel more elevated. Paint everything using the coordinating color as your existing cabinets, and you'll have the look of new kitchen furniture for a very minimal cost.
💲 Appliances
Using appliances that have a double purpose can lessen the bulky appliances in your kitchen. Having fewer appliances means you'll have more kitchen space for storage and cooking surfaces. For example, instead of having a microwave oven, why not buy a combination of cooktop vent and microwave?
There are available appliances like this, and marketers are making these all-in-one appliances look renowned and convenient to place in your kitchen. If you let a gap below the cooktop and place a separate appliance in the corner, these bring up your spacial cost and also multiply expenses to the specialized cabinets needed for this arrangement.
💲 Open shelving
One thing that makes your expenses higher is putting cabinets. Because of this, having an open shelved gives you accessibility to all of your kitchen needs. This will also relax your body (and visual) because you can stretch your arms easily to reach the ingredient. To simplify, the less kitchen material you have, the less money you'll spend. So if it is all right to have all your cups and plates exposed, go for it!
💲 Backsplash splurge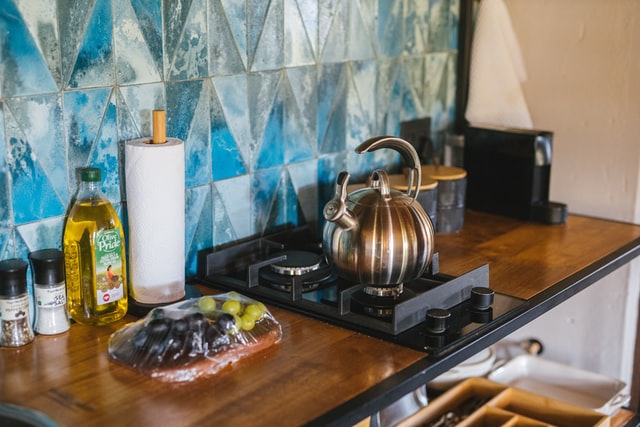 Every kitchen must have a backsplash. This is the wall (or tile) behind your stove. Having a backsplash can really change the overall design of your kitchen. But backsplash can also be costly. To minimize the cost, you can DIY it by making different tile designs cut into pieces and mixing them on the wall. This will be a great central design in your kitchen. The main point here is to spend less for a small spot instead of buying uncoordinated expensive wall tiles.
💲 Hiding the floors
Sometimes, the most significant challenge is not your kitchen furniture or appliances but the flooring it sits on. Kitchen flooring can be a pricey and challenging feature to alter. For example, you have a kitchen flooring that covers up until your dining room (and sometimes to the living room). Removing it means you renovate the main floor, which makes your project bigger. If you want to modify the style of your flooring, you can just add a sizeable gorgeous rug so that your focus is no longer on the ugly tile below. 
But if you want to maintain the style of your tile but need a central cleaning, you can click this link to learn how to make your tile sparkle again.
💲 Repurpose furniture
Putting a kitchen island is a lavish idea to add distinctiveness and can save you money by reusing your old furniture. You can use an old wooden table or levels of drawers. You can also put some mini bookcases for your cookbooks with a standard top for a cooking surface. And if you're handy and imaginative (and thrift shopper), you can produce a stunning aesthetic kitchen island.  
WHAT MATERIALS SHOULD YOU USE?
One reason why your kitchen is very messy to look at is that you have materials that you don't really need, but you think you'll use in the future. So what are things that are good to have in your kitchen?
✅ Countertop finish
It is thoroughly recommended to have a manmade stone countertop. This is because of its durability, price, and aesthetics. It doesn't scratch or stain easily, so you'll be confident to have it for years. Manmade stone is also heat resistant, so it is safe to put your hot pan after cooking. So if you are remodeling your countertop, better use stone than laminated.
✅ Pans
If you are using your kitchen just for your family, you don't have to complete your pan sets. It is all right to have the essential pans to accommodate all your cooking sessions, especially if you don't have enough space inside the cabinet for them.
✅ Trash bin
Putting a trash bin in the kitchen is very important. But the question is, where? There is no specific spot for the trash bin. As long as it's away from your food and utensils. But if you are having a hard time figuring out where to put it in your small kitchen, you can place it near your door or sink. This is to avoid insects from reaching your kitchen.
✅ Lights
As I said, it's all right remodeling your kitchen by yourself. But if you are minimizing your kitchen expenses but want to change your lights, choose the ones that are bright enough to lighten your whole kitchen. You don't have to buy a chandelier or light aesthetics. The important here is that you won't have a hard time cutting your potatoes in a dim kitchen.
BOTTOM LINE
Remodeling your kitchen means you have to consider the overall design, materials, extent of the remodeling, dimensions of your design, colors, finishes, and more. You must have creativity in remodeling your kitchen. It's all right to DIY the designs; as long as your body is comfortable moving around your kitchen, you are doing great. But if you don't have enough time but still have an excess budget, you can hire an interior designer to save you from your dilemma.