These blogs help you know how to make a veggie quesadilla. Simple, quick and simple-to-make healthy meals that are also tasty are what I prefer to prepare. Like the veggie quesadilla dish, I'm providing today.
These quick and easy veggie quesadillas are suitable for any day's meal. Everyone enjoys them since they are filled with lots of vegetables and cheese. These veggie mix-loaded quesadillas are calling your name if you're looking for a hearty vegetarian lunch that tastes amazing.
A delectable veggie quesadilla stuffed with crisp vegetables and melting cheese is called a veggie quesadilla. This simple Mexican recipe is vegetarian and can be eaten for breakfast, lunch, dinner, or even as a snack.
When you're hungry, you could eat your face; quesadillas are what you need because they're so simple, inexpensive, and quick to cook. The ingredients for these vegetarian quesadillas are likely already in your refrigerator and cabinets. Let's continue to learn more about Veggie quesadillas.
What is Quesadilla?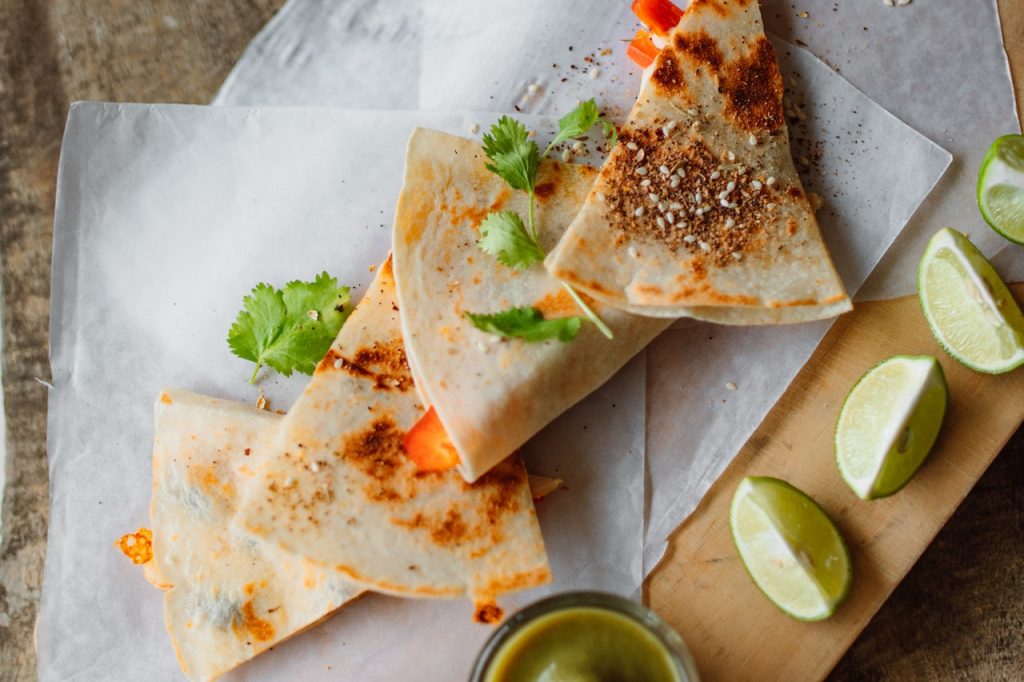 A tortilla is used to make a quesadilla, a traditional Mexican dish grilled on a griddle or stove and usually filled with cheese but can also include other contents like meat or spices. Although a flour tortilla can also be utilized, a corn tortilla is a more common choice. Mexican food, known as quesadillas, can be eaten for breakfast, lunch, dinner, or even simply as a snack.
Quesadilla translates to "small cheesy thing." This dish first appeared in Northern and Central Mexico during the 16th century. Different varieties of filling, typically made with veggies, beans, meat, spices, and cheese, are placed inside a quesadilla to cook it. A tortilla encloses the filling, which is then grilled or roasted.
Making a Veggie Quesadilla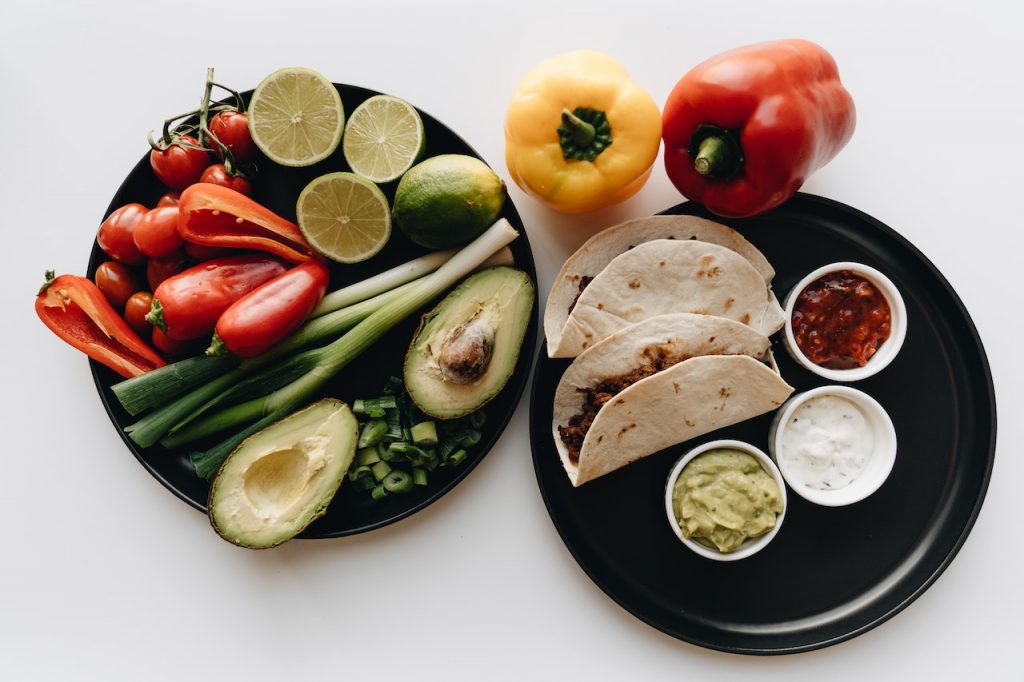 Give you a taste of this incredible Veggie Quesadilla. Although it is vegetarian, it is substantial, flavorful, and tasty in a way that will appeal to even the most ardent meat eater. Even better, it can be made in just 20 minutes. A quick, inexpensive dinner served at the table is a major success.
🌮Cooking Ingredients
🥄Two tablespoons of olive oil
🥄2-4 finely sliced spring onions
🥄Salt and pepper
🥄400g can of drained mixed beans with water
🥄Chipotle paste, one tablespoon
🥄four corn tortillas
🥄100g/312-ounce grated cheese
🥄Four teaspoons of soured cream 
🥄Two lime, only the juice 
🥄a few fresh coriander leaves as a garnish
🌮Cook a few of the vegetables in oil
We'll start by cooking the bell peppers, onions, and garlic in a little olive oil since we want them to be nice and soft.
🌮Make the quesadillas
Spray some cooking spray on a skillet that you can cover lightly. Place a flour tortilla on top of the veggie mixture, followed by a layer of cheese, cheese, and more cheese.
🌮Add Corn and Beans
We will add the beans and corn with some basic spices at the very end because they need to be warmed through.
🌮Tortilla
For this great recipe, any tortilla can be used. Consider using a big tortilla for quesadillas (at least 9 inches).
🌮Mushrooms
White button mushrooms were used. Use whichever variety of mushrooms you choose.
🌮Cheese
You can use any melting cheese, such as Monterey Jack, Cheddar, or Mozzarella. Additionally, you can combine several kinds of cheese before using them.
🌮Vegetables
Add whatever vegetables you choose. Onion, bell peppers, broccoli, and cauliflower are some of my favorite vegetables in quesadillas.
Steps on Making Veggie Quesadilla
Not your typical quesadilla, this vegetarian quesadilla version is unique. Even your pickiest eaters will enjoy this veggie quesadilla packed with cheese, spices, and a tasty vegetable blend.
👉First Step
Over medium heat, add the olive oil to a large skillet. In a cooking pot that is already heated, add onion slices. The bell peppers, onion, and garlic should be sautéed for 5 to 7 minutes or until the vegetables are soft.
👉Second Step
The vegetable combination should now have added black beans, corn, chili powder, cumin, paprika, salt, and bell pepper before being taken off the fire.
👉Third Step
Over very low heat, place a clean, sizable pan that can accommodate a lid.
👉Fourth Step
Spray the skillet with a very small quantity of cooking spray while working with one tortilla at a time. The tortilla should be put in the skillet. Add about 2/3 cups of vegan cheese, 2 cups of veggie filling, and a little extra cheese to one side of the tortilla. The tortilla should be folded in half.
👉Fifth Step
Give it two minutes to cook or until the shell becomes golden. While it cooks, cover. Cook it for two more minutes on the opposite side after recovering. Continue with the additional tortillas. Then enjoy your favorite Veggie Quesadilla.
Veggie Quesadilla Recipe Tips and Tricks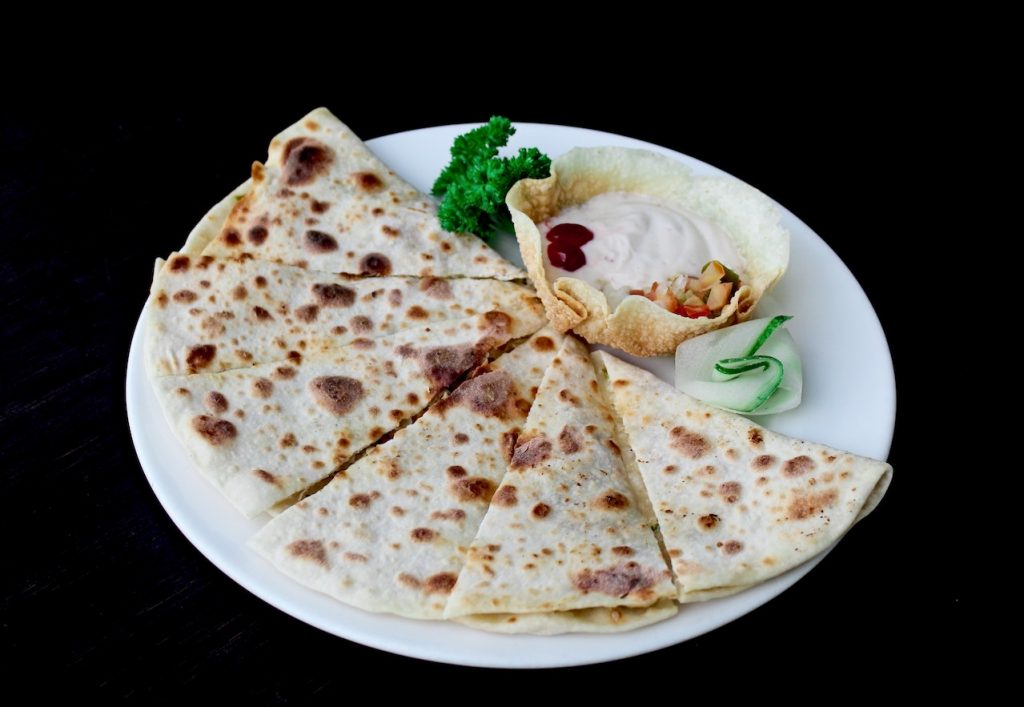 You may use whichever veggies you have on hand to make these simple veggie quesadillas. Additionally, it's quick, simple, and so good to cook, and it's healthy. But here are some tips and tricks to know on your Veggie Quesadillas.
🍛How to Serve
Add Guacamole, salsa, pico de gallo, sour cream, or yogurt on the side, and serve warm or hot veggie quesadillas. You may also serve it with your preferred dipping sauce.
Do you need suggestions for a side dish with these homemade veggie quesadillas? I would advise:
▸Mexico's side dish
▸chips, red or green salsa, and Guacamole
▸Aguas frescas or margaritas
🍛How to Keep Your Veggie Quesadilla
Let these veggie quesadillas come to room temperature before wrapping each in cling wrap or another suitable food wrapper. You can freeze veggie quesadillas for up to 4 months. They should be individually wrapped in cling wrap and frozen. Once all the quesadillas have been wrapped, please place them in freezer-safe containers or a zip-top bag.
🍛Reheating your Veggie Quesadilla
Heat a skillet to reheat veggie quesadillas. Apply some oil or butter to it to brush it. The quesadilla is placed on the grill once the wrapper has been removed. For a few minutes, toast the food from both sides until it is nicely reheated and crunchy. Drain frozen veggie quesadillas before reheating if you're doing so.
🍛Veggie Quesadilla Recipe Guide
▸You are welcome to include or exclude vegetables as you see fit.
▸Add some chopped jalapenos or chili flakes to the filling if you like spicy food.
▸Add your choice of cooked beans for protein.
▸Vegetables shouldn't be overcooked. They ought to keep a little crunch.
▸You can also make mushroom quesadillas by omitting veggies from the mixture and using several varieties of mushrooms instead.
▸Quesadillas can also be dried and roasted if you don't want to use oil. But even a tiny amount of oil makes them crispier.
▸Use pre-made seasonings of your choice to season the filling for additional taste, such as lime chipotle, chile-garlic, salt and pepper, etc.
Other Quesadilla Styles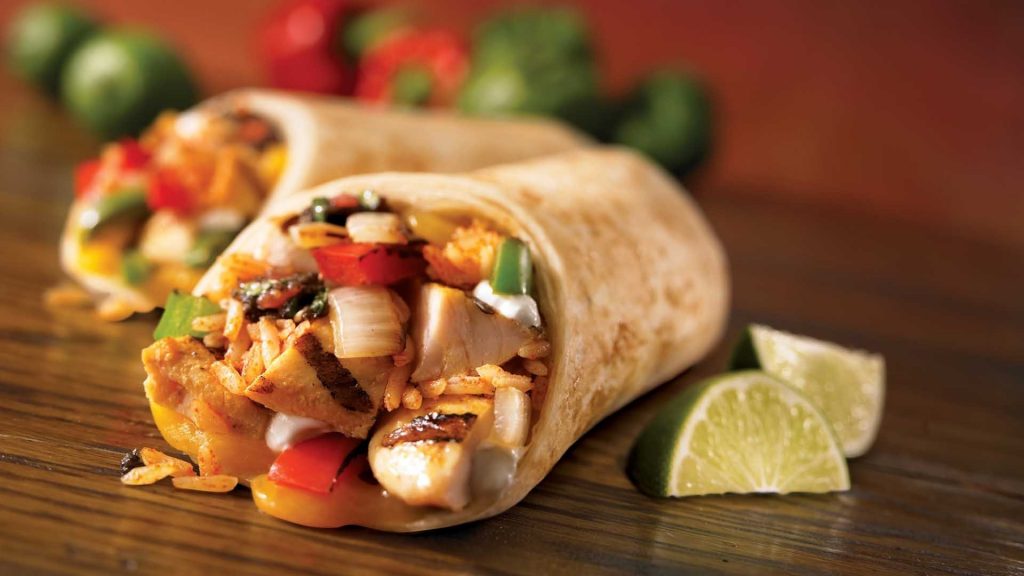 The fact that you can stuff them with anything you want is fantastic in addition to the cheese—Philadelphia cheesesteak Check. Dip with spinach and artichokes? Of course! Sticking to all cheese and the classics are always a safe bet. You may sate your craving for a quesadilla in various tantalizing ways, from traditional cheese to loaded chicken fajitas. Here is a great quesadilla recipe you may like.
🌯Air Fryer Quesadilla
This recipe for air fryer quesadillas is as simple as it gets between two tortillas, spread refried beans, and cheddar cheese. Let the air fryer handle the rest. They resemble bean and cheese burritos in flavor but are a little less messy. Add additional fillings if you desire. Making these genuinely can be done in any way—right or wrong.
For busy weeknights, air-fryer quesadillas are an incredibly quick and simple dinner choice. You can keep it traditional by sticking with refried beans and cheese, or try something new. The tortilla is crisped to perfection, and the cheese is perfectly melted in the air fryer. A fan of quesadillas? It would help if you attempted to prepare them in the air fryer. Every time, the cheese melts flawlessly, and the tortilla's outer layer turns perfectly crunchy.
Your air fryer quesadilla can be made as you like. When I'm busy and don't feel like cooking, I usually keep a can of my favorite refried beans on hand to make these. However, make sure to limit yourself to cheese and beans. Be inventive when choosing your fillings; rotisserie chicken that hasn't been used up, roasted vegetables, or even vegan cheese by itself all work great.
🌯Chicken Fajita Quesadilla
Between two tortillas, a chicken fajita quesadilla is made with red and green peppers, onions, and perfectly seasoned chicken breast. Simply delicious and ready in only thirty minutes. Chicken breast, fried onions, green and red bell pepper, some or a lot of seasoning, and a ton of cheese. You have something truly spectacular on your hands if you sandwich all this sweetness between a couple of tortillas.
But, in my opinion, quesadillas are always a good choice. When topped with some of my chicken fajita seasonings, it is similar to a sandwich but better. These portable nibbles have a unique quality that makes them incredibly flavorful and filling.
🌯Chicken Quesadilla
Chicken quesadilla is a kid and adult favorite! It is a protein-rich supper that doesn't require utensils. It's a fantastic meal to use up any extra chicken. Make this chicken quesadilla dish to serve at gatherings—a delicious blend of melted cheese, roasted peppers, and spicy chicken. Serve with salsa and sour cream after cutting into wedges.
When you are preparing your meals or having a big party, chicken quesadillas are fantastic. Here are some wonderful prepare-ahead recipes to keep your chicken quesadillas on hand.
-Make a big batch of chicken quesadillas for your supper preparation. As you come close to serving, cook them by stacking them together in an airtight container.
-Quesadillas should be kept warm by preheating the oven to 200°F and setting them on a wire rack pan. To keep them from drying out, lightly wrap the top with foil.
Chicken quesadillas are simple and enjoyable to make. The filling must first be heated before being inserted into a tortilla and fried by folding it over. Your quesadilla is prepared to be eaten.
🌯Cheese Quesadilla
A cheese quesadilla is among the simplest tortilla-based meals. Food is ready with just a few flour tortillas, cheddar cheese, and a pinch of salt. While you might not require a recipe, this one explains how to achieve the ideal golden brown appearance and offers some interesting variants.
This cheese quesadilla is quite tasty despite its simplicity. You may have a warm, cheesy, crispy quesadilla ready for a fast lunch or a favorite family dinner in less than 10 minutes. The best thing, though? Any night of the week, you may add more ingredients to make this a clean-out-the-fridge supper.
🌯Veggie Quesadilla
Want to squeeze some vegetables into your meal? There is no easier situation than this. Whatever vegetables you have on hand should be sautéed before being layered with black beans, Mexican cheese, and a good helping of cilantro on a tortilla. Salsa and sour cream on top are the only ways to add more flavor to this dish. You might try roasting your vegetables if you have the time. This vibrant fiesta gains yet another depth as a result.
🌯Chipotle Chicken Quesadilla
Let me provide one more recipe you might want to try if you haven't previously. Cheddar cheese and chicken shredded in a flavorful, smoky, and garlicky mixture make up the filling. I like to heat coconut oil in the pan to make the tortillas crisp. But not excessively. If not, it can come out greasier than you prefer.
🌯Shrimp Quesadilla
I use this simple recipe to add shrimp to my quesadilla when I truly want to indulge. After a brief pan with peppers, onions, and shrimp, the cheese is added. Similar to shrimp fajitas in many ways but cheesier.
Yummy and healthful ingredients are used to make this simple shrimp quesadilla dish. The most healthy seafood quesadillas are made with roasted bell pepper, onion, tender fried shrimp, lime juice, taco seasoning, and flour tortillas.
You'll enjoy making this tasty, healthy shrimp quesadilla in only a few minutes! Family feasts and any other occasion at home that calls for a quick and easy meal are great occasions for fried shrimp quesadillas.
Cheesy Ground Beef Quesadilla
Are you looking for incredibly cheesy quesadillas with ground beef? You've arrived at the proper location. These quesadillas are delicious because of the well-seasoned ground beef, a ton of cheese, and a crispy golden brown surface! They'll become a household favorite, just as they have in ours.
With some fairly simple ingredients you already have, these cheese quesadillas come together in no time. They are in regular rotation in our house, so I have no doubt they will be in yours as well.
🌯Spinach Artichoke Quesadilla
With these wonderful three quesadillas, you can transform your spinach artichoke dip into a whole dinner. The filling keeps nicely in the refrigerator and takes around 30 minutes to prepare. So you can quickly prepare these again for a fast dinner later, make some extra filling. Now that I think about it, this would be a wonderful appetizer for visitors. However, wait till they get there to put everything together. Everyone dislikes wet quesadillas!
Quesadillas with spinach artichoke dip, cilantro-lime rice, vegetables, beans, corn salad, slaw, or tortilla soup are all good accompaniments. Once you discover how delicious these quesadillas are, you might start looking for more applications for the spinach artichoke dip. Try it over rice, pizza, or even pasta and chicken!
🌯Chicken Sheet Pan Quesadilla
The amazingness of these sheet pan quesadillas has me speechless. I'd say these are legendary. It's comparable to serving a supreme chicken quesadilla-style. It includes bacon, sautéed vegetables, black beans, sour cream, cilantro, and shredded chicken, among other ingredients.
Chicken baked in a sheet pan quesadilla, enough to feed a crowd! Black beans, corn, bell peppers, Mexican-seasoned chicken, and a ton of oozy cheese are all included in this enormous quesadilla. The entire family will love this delicious weeknight dinner.
🌯Grilled Chicken Quesadilla
Throw some chicken on the grill for these if you're itching to cook something. These quesadillas elevate everything by adding grilled vegetables and a marinade of cilantro. They certainly involve more steps than simply throwing a tortilla with cheese inside onto a pan. However, there is time to wait if the grill is calling your name.
Chicken quesadillas become even more wonderful when browned over a hot grill. The tortilla becomes even crisper, which goes well with the melty cheese, peppers, onions, and chicken inside.
🌯Deep Fried Quesadilla
It was because of fried quesadillas that cheat days were created. The entire family will enjoy these crispy quesadillas as a snack or for dinner. Make your corn tortillas go the additional mile. It makes a huge difference.
These flour-tortilla quesadillas are shallow-fried in enough hot oil to blister and bubble their surfaces into a crisp, crackly, and overall more savory golden-brown crunch, as opposed to griddling or frying in a tiny amount of oil. You can make the filling as straightforward or unconventional as you like, but I prefer to, at the very least, include a few diced-up pickled jalapenos and some fresh cilantro to counteract the richness of the cheese.
🌯BBQ Chicken Quesadilla
Delicious BBQ tucked within a quesadilla? This dish, though, I just can't pass up. Shredded chicken, black beans, cheddar cheese, and jalapenos make up the stuffing, which is then covered in barbecue sauce. You may prepare this dish in less time if you use leftover chicken.
Tender chicken chunks, creamy cheddar, hot jalapenos, black beans, cilantro, and red onion are all stuffed into these BBQ chicken quesadillas, which are then covered in Sweet Baby Ray's BBQ Sauce, which has a tangy flavor to it. They are simply amazing.
🌯Breakfast Quesadilla
Breakfast quesadillas are one of my favorites, just after breakfast burritos. Because they can be frozen, these become much more delicious. It includes cheese and eggs, just like breakfast burritos. But the inclusion of white beans sets this dish apart. These nutritional powerhouses will help you feel energized and prepared for the day.
These morning quesadillas have a crisp, golden surface filled with scrambled eggs, pinto beans, herbs, and cheddar cheese. The preparation time for these mouthwatering, high-protein quesadillas is 25 minutes.
🌯Ham, Apple and Cheese Quesadilla
Recall the quesadilla with ham and cheese I just mentioned. Well, it made me consider this. It substitutes a slice of crisp apple for the pickle, an interesting method to add more flavor. Slices of cheddar cheese are simpler, yet gruyere cheese pairs well with this.
These Ham, Apple, and Cheese Quesadillas are about to supplant mac and cheese as every child's new favorite dish. They are quick and simple to prepare for the hectic back-to-school season.
🌯Cheesy Avocado Quesadilla
You don't have to only eat instant ramen if you want to eat on a budget. With these excellent quesadillas, you can still cook on a tight budget. They ask for common cupboard ingredients like refried beans and canned chilies. The mixture is then enhanced with some flavorful ground beef. Although expensive, avocados are definitely worth the extra cost. However, save your money and leave them out if they are not in season.
The taco-seasoned ground beef is shredded and layered with creamy refried beans, not to mention the generous helping of avocado bliss on top, between two tortillas that have been baked until they are perfectly crisp.
🌯Cowboy Quesadilla
A BBQ chicken, black bean Texas caviar, and a ton of melty cheese are all packed into this cowboy quesadilla. The entire family will enjoy this recipe, which is ideal for dinnertime!
Cowboy quesadillas. A little BBQ and a little Texas Mexican. Plenty of tasty flavors. These quesadillas are filled with flavorful black bean Texas Caviar and succulent BBQ chicken. A lot of melty cheese as well. These quesadillas are tasty and entertaining because of the flavor mash-up. These are simple to make and great for game day snacks or a quick family dinner!
🌯Philly Cheesesteak Quesadilla
Do you ever feel like treating yourself to the craziest cheesiest, carb-heavy appetizer at a restaurant? So now you may indulge yourself at home. This is dripping with traditional Philly cheesesteak ingredients inside. However, you must never utilize meat of inferior quality. Give in and stuff these lovely things with top-notch ribeye. At a tailgate party, fix this up, and you'll have a lengthy queue.
In a soft tortilla crisply fried on a griddle, beef and melted cheese are combined to make Philly Cheesesteak Quesadillas. This recipe for quesadillas makes a filling lunch or simple dinner in about 30 minutes.
Frequently Asked Questions
🗨Are quesadillas nutritious?
When dining out, they are not the healthiest option. The fillings may be sparkling from the oil they are sautéed in, and those luscious globs of melting cheese are full of fat. Making your quesadillas, however, allows you to retain the great flavor while eschewing the majority of the fat-related calories.
🗨Do I need to butter my quesadilla?
Coating the pan with butter refers to using very little butter or oil when cooking the quesadillas. If you use too much, the tortilla loses its crispiness and becomes greasy and soggy. The bottom of the pan just has to be coated with around a half teaspoon to achieve a crispy tortilla with golden-brown patches.
🗨Is quesadilla considered junk food?
After being pan-fried, two enormous flour tortillas are stuffed with a mountain of meat and cheese. Salsa, Guacamole, and sour cream are also offered with it. In conclusion, a single quesadilla can provide more fat and sodium than you need for the entire day.
🗨Is pizza healthier than a quesadilla?
A quesadilla will typically be the healthier choice. This is since whole wheat tortillas, a high fiber source, are usually used to make quesadillas. On the other hand, white flour, which is less nutritious, is typically used to make pizza. Additionally, quesadillas often have fewer calories than a pizza.
🗨How should a quesadilla be filled and folded?
Cut a tortilla from the outer edge to the center by laying it flat. Place quarter-sized portions of the meat, cheese, sour cream, and tomatillo salsa tomato on the tortilla. The quarters are folded in half. In a heated skillet, cook the quesadillas for a few minutes on each side.
Final Thoughts
A meal outside in a restaurant makes you feel sluggish all the time. We spent the majority of today shopping and had a substantial lunch outside. The desire to eat dinner wasn't present, but it wouldn't make sense to go to bed without food. Try to make a Veggie quesadilla and have fun with this delicious and nutritious Mexican-inspired recipe. If you want to know about how to meal plan for one person. Just click here!