Do you want to know how to add an island to a small kitchen? Are you struggling to find more storage and counter space? Or do you simply want to create a stylish statement in your kitchen? An island can be the perfect solution for these needs and more.
These days, no home is complete without a kitchen island, which has come to symbolize the way we socialize and host parties in the 21st century. However, not every kitchen has the space or layout to support a massive island with plenty of room for food preparation, additional storage, and a seat for the whole family. If your kitchen is a bit on the smaller side, adding an island might seem like a daunting task.
Fortunately, it's not as hard as it may seem. With a few key considerations, you can easily add an island to your small kitchen and instantly increase its functionality.
Here's how to add an island to a small kitchen: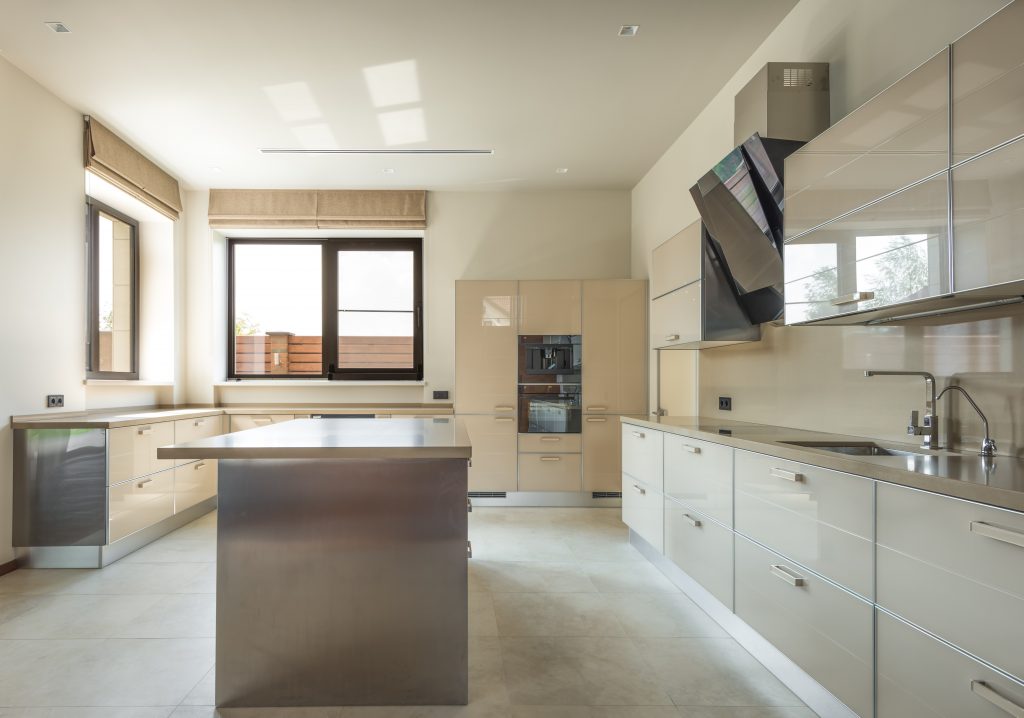 Measure The Space
When considering the addition of an island to your small kitchen, it is important to measure the available space. Doing so will allow you to determine not only if there is enough room for an island but also its size and shape.
Depending on your space limitations, you may want an island with square edges or a curved design that allows more freedom to move around while you are in the kitchen. Additionally, measuring the width and length of the area will tell you what options are available when it comes to style and features.
Having accurate measurements ahead of time can help guide your decision-making process and make sure that your end result is both functional and aesthetically pleasing.
Choose Features Wisely
Your kitchen island should be both useful and beautiful, so it is important to choose features wisely. Consider what you need the island to do before selecting components like countertops, cabinets, and shelving.
If you are short on space, opt for small, unobtrusive features such as towel racks, built-in drawers, or pull-out shelves. These can help maximize storage while still maintaining a neat and tidy look.
Consider Placement
When adding an island to a small kitchen, it is important to consider the placement of both the island and any other appliances or furniture pieces in the room. Make sure that there is enough space for people to move around easily and for any stools or chairs you might want to add.
Additionally, think about the island's proximity to other essential items like the sink, stove, and refrigerator. This will ensure that you can make the most of your kitchen's layout for a functional and efficient workflow.
Choose the Right Materials
When adding an island to a small kitchen, it pays to ensure you select the right materials. Many people think all islands are created equal, but each material has unique properties which will influence your overall design aesthetic.
Metals, for example, are strong and resilient but can be quite expensive. Woods provide an earthy feel but should receive seasonal treatments; engineered stone is not suitable for outdoor use, and the solid surface can lend a sleek look to your kitchen but is a porous material.
Taking into account questions like budget, usage habits, and desired styling outcomes will help you decide what materials are best for your new island – and knowing which qualities they each possess provides further insight into selecting the correct one.
Shop Around
Have fun with the shopping process! Take your time to explore all the different options available. From prefabricated islands to custom designs, there are a wide variety of islands that can fit your style and needs. If you have the budget, consider investing in a custom island to get the exact look, size, and features you are after. Be sure to shop around for the best deals, as prices vary from store to store.
Get Professional Help
For best results, it is recommended that you enlist the help of a professional. A professional kitchen designer can help you make the most of your space and ensure that the island is installed correctly.
Furthermore, a designer can offer valuable advice on how to select materials, fixtures, and finishes that will work together to create the perfect island for your kitchen. With their help and guidance, you can have a stunning kitchen island in no time. 
15 Kitchen Island Ideas For Your Small Kitchen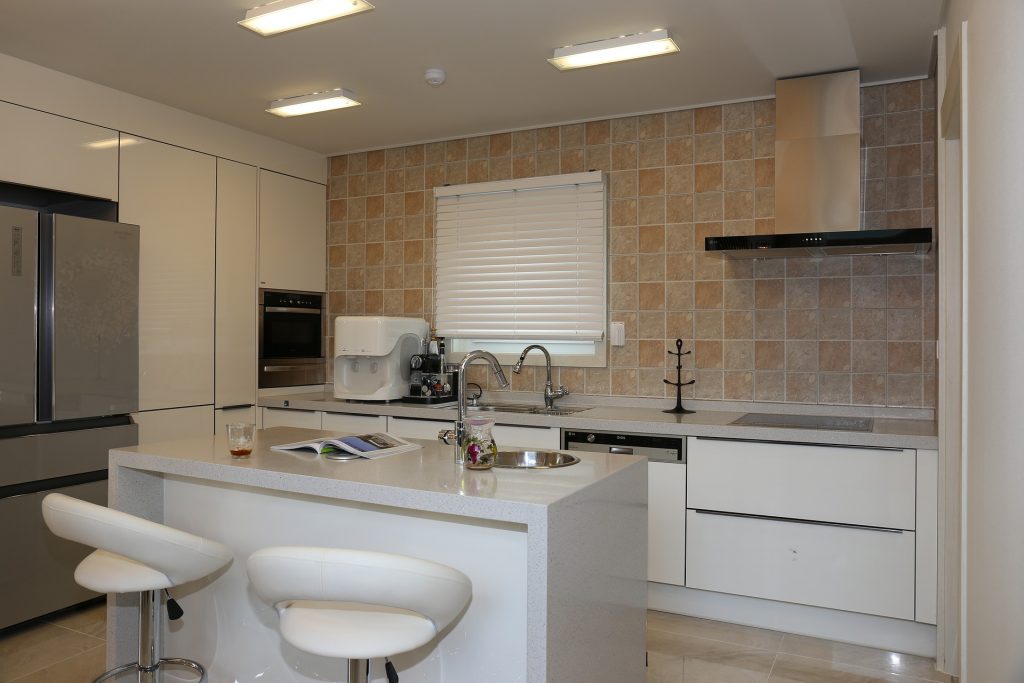 Working in a cramped kitchen is an ongoing struggle of elbow-bumping and wondering where to put the cheese grater. That's why putting so much emphasis on kitchen islands, no matter how big or little they may be; they're often the key to increasing efficiency in the kitchen and giving the impression of more space.
And what are the techniques?
Maximizing the space you have and adding storage in unusual places. You should also give some thought to what goes where. You don't have to keep your pasta in the pantry or your fruit bowl on the counter. One's ability to think outside the box can help one succeed.
Make the most of your limited space with one of these creative solutions for a small kitchen island.
① A Storable Kitchen Island
Is there a place where an island can be temporarily kept? Designing a kitchen island that fits the size of an opening in your current kitchen is one of the most effective ideas for tiny spaces. A storable kitchen island is an innovative solution for those looking to add efficiency and additional workspace to their kitchen.
This flexible piece of furniture can be easily tucked away when it's not in use while still enjoying the benefits of ample countertop space when needed. A storable kitchen island features a retractable or foldable design allowing it to be swiftly collapsed and tucked away against the wall or inside of cabinets.
Furthermore, many island designs come equipped with wheels, casters, and extendable legs, making them easier to move or store away. Moreover, depending on your kitchen layout, you may opt for a stationary island featuring an all-in-one console standing both open and closed without taking up too much space.
Storable kitchen islands are ideal for small kitchens due to their versatility and utility, adding valuable storage solutions that don't skimp on design appeal.
② A Butcher Block Kitchen Island
When you have a small kitchen, adding a butcher block kitchen island can be a great way to maximize your space and add some distinguishable style. Not only does this type of island provide additional countertop space for food preparation, but it also provides additional storage in the form of shelves, cubbies, and drawers.
The butcher block top is decorative and functional as you can use it for cutting or slicing food items or simply as a working surface. Adding an inviting butcher block kitchen island to your small kitchen is an excellent way to use its existing space better while injecting charm into the area.
③ An Island Cart
If you are looking for an inexpensive option that doesn't require a lot of space, then a kitchen island cart may be the ideal choice for your small kitchen. These handy and easy-to-install items can easily be moved around as needed, adding much-needed storage and counter space wherever and whenever it's needed.
Plus, they come in a wide array of sizes and styles, so you can find one that fits your kitchen's unique layout. With an island cart, you get all the functions of a larger island without taking up too much space or breaking the bank.
④ Small Freestanding Island
Are you looking for more permanent kitchen island solutions? A small freestanding island can be a great addition to your small kitchen. A well-constructed small freestanding island also provides additional seating, which is ideal for accommodating guests or family members when entertaining.
In addition to storage, many freestanding islands offer other innovative features such as sink basins, cooktops, wine racks, and cutting boards. With carefully considered design elements and thoughtful placement, this charming piece of furniture can fill an otherwise unused kitchen corner while adding visual interest to the space.
All in all, a small freestanding island brings increasing utility to any modern kitchen.
⑤ Floating Kitchen Island
A floating kitchen island could be the perfect solution if you are looking for something a little more unusual. This type of kitchen island is suspended from the ceiling or mounted on the wall, allowing it to occupy minimal floor space with maximum potential.
A floating kitchen island offers plenty of countertop space and storage below in cabinets or drawers. This type of island also provides a unique feature to the kitchen, as its elevated design creates an interesting visual element.
With careful measurements and creative placement, you can install a floating kitchen island in almost any small kitchen for added style and function.
⑥ Wine Rack Kitchen Island
Do you have an affinity for wine? If so, then consider a kitchen island with a built-in wine rack. This type of kitchen island is perfect for small kitchens because it provides both maximum storage and practicality all in one piece of furniture.
The included wine rack holds multiple bottles, while the countertop is ideal for food prep or serving. Plus, the island can be used as additional seating when entertaining. When it comes to adding a practical and stylish touch to your small kitchen, nothing beats a wine rack kitchen island.
⑦ Kitchen Island With Storage
Utilize your space by purchasing or constructing a kitchen island with storage options. Put away the dinnerware you rarely use and the cooking utensils you never touch. You can add a decorative touch by placing them in woven baskets.
Make sure to choose an island with shelves and drawers that open from both sides — so you can easily access items from either end. This type of kitchen design is a great way to maximize storage space in a small kitchen while also adding visual interest.
⑧ Kitchen Peninsula
If your small kitchen doesn't have enough space for an island, consider a kitchen peninsula instead. A peninsula is like an island but connected to the wall, allowing it to utilize vertical space in your kitchen for additional counter and storage space.
This type of design also allows you to create multiple workstations, making it easier to multitask while cooking or entertaining. Plus, you can choose from different materials and sizes to customize your peninsula and make it fit perfectly in your space.
⑨ Make It Multipurpose
Multipurpose islands are very popular since they provide additional worktop space and contain cupboards beneath the counters and external expanded cabinets.
The top of these multipurpose kitchen island cabinets functions as a little bench. You might also utilize the back of the seat as a glass display and flaunt your magnificent wine glass collection.
These islands are equipped to the fullest extent possible. You can use the available cabinets, the extra floor space, the plentiful seating, and the spare corner for yet another display case. This is highly advised if you have adequate space but don't want to keep adding custom cabinets around the perimeter. You can now acquire stylish storage solutions.
⑩ Put a Pegboard On It
If you don't wish to sacrifice any counter space and require a little more storage, then the perfect solution for you is a pegboard kitchen island.
This unique design includes multiple shelves for pots, pans, and other cooking tools, as well as a place for hanging them using hooks or pegs. This helps keep frequently used items accessible while also freeing up more storage space in the kitchen.
The pegboard island is also a great way to give your kitchen an aesthetic touch and add some color with the selection of paints available these days. You can even use chalkboard paint on them and make notes or draw something unique to express yourself!
⑪ Add Wheels for Mobility
If you want to add an island, but the space is tight, then adding wheels can help make it more convenient. This way, when extra counter and storage space is needed, you can quickly wheel out your kitchen island from where it's stored.
Wheeled islands also come with bonus features such as built-in drawers and cabinets that can hold various items. You can even find wheeled islands with electric outlets and charging stations, making them ideal for those who regularly use electronics in the kitchen.
⑫ Breakfast Bar
Who doesn't enjoy eating in the kitchen? They provide an excellent opportunity for getting together with loved ones. If you'd like a dining area in the kitchen but don't have the extra space for one or prefer to eat in the more casual setting of the kitchen, a breakfast bar is a great alternative.
You can utilize double-layered islands, one with a lower base for a breakfast bar and the higher half for a simple countertop or a built-in stove, whatever meets your needs best! The efficiency and aesthetics of islands with breakfast bars have made them a hot commodity in modern kitchens with a minimalistic theme.
⑬ Go For The Curved Island
If you want something unique, then consider a curved island. Not only are they visually appealing, but they can also be incredibly practical. Curved islands make it easier to move around the kitchen and provide extra counter space than square or rectangular designs.
They also allow for additional seating, with small chairs tucked away under the counter or at the end of the island. If you have small children, then curved islands can be a great solution, as they provide a place for your kids to do homework or play while being within reach and in sight.
⑭ Go for a 3-in-1 Island
There is no better way to maximize a small space than with a 3-in-1 kitchen island. This type of design combines the three most important elements in your kitchen: counter, stove, and sink.
The top of this island can be used as a work surface, while the bottom section can accommodate the stovetop while also providing extra storage space in the cabinets. The sink can be tucked away underneath the counter, making it an ideal solution for those with small kitchens.
⑮ Think Outside the Box
Finally, don't be afraid to think outside the box. From floating shelves to upcycled furniture, there are many creative ways you can add an island to your small kitchen.
For example, if you have a storage bench that is no longer used in another room but still looks nice, consider repurposing it as an island by adding extra shelving, countertop space, and storage drawers. Alternatively, you could also build a kitchen island from scratch using recycled wood or other materials that suit your style.
No matter what type of island you choose to add to your small kitchen, it is sure to provide the perfect combination of function and aesthetics!
Frequently Asked Questions
Q: What small kitchen island idea is the best?
A: The best small kitchen island idea is the one that fits your specific needs, style, and budget. Consider functionality, such as extra counter space or storage compartments for appliances, as well as aesthetic elements like color or design, to find an option that works best for you.
Q: How can I make a cabinet in my small kitchen?
A: To make a cabinet in your small kitchen, you can either purchase or build one. If you have the skills and materials to do it, building a custom-built cabinet is usually more cost-effective. Otherwise, there are many premade cabinets available that will fit most budgets and kitchen sizes. Just be sure to measure your space carefully before purchasing.
Q: Which bar stool is best for a kitchen island?
A: The best bar stool for a kitchen island depends on the size and style of your island. Generally, counter-height stools between 24" and 30" are most suitable. Make sure to take into consideration the height of your island when selecting counter stools so that you can ensure comfortable seating.
Q: Can I use a wooden countertop for a kitchen island?
A: Yes, you can use wooden countertops for your kitchen island. Wooden countertops provide a natural look and are quite durable, making them an ideal choice for everyday use. Just be sure to seal the wood periodically to ensure it retains its strength and beauty!
Q: How can I make open shelving in my small kitchen?
A: You can create a beautiful open shelving solution in your small kitchen by repurposing an existing storage piece or building a shelf from scratch. If you have an old bookcase or cabinet, simply remove the doors and screw on some sleek hardware for a one-of-a-kind look. Alternatively, you can use a few pieces of wood and some basic tools to construct a custom shelf that suits your style.
Final Words
Having a small kitchen doesn't mean you have to sacrifice style and functionality. By adding a kitchen island, you can maximize your space while also creating an attractive focal point in the room. Islands are also great investments as they can increase the value of your home while providing a functional area for cooking and entertaining.
So don't be afraid to think outside the box – you might just find the perfect small kitchen island idea that fits both your needs and budget!