Do you want to make restaurant-quality sushi at home but don't have experience? Worry not! As long as you have a top-quality sushi knife, you'll have no problem making sushi. But to make it easier for you, let's stick to the basics. So, you may wonder, what's the best sushi knife for beginners?
The best sushi knives are the ones that can make precise cuts without much effort. See which blade can help you slice sushi seamlessly.
SUSHI KNIFE
BRAND
EXPERT RATING
CHECK PRICE

Our Top Pick!


Yoshihiro Shiroko High Carbon Steel Sushi Knife

Check Price

Hayate Yoshihiro Inox Aus-8 Yanagi Sushi Knife

Check Price

Chef's Companion 8.25-inch Carbon Steel Blade Sushi Knife

Check Price
---
What's the Best Sushi Knife for Beginners?
OUR #1 CHOICE
OUR TOP PICK: Yoshihiro Shiroko High Carbon Steel Sushi Knife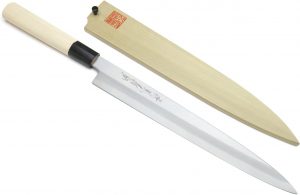 Product Name: Yoshihiro Shiroko High Carbon Steel Sushi Knife
Product Description: My pick for the best sushi knife for beginners is Yoshihiro's Shiroko sushi knife. It's a hand-made sushi knife expertly crafted by one of Japan's top artisans. With this, you can enjoy exceptional quality and performance all the time. Craftmanship aside, this sushi knife is one of the most durable on the market. It's made from high carbon white steel, so you don't have to worry about nicking or damaging this blade for a while. Aside from that, the manufacturer also forged this sushi knife with iron to create "Kasumi," gorgeous and eye-catching patterns that add some flare to the blade. Besides boasting an eye-catching design, this long sushi knife is also incredibly sharp! It allows you to make thin fish and veggie slices like a pro. And you can do all these without interrupting strokes thanks to its design. As a result, you'll be able to maintain the integrity and freshness of your sushi slices. The only downside to this sushi knife is its blade being prone to oxidation. That means you must regularly maintain and sharpen it to retain its integrity, sharpness, and overall quality. Anyway, a little maintenance shouldn't mean too much for its quality and price. If you're taking your first step in making sushi or sashimi, Yoshihiro's Shiroko sushi knife is your best bet!
Offer price: $$$
Availability: InStock
Sharpness

Durability

Blade quality

Value for money
Summary
Handcrafted in Japan, Yoshihiro's Shiroki high carbon steel sushi knife is one of the sharpest on the market. It has a flat grind on the front and a concave grind alongside a flat rim on the back. The unique combination of Urasuki and Shinog lets the blade cut through sushi rolls with minimal damage to the cells. And this comes with a Wa-style D-shaped handle with a protective wooden sheath, protecting the edge for lasting use.
With this, even those without experience should be able to cut sushi like a pro in no time!
Pros
Top-quality craftsmanship. 

This sushi knife has an incredibly sharp edge that can easily cut through most food items. 

The unique engraving on the handle provides the sushi knife with more flare.

Excellent value for money. 

Ideal for beginners.
Cons
This sushi knife requires regular maintenance as its steel is vulnerable to oxidation. 

It's not dishwasher-safe.

A little pricy.
---
RUNNERS-UP
Hayate Yoshihiro Inox Aus-8 Yanagi Sushi Knife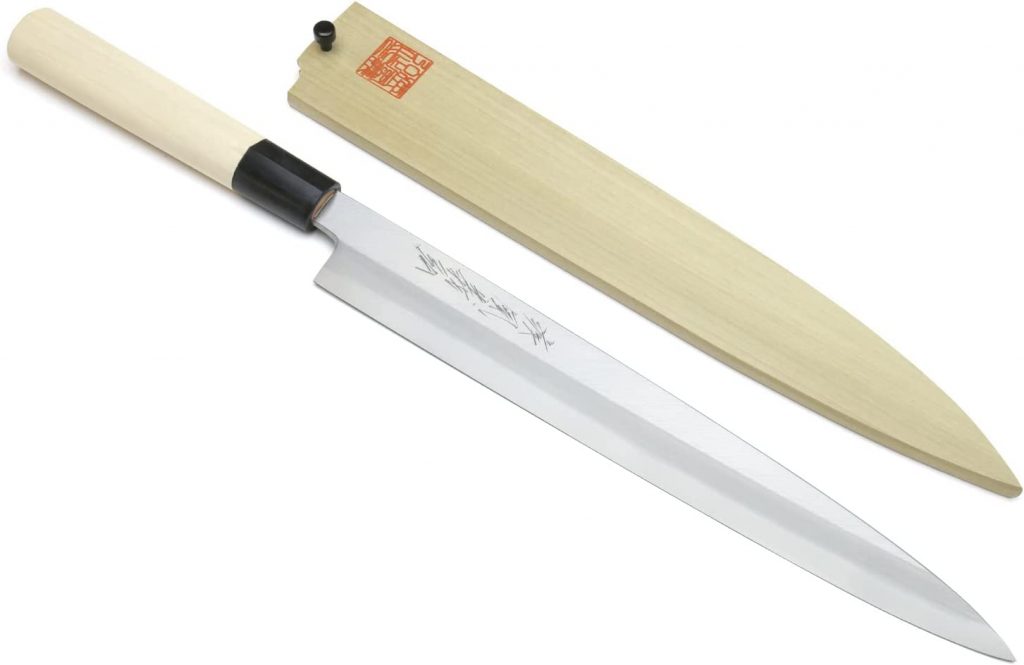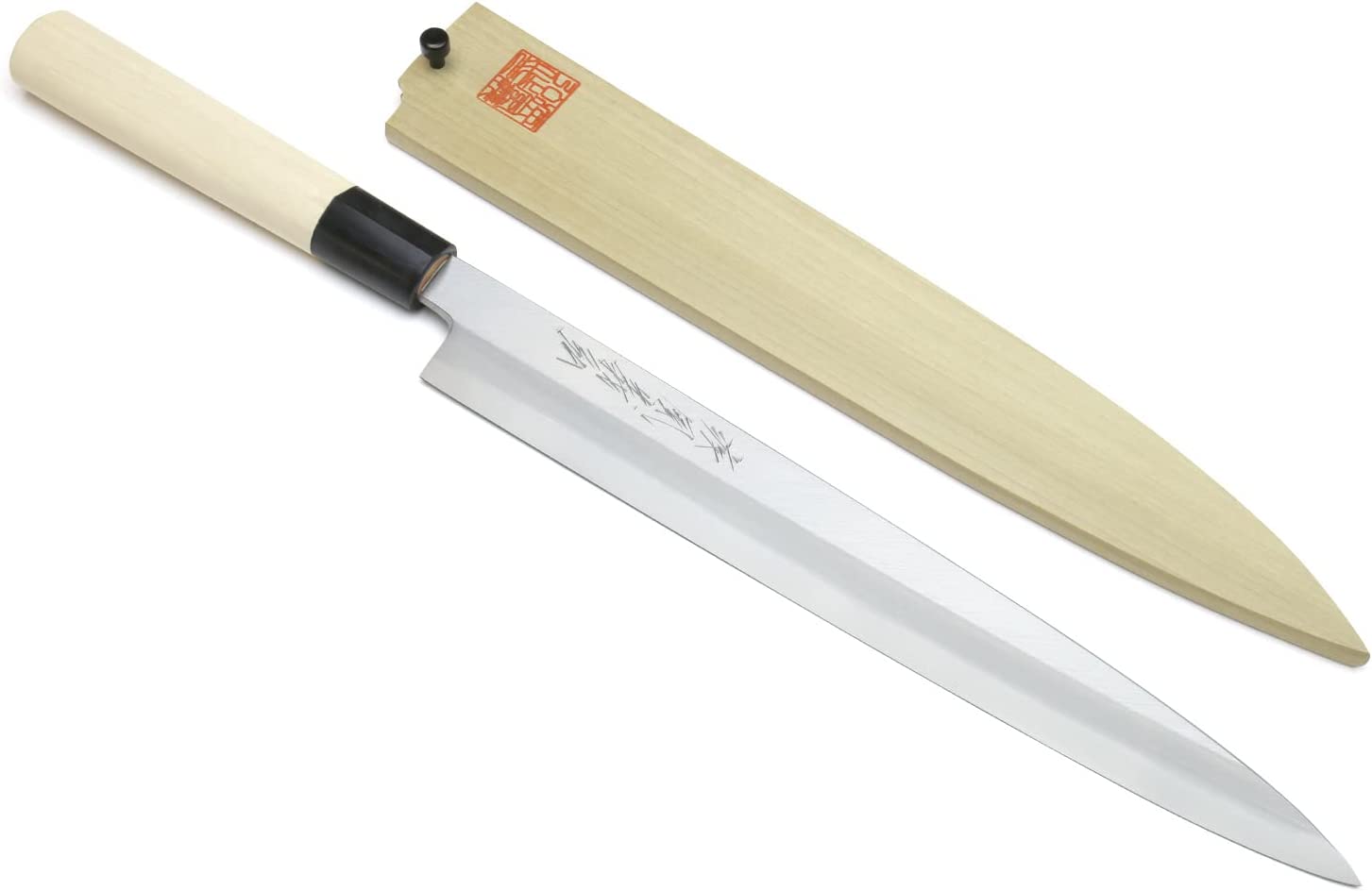 No beginner sushi maker would want a knife that requires too much maintenance. After all, you're only just getting started! For this reason, I recommend opting for the Hayate Yoshihiro Inox Aus-8 Yanagi Sushi Knife. It guarantees top-quality performance with little maintenance.
It has a blade made from VG stainless steel, combining edge retention and sharpness! As a result, you get a top-quality sushi knife that always delivers top-notch results. And you can use it with fish, veggies, and meat effortlessly.
Moreover, the sushi knife boasts a 9.5-inch single-edged blade. Its front edge has a flat surface, while its back has a flat rim and hollow ground. Besides that, this knife comes with a handmade Rosewood Shitan, adding elegance to each cut! And finally, it has a double ebony bolster that guarantees a well-balanced design.
The only downside is that this sushi knife isn't dishwasher-friendly. So you'll need to hand wash its blade after each use with soapy water.
---
Chef's Companion 8.25-inch Carbon Steel Blade Sushi Knife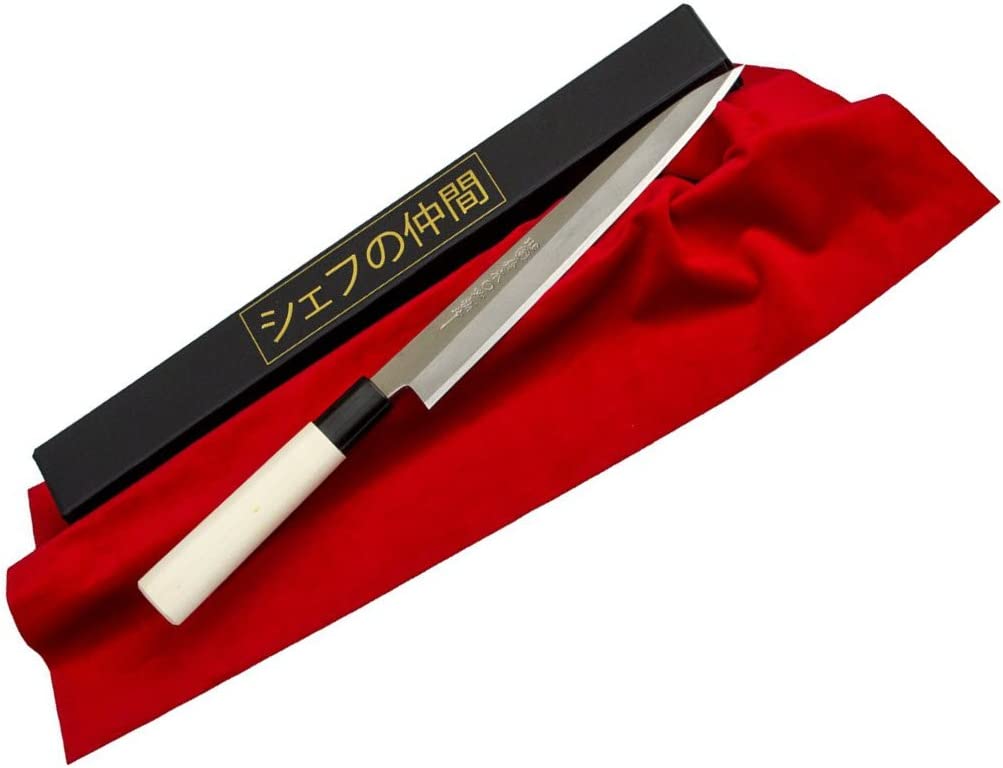 Finally, my last pick for the best sushi knife for beginners is Chef's Companion 8.25-inch Carbon Steel Blade Sushi Knife. It's one of the less intimidating blades on the market, allowing beginners to expand their culinary skills without too much pressure.
Sporting high-quality carbon steel, this sushi knife is impressively sturdy for its price. Aside from that, it has a beveled blade that's light, balanced, and doesn't need much maintenance. And best of all, its ergonomic handle makes the knife much easier to handle and use.
Meanwhile, despite being a bit cheaper than most sushi knives, this blade from Chef's Companion is quite sharp. Its carbon steel blade allows you to slice through veggies and meat like butter! And you can get maximum value for your money as this package comes with a wiping cloth! With this, you don't need to worry about messing up the blade.
But I noticed the black band behind this sushi knife started coming off after a few uses. Although this doesn't hold any functional significance, it can ruin its looks. This shouldn't be an issue since it can retain its sharpness and edge longer than most sushi knives, which is ideal for beginners.
---
How to Pick the Best Sushi Knife for Beginners? (Buying Guide)
You must look at different features to find the best sushi knife for beginners. Let's see at some of the essential ones:
🔪 Sushi Knife Type
There are dozens of sushi knives available, but the most common to consider are the following:
Santoku. An all-purpose sushi knife with a flat edge curving down at the blade's tip.
Yanagi. This sushi knife has an extended, slim blade that slices through sushi and sashimi in one stroke. With this, you get a smooth and leveled surface, maximizing taste. But the downside is that this primarily works with fish only.
Usuba. In traditional Japanese sushi preparation, people used Usuba knives to cut vegetables. Its blade has a flat edge with minimal to no curve and is long enough to give finger clearance for fast slicing. And Usuba blades are thinner than Yanagi, allowing you to cut veggies flawlessly.
Deba. This sushi knife is a unique combination of a meat cleaver and a chef's knife. It's short, curved, and has a single bevel ideal for peeling meat from the bone. Aside from that, people also use Deba to carve and cut whole fish with smaller bones.
Nakiri. You can find this sushi knife in most home kitchens. It has a flatter profile and a square tip, ideal for chopping veggies.
🔪 Blade
No matter the sushi knife, they have one thing in common: they're all sharp! But to find the best sushi knife for beginners, you need to look for a material that's not only sharp but also durable. So, carefully search for blades that maintain their sharpness for extended periods.
Generally, Japanese manufacturers use carbon steel when making their sushi knives. As a result, you get blades that are incredibly sturdy and sharp.
Sturdiness aside, the angle (bevel) is also something you must consider. It's a massive determining factor of how sharp the sushi knife will be. Japanese sushi knives often have single bevels as they provide a sharper angle. But it's crucial to find one that can accommodate your dominant hand. After all, unlike double-beveled knives, these can only work well for one.
Finally, the Granton edge is the last feature to consider when checking a sushi knife blade. These refer to the tiny, thin, and shallow indentations you'll spot along the edges. And they're responsible for cutting all things wet or messy as they collect the water and oils. With this, you should be able to cut through meat and other fatty ingredients seamlessly.
🔪 Handle Design
A sushi knife's handle design is crucial. After all, it allows you to use the blade in the first place. And not only is it responsible for the quality of your sushi cuts and slices but also for your safety. So, only it makes sense if the sushi knife handle is comfortable to hold and easy to maneuver. You can use the sushi knife without straining your wrist or hand.
Aside from that, I also recommend choosing non-slip handles to have better control. Generally, most sushi knife handles are made of wood, giving you a sturdy and comfortable grip.
🔪 Durability
Among the most crucial factors when choosing a sushi knife is its durability. Specifically, you must see how sturdy the knife's blade is to ensure it doesn't become dull too soon. Therefore, always double-check the blade's durability before anything else! You must ensure that it only uses top-quality materials and can handle your kitchen's rigors.
Besides ensuring the knife withstands different cooking situations, durability also guarantees sharpness. And that is a crucial feature of sushi knives as it requires precise slices and cuts. If you settle for a fragile sushi knife, it'll leave you with messy and destroyed sushi or sashimi.
I recommend opting for sushi knives made from carbon steel. These guarantee durability, letting you slice sushi like a pro — with experience or not. But no matter how durable it is, you still need to sharpen your sushi knife now and then.
🔪 Rockwell Rating (HRC)
The Rockwell rating (HRC) indicates how hard a blade is. And the more significant the scale is, the more rigid the metal will be. Generally, hard metals are sharper and make cleaner cuts but are incredibly fragile. Meanwhile, the softer the metal, the more flexible it can be. I recommend settling within the 50s to ensure your sushi knives aren't too hard or soft.
🔪 Sushi Knife Blade Length
A sushi knife's blade length is crucial and can determine the quality of each cut. Still, the best size depends on the sushi knife you're looking to get. For instance, a Yanaagi sushi knife has the longest blade, up to 10 or 11 inches long. And this incredible length allows users to make smoother movements. Hence, Yanagi sushi knives are best for filleting and slicing.
Meanwhile, Santoku sushi knives are average and can extend up to 7 inches long. For this reason, many consider Santoku to be an all-around blade ideal for most kitchen tasks. But generally, sushi knives should be at least 6 – 6.5 inches long to cut through ingredients flawlessly.
🔪 Warranty
Most sushi knives come with lifetime warranties. And this speaks to their quality and craftsmanship. Still, when buying a sushi knife, ensure you read its warranty. I recommend double-checking the warranty for sushi knives that you can use for general cooking. These include Yanagiba and Deba blads, ideal for cutting fish.
---
Tips for Cutting Sushi with a Sushi Knife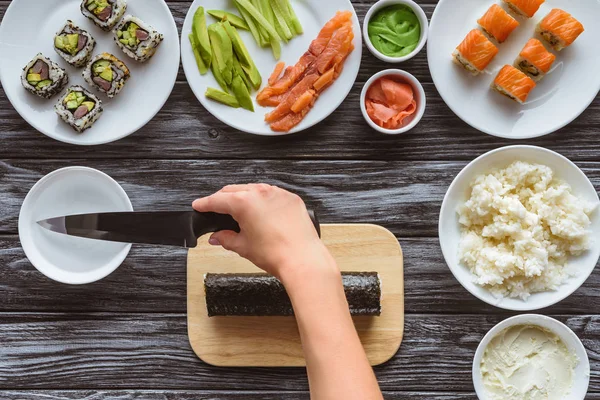 Besides investing in the best sushi knife for beginners, it pays to know the basics of cutting sushi! After all, how you cut sushi can impact its overall taste, looks, and quality. Generally, "good" sushi rolls boast the perfect balance of various ingredients. As a result, you get all the flavors in one bite.
Here are a few tips and tricks to explore to help yourself cut sushi like a pro in no time:
🍣 Use the Right Sushi Rice for Better Slices
Sushi rice is among the most vital components of this delicious Japanese treat. And it can determine how neat or messy you'll be cutting the roll. So, to ensure you get the perfect slices, ensure you only use Japanese short grain rice when making sushi at home. Not only does this type of rice taste delicious, but it also makes the sushi cutting process more manageable!
Using the wrong kind of rice when making sushi can make it challenging to cut the rolls. Aside from that, be sure you're also using the proper water-to-rice ratio when making the sushi rice. After all, if you don't, you'll end up with gooey rice, and no one wants that. So, before anything else, prep the sushi rice with care.
🍣 Moisten Your Sushi Knife Before You Use It
Sushi rice can be sticky, making it more challenging to slice through. And it doesn't help that you need to season the rice with sugar and vinegar, making it stickier. You can avoid dealing with rice sticking to your sushi knives by moistening them for a bit.
A wet blade can breeze through the sushi roll, giving you a perfect cut. Otherwise, you'll get a dry edge that makes it difficult to slice through the roll. But remember, sipping your sushi knife once in water will not do. You'll need to wet the blade after each slice to get the perfect cuts you'd often see in restaurants.
🍣 Correctly Roll Your Sushi for More Precise Slices
Before you cut the sushi, you need to roll it first perfectly. How you roll this treat determines how easy or hard it'll be to slice through. Ensure you bind the ingredients all together evenly and tightly. This way, you'll be able to get all the ingredients in one bite and making it easier to cut. The better the rolls, the cleaner sushi you'll get!
I recommend using a bamboo mat to roll your sushi to keep everything compact and tight. If not, you may end up with a loose roll that will spill everywhere.
🍣 Let the Nori Settle In Before You Slice It with a Sushi Knife
It's best to dampen the sushi roll's Nori before you cut to seal the sides. If you leave the Nori sheet too dry, it'll be harder to slice through the sushi. The rice and other ingredients will cling to the blade more, making it more challenging than it has to be. So, let the sushi roll sit for a few minutes and absorb the moisture before slicing.
And once the Nori becomes damp, it's time to cut away!
🍣 Use the Right Kind of Sharp Sushi Knife at All Times
Finally, making the perfect sushi slices boils down to the sushi knife you're using to cut the roll. As tempting as it is to use your regular kitchen knives, this isn't the best idea. After all, it'll only make things more complex than it needs to be. And no one wants to clean up after messy sushi rolls! So, I recommend always opting for sharp sushi knives.
When buying sushi knives, you'll see that you have two options to pick from, one made from Honyaki and Kasumi. Honyaki is a single piece made from top-quality steel and is often more expensive. After all, it guarantees neat and perfect sushi cuts all the time. So, I recommend settling for Honyaki if you want a sushi knife that'll last longer and give consistent results.
Yanagi is an excellent sushi knife for beginners as it helps you cut more delicately. It makes cutting fish, and the actual sushi rolls more manageable. But you may also consider other sushi knives like Deba if you already have experience making sushi. Either way, the best sushi knife all boils down to what YOU prefer and what sushi you're making.
After all, some individuals may find short and sharp sushi knives more convenient to use. Meanwhile, others may go for a one-sided thin-blade sushi knife for delicate cuts. Regardless, ensure the sushi knife you choose is sharp!
🍣 Practices to Avoid When Cutting Sushi Rolls 
Here are some things you must avoid doing to get the perfect sushi slices every time:
Use a standard kitchen knife to cut sushi. Never use your regular kitchen blade when cutting sushi or sashimi, as it'll only lead to messy slices. So, prevent yourself from facing spoiled edges and invest in a quality sushi knife.
Never add too much soy sauce. Mixing your sushi rice with too much soy sauce can make it gooey, making it more challenging to cut. I recommend keeping condiments and seasonings to a minimum if you're a beginner.
Don't overfill your sushi roll. Adding too many ingredients inside the sushi roll can make it challenging to roll and cut. It's best to stick with 1 to 2 fillings, especially if you're new to sushi making.
You don't need to oil your sushi knife. Moistening your blade with plain water is enough to stop the rice from sticking to it.
---
Frequently Asked Questions
Q: Do I need to use a special knife for slicing sushi?
A: Although professional sushi chefs use various knives, most settle for Yanagiba. Yanagiba knives are best for beginners as they practically do the job for you. And you can only achieve precise slices of meat and other ingredients with a Yanagiba blade. So, out of all the "special" knives designed for sushi, a Yanagiba knife is one you need in your arsenal.
Q: What is the best sushi knife for beginners trying to slice fish for sashimi?
A: The best sushi knife for sashimi is the Sujihiki knife, sporting a narrow and long blade. Also known as the slicer or carving knife, this is ideal for intricate sashimi slices. Aside from that, you can also cut thin meats with this blade.
Q: Why does a sushi knife have holes?
A: The holes you see in sushi knives are responsible for creating an anti-stick effect. And this is crucial in making the cutting process smoother and more manageable. Although these aren't as important when slicing small items. Still, these holes are vital in sushi making!
Q: Will using a Santoku knife as a sushi knife affect the results?
A: Santoku knives are all-purpose kitchen knives you can use when making sushi. But I recommend using these only to prepare the ingredients, not the sushi itself. It doesn't possess the holes required to prevent the sushi rice from clinging to the blade. So, unless you don't mind washing the knife after each slice, stick to dedicated sushi knives!
Q: Is getting a sushi knife as a beginner worth it?
A: Getting a sushi knife is ideal if you're looking to make restaurant-quality sushi, even if you're a beginner. These help you prepare sushi like a pro, no matter your skills or experience! So, getting a sushi knife is worth it if you want to make top-quality sushi at home!
---
Final Words
Among the endless list on the market, the best sushi knife for beginners is the one that makes accurate cuts without much effort! Still, the best one for YOU depends on the kind of sushi you're looking to make. For instance, if you want to make maki rolls, you'll need a sushi knife with a longer and sharper blade. Meanwhile, if you wish to make nigiri, you'll want a shorter blade. Regardless of what you're making, the listed products should be able to help you slice through it!