As intimidating as it may seem to sharpen your knives, it's essential! After all, it can help you turn even the dullest blades into the sharpest in the bunch. But it can be tricky to find one suitable for your set. So, what's the best knife sharpener for Japanese knives?
From premium sharpening whetstones to electric knife sharpeners, I've tested over ten sharpeners to pinpoint the four best you must get for your Japanese knives. See which one can sharpen your blades best!
SHARPENER
BRAND
EXPERT RATING
CHECK PRICE

Our Top Pick!


Sharp Pebble Whetstone Knife Stone Sharpener for Japanese Knives

Check Price

Smith's 50264 Adjustable Knife Sharpener

Check Price

KERYE Whetstone Stone Sharpener Kit for Japanese Knives

Check Price

Chef's Choice Hone EdgeSelect Electric Knife Sharpener

Check Price
---
What's the Best Knife Sharpener for Japanese Knives?
OUR #1 CHOICE
OUR TOP PICK: Sharp Pebble Whetstone Knife Stone Sharpener for Japanese Knives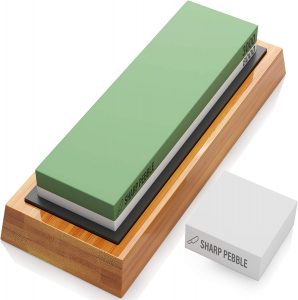 Product Name: Sharp Pebble Whetstone Knife Stone Sharpener for Japanese Knives
Product Description: My pick for the best knife sharpener for Japanese knives is Japan's Sharp Pebble! It's a well-known brand that makes hand-crafted whetstone sharpening stones designed for Japanese blades. Uniquely, this sharpener comes in a two-sided whetstone design intended for Japanese knives. Each side has different grits, with one side at 3000 and the other at 8000. And not only does it make it more convenient for you to have two sharpening stones in one, but it also offers plenty of flexibility! Since it has the design for a sharpening stone instead of a block, this sharpener can offer a longer-lasting sharpness for your Japanese knives! And with the stone's style, rest assured, it'll work well for your blades. But what I like the most about this whetstone sharpener is that it comes with a top-quality, nonslip bamboo base! It gives you more traction and stability when sharpening. So, not only is this sharpenign stone more convenient, but it also makes it more comfortable to use. And if you ever get lost in the process, this sharpener comes with an in-depth guide! So, no matter what happens, you'll always sharpen just right with this sharpener. Be careful, however! The 3000-grit side is soft and can crumble easily. Anyway, with some caution, this shouldn't be an issue, and the sharpener should last you for a long time.
Offer price: $$$
Availability: InStock
Durability

Sharpening quality

Value for money
Summary
When it comes to quality sharpness, and lasting use, Japan's Sharp Pebble is unbeatable! Its two-sided Whetstone Sharpener is one of the best choices for Japanese Knives. After all, they're designed to cater to these particular blades. So, rest assured, you're only getting the best results out of this premium sharpener.
But practice caution when using the side with the 3000 grit as it is soft and can crumble easily.
Pros
Hand-crafted in Japan. 

Premium Japanese sharpening stone with a grit of 3000/8000.

It has two sides for added flexibility. 

This sharpener comes with a non-slip bamboo base for ensured stability.

It comes with a detailed instruction manual.
Cons
Its 3000 grit side is very soft and brittle.

The sharpening stone is small. 

It is pricy.
---
RUNNERS-UP
Smith's 50264 Adjustable Knife Sharpener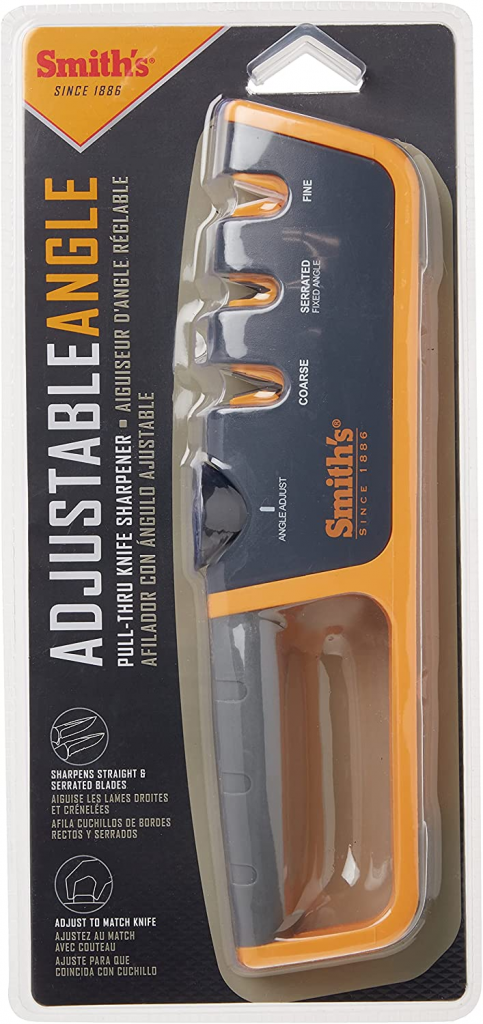 Check out Smith's Adjustable Knife Sharpener if you're looking for a more flexible sharpener. This sharpener has an adjustable angle that can go as low as 14 degrees, ideal for Japanese knives!
It's one of the best manual sharpeners for Japanese knives as it can adjust to low angles. And this feature is uncommon, where most only go as low as 17 degrees. But this sharpener from Smith's accommodated Japanese or "Asian" blades well. Also, you may use it on other knives beyond your Japanese collection due to its flexibility.
Flexibility aside, this sharpener also boasts a simple and user-friendly operation. You only need to place your Japanese knife at your preferred angle and begin sharpening away! And it lets you do all these in record time. As a result, you can enjoy the quality and precise cuts even when in a hurry.
What I like about this sharpener the most is its 3-step process. With this, you can repair and polish your Japanese knives while sharpening. And to top all these off, this manual sharpener has an ergonomic handle, ensuring a more secure and comfortable grip. Best of all, every part of this sharpener is replaceable. So, you don't need to buy a new sharpener once something falls apart with this one.
---
KERYE Whetstone Stone Sharpener Kit for Japanese Knives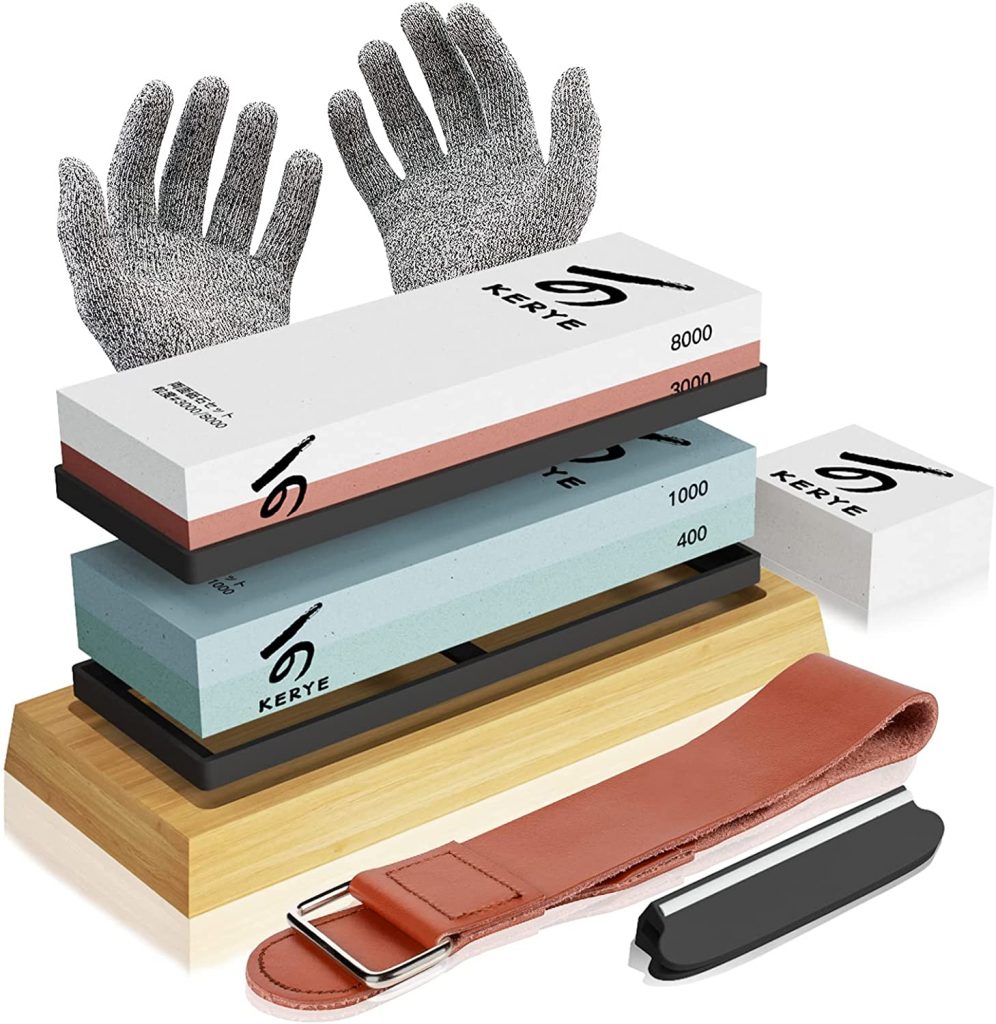 If you've recently bought Japanese knives, complete your arsenal by getting KERYE's kit! Its Whetstone Stone Sharpeners set is among the highest quality on the market. And best of all, it's beginner-friendly!
Although KERYE is a newer brand, it quickly gained traction thanks to this impressive kit. It includes two top-quality whetstones with 3000/8000 and 400/1000 grit. With this, you should be able to sharpen your Japanese knives like a pro at home. From forming and correcting nicks, sharpening the edges, to honing the blades — these two sharpeners have you covered!
Also, each whetstone got conveniently designed for Japanese blades. So, you don't need to worry about the sharpener's angle. All you must do is grab your knives and start sharpening away.
Aside from the whetstone sharpeners, this kit also has a bamboo base. This addition guarantees a more comfortable and stable sharpening process. And it also includes a leather strop, cut-resistant safety gloves, and a flattening stone! With KERYE, you're getting everything you need to keep your Japanese knives in pristine condition in one package.
But the downside is that its 3000/8000-grit sharpener is a bit delicate and might get damaged easily. Anyway, with added cautiousness, this shouldn't hinder your sharpening!
---
Chef's Choice Hone EdgeSelect Electric Knife Sharpener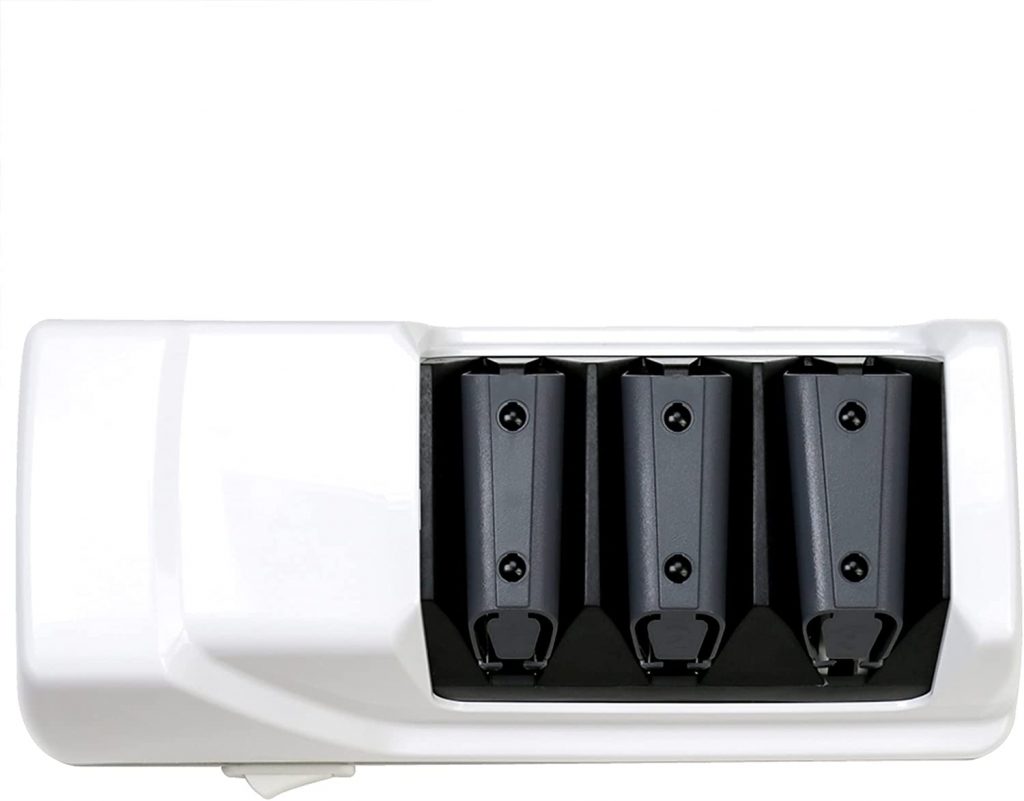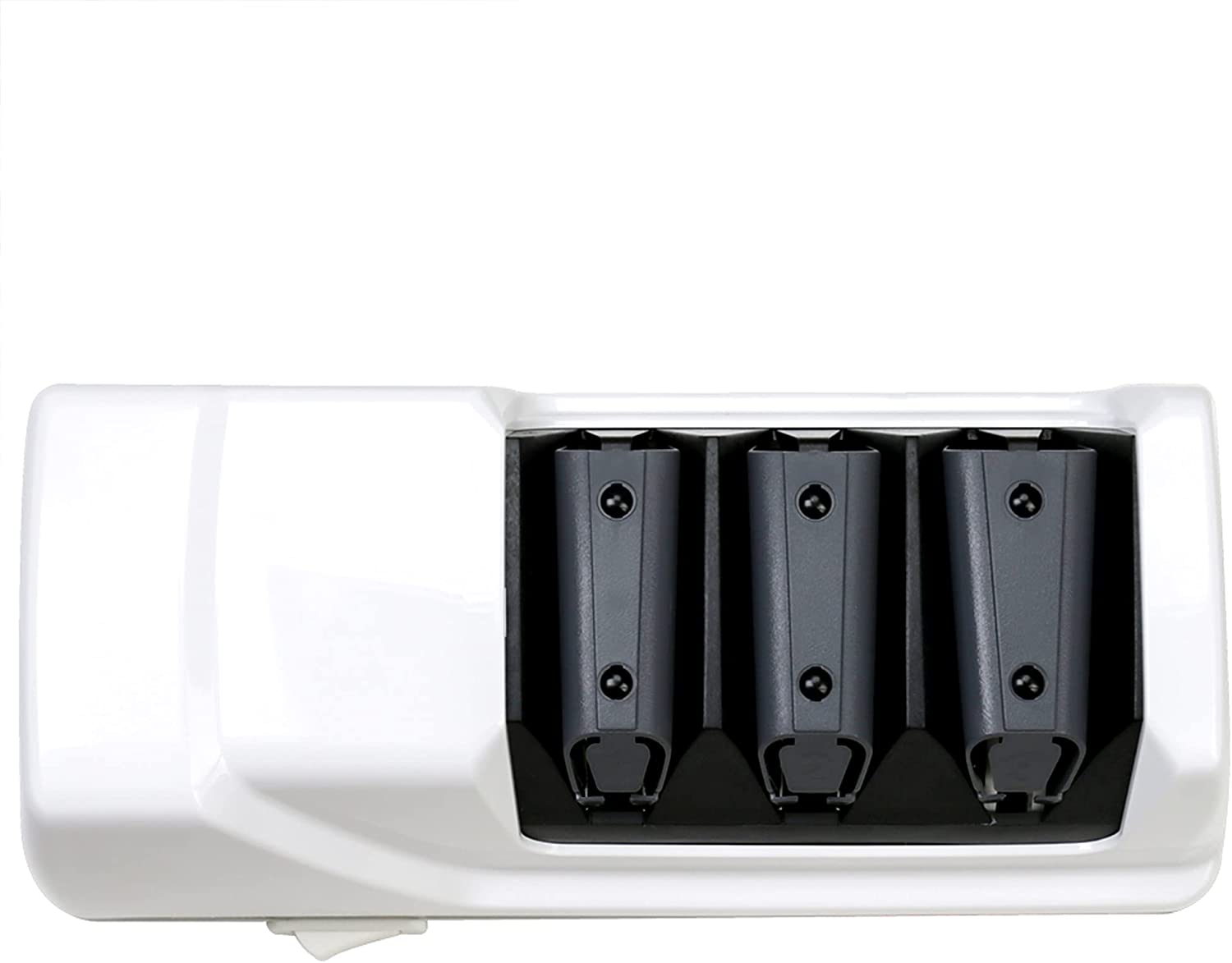 My last pick for the best knife sharpener for Japanese knives is Chef's Choice EdgeSelect. It's an electric knife sharpener that does the hard work for you.
This sharpener is the best choice if you want to maintain your Japanese knives but don't have the time for them. It offers various angles. And this allows you to adjust the machine to meet your Japanese blades' needs. Aside from that, it also prevents the gadget from damaging your delicate knives.
Impressively, this sharpener also performs the three-stage approach. That means it does the correcting, sharpening, and honing process for you. So, all you need to do is chuck your Japanese knives in the machine and let it do the nitty gritty.
You also don't need to worry about this electric knife sharpener getting damaged with continual use as it's made from high-quality materials! However, I was surprised as to how complicated using this knife sharpener was.
But as convenient as electric knife sharpeners are, it's still better to do it manually. After all, doing it with your hands allows you to monitor the sharpening process better. So, I recommend this electric sharpener if you can't spare much time to maintain your Japanese knives.
---
What to Consider When Looking for the Best Knife Sharpener for Japanese Knives?
Although you can always find a quality sharpener labeled for Japanese knives, it's better to know what features to look for on the product yourself! You'll be able to distinguish the best knife sharpener for Japanese knives. As a result, you can maintain your Japanese blades and their sharpness for a long time.
So, before settling for a sharpener for your Japanese blades, watch out for these factors:
🔪 Ease of Use
Whether you're considering manual or electric sharpeners, it's vital to see how easy it is to use. After all, you're going to sharpen the blades yourself! So, make it easy on yourself and choose a sharpener that's user-friendly and hassle-free to use.
You wouldn't want to spend hours learning how to use a complex sharpener. After all, not only will it waste a lot of your time, but it may also cause you to damage your Japanese knives. And no one wants to chip these premium blades!
But ease of use varies per user. For instance, a whetstone with an angled holder may be easy for one user but difficult for others. And while others may deem pull-through sharpeners as simple, others may not. So, find a sharpener that's easy to use for YOU.
🔪 Type of Sharpener
There are many kinds of knife sharpeners you can choose from for your Japanese knives. So, it can be challenging to settle with one. But to make it easier to choose, I've summarized the categories into two: manual and electric.
Generally, manual knife sharpeners are easier to use and have straightforward designs. And despite being on the plainer scale, many still choose this for Japanese knives. After all, nothing beats a tough and heavy whetstone! It helps you sharpen your Japanese knives to your preferred sharpness.
Aside from that, pull-through sharpeners are also excellent for Japanese knives. These are more convenient and less straining to use as they come with several "cubbies." And these sharpen your blades as you pull them through.
Meanwhile, electric sharpeners, as their name suggests, do the gritty part for you. They automatically sharpen your Japanese knives. And these often come in pull-through models, whereas all you need to do is insert the blade and let it do its magic! But as convenient as these are, they may affect your Japanese knives' performance.
After all, electric knife sharpeners follow preset sharpening instructions. And this might not always align with your Japanese blades! But if you can find a top-quality electric knife sharpener designed for Japanese knives, there's no reason not to get it. Still, regarding consistent sharpening, I recommend going for manual sharpeners. These are safer for your Japanese knives and more efficient.
That's why even if it can be difficult to master sharpening Japanese blades with a whetstone or sharpening block, it's worth the time! The pay-off is high, and you get to ensure your knife stays in pristine condition.
Besides considering the type of sharpener, also see if the manufacturer mentions if they're safe to use for Japanese knives. After all, not all sharpeners are suitable for Japanese or "Asian" blades.
🔪 Sharpener Angle
Besides the sharpening angle, the actual sharpener's position is also essential. Generally, knife sharpeners get set at angles around 20 to 24 degrees. And though these are ideal for Western knives, it's not best for Japanese blades. So, when looking for a sharpener, you'll want something adjustable or one designed for Japanese knives.
Ideally, the sharpener should have angles around 14 to 17 degrees, perfect for Japanese knives. You may also settle for the middle at 15 degrees. But anything beyond 17 degrees is a no-no since a too-high angle can ruin your blades! And not only will it break your Japanese knives, but it can also degrade their overall quality and design.
Trust me. A too-high angle is a risk you should never take with your sharpeners. So, always check the angles when shopping for the best sharpener for Japanese knives.
🔪 Flexibility
Although settling for a knife sharpener designed for Japanese knives guarantees consistent quality, flexibility is something we should never turn our backs on! Having a bit of versatility on your sharpeners also allows you to work on your other knives. So, if possible, find a sharpener designed to handle various knife styles.
But even if not all sharpeners have the flexibility we want, it's something you may want to always keep in mind. After all, it helps you to get the most out of your kitchen knives — Japanese or not.
---
How to Sharpen Japanese Knives?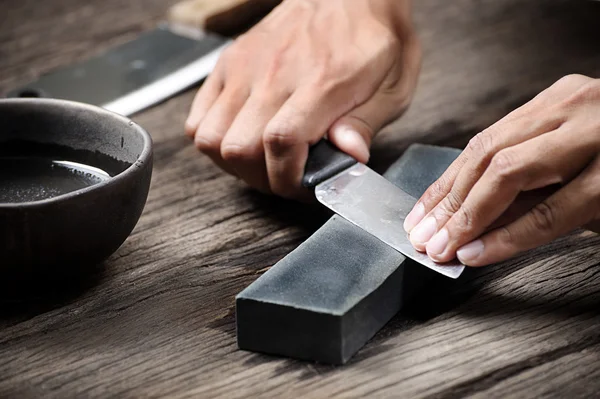 Traditional Japanese cuisine emphasizes food presentation. And to achieve this, you'd need sharp knives. The sharpness helps in elevating food texture, taste, and overall quality. And professional Japanese chefs often sharpen their blades every day! Even if you're not running a restaurant or working as a chef, it pays to learn how to sharpen Japanese knives!
After all, not only do sharpening knives guarantee more delicious and beautiful dishes, but it also maintains their pristine condition. And trust me, you'd want your Japanese blades to last for a long time. You can use whichever sharpener. But ideally, you should use whetstones or other manual sharpeners.
To keep your Japanese knives in pristine condition at home, I've made a step-by-step guide below. But before that, here are the three sharpening stones and their various grits that you'll be using:
荒砥 (Ara-to). Coarse sharpening stones with 120 to 600 grit. Ara-to is the first stone sharpener you must use to "form" your Japanese blades. It helps in correcting nicks and dents. You use this to repair chipped Japanese knives or create a new bevel angle. But you only need to use this for a short while as it can wear down the blade fast.
中砥 (Naka-to). Medium sharpening stones with 1000 to 1500 grit. Naka-to is the second stone sharpener used for sharpening the blade. Most use this to maintain and restore a Japanese knife's edge.
仕上げ砥 (Shiage-to). Finishing stones with 3000 grit or more. Shiage-to handles polishing or finishing a Japanese knife's blade edge.
Sharpening Japanese Knives with a Stone Sharpener
Now that you know what sharpening stones you'll be working with, here's how to use them:
Soak the sharpener. Submerge the coarse sharpening stone in water for 10 to 15 minutes. Never go beyond the 15-minute mark, as it'll weaken the sharpener's results. And sometimes, overdoing it can crack the stones.
Keep the sharpener stone in place. Place a damp rag or cloth underneath the coarse stone to stop it from slipping.
Prepare your Japanese blade. Double-check the condition of your knives before you start sharpening.
Find the right angle. Once ready, place your Japanese knife on the medium sharpening stone. And hold the blade at a 10- to 17-degree angle.
Start sharpening. Bring your Japanese blade down from its base toward its tip. You can apply force to the knife's blade by placing three fingers on it. And push it away to the far edge of your medium stone.
Stop once you feel or see a burr. Repeat step six multiple times until you see or feel a burr.
Work on the other side of the knife. Once you've made a successful bur, turn your Japanese blade over and work on the other side.
Wash and dry the blade off. After sharpening both sides, wash the knife with plain water and dry it with a clean rag or cloth ASAP.
Only use the coarse sharpening stone if you're working with a dull Japanese knife. If not, skip to step two and start with the medium sharpening stone.
How often you need to sharpen your Japanese knives depend on how much you use them. If you use them a lot, you'll need to sharpen each knife at least monthly. But generally, experts recommend sharpening Japanese blades at least every six months. It's essential for the care and maintenance of these premium knives.
However, I recommend sharpening your blades once you see signs of wear and tear ASAP!
---
Additional Tips for Caring for Japanese Knives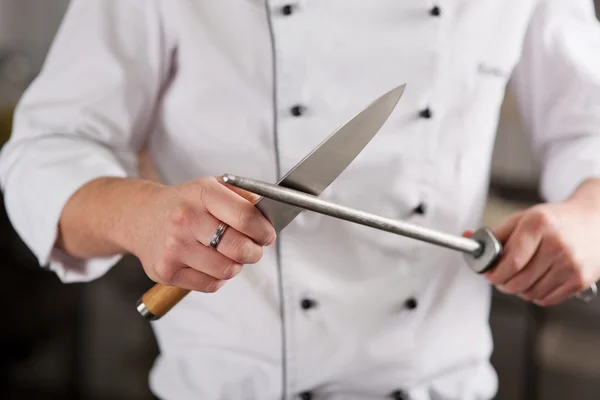 Besides sharpening your Japanese knives, other things help keep them in pristine condition. So, here are extra tips for caring for Japanese knives and sharpeners.
✔️ Sharpen Your Japanese Knives with a Knife Sharpener Before Use
I recommend sharpening your Japanese knife before using it to prevent dulling it. Lightly sharpen your blade with a finishing stone sharpener and hone it. But if you're using a dull Japanese knife, do the entire sharpening process mentioned.
✔️ Know Which Chopping Board to Use
Using the wrong chopping board with your Japanese knives can damage it over time. Generally, the best materials for Japanese blades are wood or plastic. These are safe for your knives and don't dull them as fast. Meanwhile, avoid using any cutting board made from porcelain, marble, or glass.
As pretty as those might be, these cutting board materials dull Japanese knives fast.
✔️ Clean Your Rustproof and Non-rustproof Japanese Knives Often
Wash your rustproof and non-rustproof Japanese blades to keep them clean and new. I recommend rinsing Japanese knives under running lukewarm water. And only use liquid dish soap when necessary. Regardless, always dry these blades after washing or rinsing.
Moreover, avoid scouring powder on Japanese knives or chucking them in the dishwasher even if they're rustproof! These can destroy the blades faster.
Meanwhile, do extra measures for your non-rustproof Japanese knives to maintain their optimal condition. I recommend oiling these blades with camellia oil to protect them against rust. You may also oil up handles made from wood. And ideally, only store your Japanese knives when 100% dry! Never place them in storage while moist or wet.
✔️ Use the Right Japanese Knives 
Knowing which Japanese knives to use for particular tasks is ideal. It keeps your blade in pristine condition and frees them from nicks or other damage. I'll start with the famous Japanese knife among home and professional chefs, the Santoku. It's an all-purpose knife. And as its name suggests, it is usable for all tasks!
Meanwhile, the Gyuto is best for cutting fish and meat with bones. And finally, single-bevel Japanese knives are best for more delicate tasks. These have hollow grinds on their blade's flatter side, ensuring accurate cuts. So, if you want to fillet or make precise cuts with your fish, go with a single-bevel Japanese knife.
Aside from knowing the Japanese knives to use for different tasks, know which would accommodate your dominant hand best. After all, handling the knife also determines its overall condition. Generally, double-bevel Japanese blades are ambidextrous, and anyone can use them. Meanwhile, knives with an edged handle are best for right-handed individuals.
Overall, the right choice of Japanese knife depends on the purpose of use, how much time you're willing to invest in taking care of it, and your preference.
✔️ Practice Rust Prevention
Although most manufacturers forge Japanese knives to last a lifetime, not all are safe from rusting! And this is especially the case if you neglect the care and maintenance of these blades. Here are rust prevention techniques you must know to keep your Japanese knives in their best condition:
Never use Japanese knives on other steel or metal objects.
Always wash your blades after each use with lukewarm water and dry them afterward.
Apply maintenance oil to prevent rust formation. And wipe it till dry with a clean rag or cloth.
Never let your Japanese knives soak in water for extended periods.
If your Japanese knives are already rusting, don't worry, as you can always scrub them off with a ball of steel wool. I recommend applying some maintenance oil for better results.
✔️ Never Cut Bones with Your Japanese Knives 
Unless the manufacturer states it, never use your Japanese knives when cutting bones. And this also applies to all hard food, including frozen foods, pumpkins, and meat or fish with bones. Aside from being hard and nicking your blades, roughly handling them may also damage them.
Ideally, only use your Japanese blades for cutting, trimming, or peeling. Get a special Japanese knife if you want to cut hard food items. And yes, this also applies for mincing or chopping.
✔️ Know Which Cutting Techniques to Use 
Besides knowing which Japanese knives to use for different tasks, it also pays to know which cutting methods to use! For instance, when cutting through medium-tough food, you can let your Japanese knife glide without adding too much effort. And you need to use the entire blade and cut straight.
Meanwhile, use the entire blade when cutting soft foods like ripe veggies, fruits, fish without bones, and tender meat. After all, the more extended the cutting line, the lower the foods' cutting resistance will be. And with this, it'll be easier for you to slice through!
Whichever cutting technique you're practicing, remember to never push the cut food from the cutting board with your Japanese knife's cutting edge. Instead, use the blade's back!
✔️ Inform Others Who May Use Your Japanese Knives and Knife Sharpener
Finally, when sharing a kitchen with other people, let them know how to use your Japanese knives and care for them. And if they can't comply in providing the special attention needed, don't let them use your Japanese blades.
✔️ Store Your Japanese Knives Well
Avoid touching other metal or steel products with your Japanese knife's cutting edge. Whether it's other knives or crockery, always separate your Japanese blades from them! I recommend storing them in a wooden knife block, box, or rack. Or, you may put them in a separate drawer wrapped with a cloth.
---
Frequently Asked Questions
Q: Is it difficult to sharpen Japanese knives with a sharpener?
A: Since Japanese knives get crafted with such delicacy, it can be tricky to sharpen them. And this is especially the case if you're doing it without experience. Also, since the steel used for Japanese knives is rigid, making the blade small can be challenging. But it is doable as tricky as it is to sharpen Japanese knives.
Q: What sharpeners can I use to sharpen my Japanese knives?
A: The best knife sharpener for Japanese knives is often those made with whetstones. It's a premium material that helps form and sharpens these blades in one package. Generally, rough whetstones are best for forming blunt or nicks on a Japanese knife. Meanwhile, medium whetstones work best in sharpening blades. Although it may take a while to master using sharpeners, it's worth the effort!
Q: What is not the best knife sharpener for Japanese knives?
A: As convenient as they are, electric knife sharpeners aren't the best for Japanese blades. Although it's passable for modern-crafted Japanese knives, it's not suited for traditional ones. After all, the latter uses single-bevel edges that are abrasive. That means the machine may scrape more steel from its rim when sharpening.
Q: What angle do I need to sharpen my Japanese knives at for the best results?
A: Although it differs for each manufacturer, sharpening at a 17- or 20-degree angle is ideal. This range covers most Japanese knives crafted for kitchen or outdoor use. But generally, Japanese blades tend to sharpen best at roughly 17 degrees.
Q: How often must I sharpen my Japanese knives?
A: Ideally, you should sharpen your Japanese knives at least once every half or a whole year. But I only recommend doing it every six months if you use the blades often. And if you scarcely use the knives, you can sharpen them annually. Still, since Japanese knives require utmost care, there's never a fixed amount. And it can depend on your cutting methods, foods you've cut, blade quality, etc.
---
Final Words
Since you've already spent or are spending a lot on Japanese knives, it only makes sense to get a sharpener as high quality as they are. So, to prepare yourself to care for these premium blades, you'll need to get the best knife sharpener for Japanese knives. And you can make your search easier by trying out any of the listed sharpeners. Each can turn even the dullest blades into sharp and good as new knives.