How do you add flavor and moisture deep into the meat? The quickest answer is marinating and brining. Nowadays, technology has brought us a meat injector. This particular tool is the fastest way to add marinades to meat before smoking. But how do you choose the best meat injector for smoking?
A meat injector is a new tool in the kitchen, and you have to consider a few factors before buying one. Or else you will buy a meat injector that does not serve your needs. This article has a review of the five best meat injectors for smoking. Read the features of each meat injector and click on the link to check the price on Amazon.
MEAT INJECTOR
BRAND
EXPERT RATING
CHECK PRICE
Our Top Pick
AKPE Meat Injector

Check Price



Ofargo 304 Meat Injector

Check Price

Tri-Sworker Meat Injector

Check Price

Vecolex Meat Injector

Check Price

Grill Bump Meat Injector

Check Price




Why Should You Inject Meat?
To add flavor
This is the main reason people inject meat before cooking or when smoking. A meat injector lets you incorporate unique flavors deep inside the meat. You can mix several juices to bring out a unique flavor. Brining and marinating are the traditional methods of adding flavor to the meat. However, these methods did not spread the flavor deep into the meat.
Adds some moisture to the meat
Dry meat is the worst, and all types of meat lose water in hours. Meat can also lose water when cooking or smoking, so it is best to inject it before you start cooking. Injecting meat will remove the risk of undercooking it because you are sure it will remain moist. A meat injector has units of measurement that prevent you from overusing the juices.
Saves time
Marinating is the traditional way of adding moisture and flavor to a piece of meat. It was the best method, but it took long for the whole process to be done. For example, one pound of beef needs about one hour to marinate in a fridge. You need to leave it to marinate for larger meat quantities for the whole night. A meat injector will do the same in less than ten minutes.
On the other hand, using a meat injector will save fridge space and dirty dishes. Injecting meat has been the best solution for massive restaurants with recurring orders.
Best Meat Injectors For Smoking- Top 5 Picks
OUR #1 CHOICE
OUR TOP PICK: AKPE Meat Injector-Stainless Steel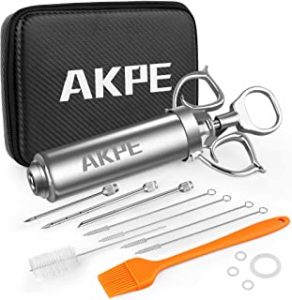 Product Name: AKPE Meat Injector-Stainless Steel
Product Description: This meat injector is made from quality stainless steel that guarantees durability. It comes with a beautiful travel case suitable for indoor and outdoor functions. It has three marinate injection needles that penetrate deep into the piece of meat and release a perfect spread of juices. The most extended needle is 5.7 inches long with 12 holes that support the even distribution of light liquids. The second needle is 5.6 inches long, suitable for chunky marinades. Lastly, the shortest needle is for the thin cuts of meat. Indeed use an AKPE stainless steel meat injector if you want extra flavor deep inside your meat. Apart from being the best meat injector for smoking, it is also a good injector for bird meat. You can use it to add flavor and moisture to any type of meat like goose, duck, and chicken meat. Pork is the most challenging meat to marinate, but this injector will still give you the best results. Say easy to clean; then choose this injector. It comes with various cleaning accessories, including brushes and cleaning liquids. Make sure you clean the tool after every use using appropriate tools. Start with hot water if you have injected thick juices. Lubricate the O-rings with cooking oil for them to slide easily.
Offer price: $$$
Availability: InStock
Material

Neddles

Compatibility
Summary
This is a large-capacity meat injector with about ¼ cup of juices for each delivery. With such capacity, you can save on injecting time, especially handling large quantities of meat. Moreover, it is affordable for everyday home use and can make you good profits if used for commercial purposes. A one-year warranty and the six-inch needle will ensure you get the invested amount back. The twelve holes on the most extended needle are the selling point and ensure you get the perfect flavor and moisture spread. Furthermore, it is the best meat injector for smoking because it is easy to clean and even dishwasher safe.
Pros
Adequate capacity
Affordable price
Three six-inch needles
Dishwasher safe
Cons
It becomes stiff and difficult after washing
Not suitable for thin-cut pieces of meat
The Strong Contenders
Ofargo 304-Stainless Steel Meat injector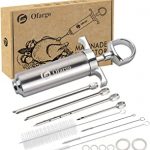 This is the best meat injector for smoking because it has grilling gloves and a few cooking books. It also has four injector needles molded from stainless steel. The steel makes them strong to penetrate the toughest meat, including beef and pork.
You will also get a pastry brush that helps you during meat smoking. The pastry brush is strong enough to withstand the high cooking and smoking temperatures. Will the meat remain healthy? Yes, this injector is safe for human consumption. All parts are, including O-rings, have lubricants safe for human health.
Besides smoking, this meat injector is also great for BBQ, family parties, Christmas, and other holiday celebrations. It will spread the flavor into the meat deep enough for thick pieces. The meat injector is easy to assemble and disassemble, making it quick to clean and change parts. It has a 2-oz capacity that reduces the refills.
The plunger is comfortable enough to offer the best grip and efficiently control the pressure. Each of the four needles has two holes for a good sauce spread, like the chunky marinade and liquid brine. If you do not like it, this is the only meat injector with an E-book and a good return policy. It comes with a repair kit with O-rings, syringe, and needle cleaner.
Tri-Sworker Meat Injector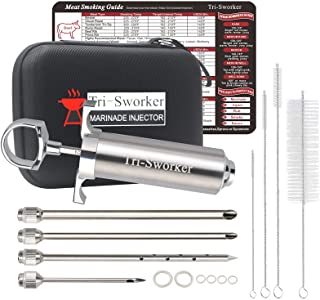 Talk about non-clogging needles, then use the Tri-Sworker meat injector. It has four needles whereby the largest is designed to handle the huge granules like onion and garlic particles. The needles are of different sizes to penetrate all types of meat, including the thin layers of meat. It is hard to marinate turkey and pork, but this meat injector is designed to handle such tough meat.
The tough meat can break your fingers or cause pain in your wrist while marinating. But this injector has a comfortable plunger and lubricated O-rings to withstand the high pressure. You will inject the Chucky juices smoothly in a lump of tough meat and still have a comfortable wrist. It is a suitable injector for Christmas and thanks-giving holidays.
Not the whole meat injector, but the essential parts like the injector barrel are stainless steel. The stainless steel makes it easy to clean and safe for human use. The steel is also an excellent anti-rust material and durable. In addition, you will also get a travel case, four spare syringe O-rings, and four cleaning brushes.
Vecolex Stainless Steel Meat Injector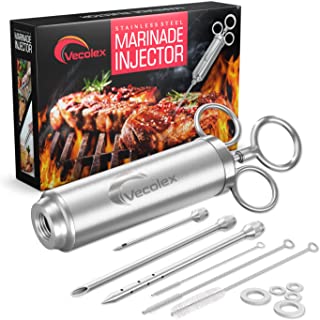 When you hear stainless steel, know the meat injector is durable and easy to clean. It is durable because it will resist rust and is strong to penetrate the most rigid meat. Moreover, it is the best meat injector for smoking because the high-grade stainless steel is safe for human food preparation.
It has three different needles for all types of juices and flavors. Enjoy Thanksgiving, Christmas, BBQ roasts, and other turkey holidays with this meat injector. This meat injector will get the taste in every bite because it can penetrate the deepest parts of the meat. The largest needle has eight holes for the equal spread of flavor and moisture.
Every needle has a cleaning tool, and the syringe has a perfect cleaning brush. Purchase this meat injector and get an all-round kit for repair and cleaning. Ensure you clean the meat injector to avoid clogging and germ development after every use. Get a free E-book to help you learn how to smoke and cook injected meat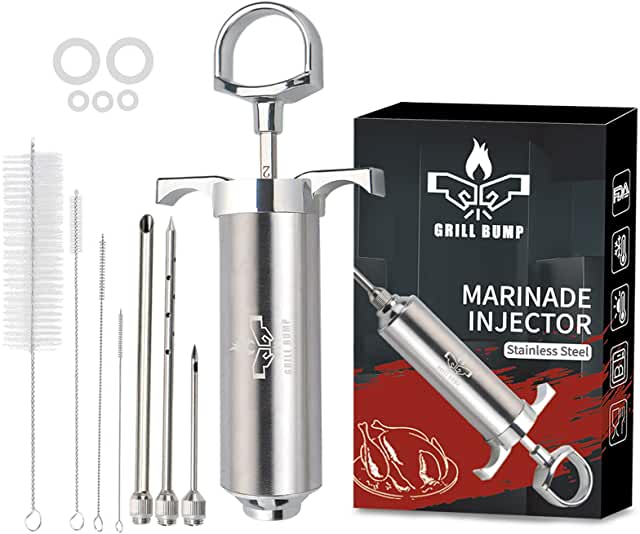 Both the needles and syringes are made of stainless steel. It is a durable meat injector available at favorable prices in most retail stores and online platforms like amazon. The world health authorities have accepted it as a safe tool to prepare human food. It can add moisture and flavor to the toughest meat, such as turkey and duck.
Enjoy your thanksgiving, BBQ afternoon, and Christmas meat with this meat injector. Every inch of the bite will have a juicy flavor and moisture due to the perfect spread. The anti-rust material is the best for commercial use and has been durable for many years. The needles have an angle cut that allows deep meat penetration, and they are also over-sized to prevent clogging.
Say a perfect injection experience, and you will get it from this meat injector. The big O-rings create an excellent push and pull pressure force that can handle the chunky marinate juices and solid ingredients like onions and garlic.
It is the best meat injector for smoking because it comes with one BBQ injector kit, three syringes & needles, and a paper manual.
How To Choose The Best Meat Injector For Smoking
All meat injectors are excellent in their work, but the best for smoking meat depends on the following factors.
1. The capacity
The capacity of your meat injector depends on the amount of meat you are handling. If you are handling small amounts of meat, choose a smaller barrel injector. Such injectors are easy to clean and take up little space to store.
If you are working with huge amounts of meat, consider using meat injectors with a big barrel capacity. The big capacity will save you time and quality of the meat; you will not waste time during refills. And you will not destroy the quality of the meat with many penetrations.
2. The needle
When it comes to the needle, you have to consider the needle's length and thickness. All these considerations have different functions. If you have a massive piece of meat with many layers, consider the needle length. A longer needle will get the juices deep into the meat and spread them evenly. For smaller meat, use shorter needles with precise injection.
The thickness of the needle depends on the density of the juice or spices. Use a thick needle on chucky or highly dense marinate juice. This is because it can allow herbs and solid material to pass through without clogging the needle. Use a thin needle for liquid marinades like salt solution and pure water or vinegar.
You also need a thin needle when marinating tough meat because it goes through the meat easily.
3. Material
A meat injector can be made of plastic, stainless steel, or any other metal, including aluminum. But the best meat injector for smoking should be made of stainless steel. Stainless steel is the only metal that is anti-rust and durable to go through the toughest meat. Stainless steel does not react with chemicals and is easy to clean, especially when the marinating juices have oils and fats.
However, stainless steel is a heavy metal, making the whole system too heavy. An excellent stainless steel meat injector comes with a travel case to help with portability. Aluminum and plastic meat injectors are lightweight but not durable like stainless steel. So the choice is up to you. Do you want a lightweight and easy-to-break or heavy and durable meat injector?
4. Ease to clean
Meat injectors carry a lot of bacteria, and they can easily clog if you do not clean them. According to studies, the easiest meat injector to clean is the stainless steel injector. It requires minimal tools and soap to clean. A good meat injector should also be easy to disassemble and assemble during cleaning.
5. User-friendliness
The best meat injector for smoking should be easy to use and achieve the intended purpose. The plunger must be soft and smooth to press and pull. Doing so will save you a lot of time and energy. Ensure you lubricate the O-rings and other moving parts with cooking oil. They should also be super sharp to penetrate the tough meat easily.
6. Compatibility
Yes, it is called a meat injector and must be used on the meat. But save money and time when you buy a multipurpose meat injector. This means you can use it on other foods. For example, you can also use it to inject jam into a cake. So it is good to understand what a meat injector can do and not do before purchasing it.
7. The extras
You can also consider the extra tools and features of a meat injector. These are not a must for the injector to function, but they are suitable for better services. They include spare O-rings, cleaning brushes, and a tools' case. Some big companies add e-cooking books and travel cases. However, extras also increase the price of meat injector.
Frequently Asked Questions
Q: Why is stainless steel the best material for meat injectors?
Stainless steel is considered because it is a strong material hence durable. It is also easy to clean and does not rust. Germs and oils are hard to remove from plastic injectors. Lastly, stainless steel looks presentable with a shiny surface.
Q: Can you use a meat injector on a cake?
A meat injector can also add flavors to a cake as long as you clean it properly to avoid mixing up flavors. In this case, buy a multipurpose meat injector.
Q: Can you clean a meat injector in a dishwasher?
Yes, you can clean the meat injector in a dishwasher, but ensure it has the safe dishwasher mark. And disassemble the whole meat injector before placing it in the dishwasher. Do not clean the needles in the dishwasher because they can bend or break.
Q: How to clean the needles of the meat injector?
Some meat injectors hove thick needles and also come with special brushes to clean them. If you have a thin needle, use the syringe to clean it. Pull hot water up into the syringe through the needle and push it out. Repeat the process until you are satisfied the needle is clean. Soak the needle in hot soapy water if the marinade is too chunky.
Q: What is the best injector needle?
You should consider the thickness, sharpness, and material of the needle. The needle must be thick enough to handle chunky marinades. It is very sharp to go through tough meat and is made of strong materials like stainless steel.
Wrapping Up
Indeed, meat injectors have made it easy to add flavor and moisture to the meat. They will help you save a lot of time and fridge space. Nevertheless, you can waste more time if you choose the wrong meat injector.
The best meat injector for smoking is AKPE stainless meat injector with the best durable steel and is easy to clean. The twelve holes on the needle will spread flavor equally in the meat. The other four meat injectors are also great. So list down the features you want from a meat injector and select one that has most of the qualities.