Choosing a kitchen sink is essential. After all, it's not something you can replace every month. And getting the wrong one can be time-consuming and, most importantly, expensive! So the question is this: what is the best type of sink for a kitchen?
The kind of kitchen sink you should get depends on your needs and preferences. So whether it's top-mount sinks or low divider sinks, there's something for everyone.
For this post, I've listed the types of kitchen sinks and their pros and cons to help narrow down your choices. See which sink suits your kitchen needs the best!
---
Types of Kitchen Sinks
 Stainless Steel
One of the best materials for kitchen sinks is stainless steel. After all, not only is it sturdy, but it also provides a modern and clean look. But the best thing about stainless steel sinks is that they're flexible. So whether under-mount or top-mount models, any sink is possible with stainless steel!
I recommend choosing 16- to 18-gauge stainless steel for a sturdier sink. This thickness can make it last for years, even with continuous use. 
Aside from the thickness, I suggest checking the series number. It lets you know how the steel was made and if it's magnetic—or not. Although it depends on your sink design, getting 300 series stainless steel is best. After all, this contains chromium and nickel, preventing corrosion and damage.
So even if you leave your leftover foods in the sink, its stainless steel can't get tainted.
Overall, stainless steel is one of the best types of sink you can get for a kitchen. It's affordable, sturdy, and attractive! 
Pros
Affordable

Easy to maintain

Flexible 

Durable
Cons
It can be noisy

Water spots develop easily
Enamel
Enamel kitchen sinks are a great option if you're going with a modern kitchen. Although old-fashioned, the enamel is one of the most flexible materials for sinks. As a result, you can get one made of cast iron or glass, and in different colors. 
Aside from that, enamel's lighter material offers a softer and more serene look. And not only does this work well in modern homes, but it also increases home value! So as long as you maintain the sink well, it can be an excellent long-term investment. 
However, this type of sink can be tricky to install in kitchens as they're heavy. Plus, enamel sinks require the support of sturdy countertops or cabinets. 
Also, be prepared to do lots of maintenance on this sink as enamel is prone to staining and chipping. Luckily, enamel sinks are manageable, and you can refinish them as much as you want. 
 Pros
Aesthetically pleasing

Increases home value

Extremely durable 
Cons
Expensive

Heavy

It needs regular care 
Fireclay
What is the best type of sink for a kitchen in a farmhouse or modern home? Fireclay is an excellent material you should consider as it's durable and manageable. 
It's a type of enamel molded using white clay, creating a gorgeous and flexible material. Fireclays allow you to make sinks similar to conventional cast-iron sinks. But despite this, it's sturdier and is prone to staining and scratching. 
However, they tend to be heavier than regular enamel. That's why you need to invest in reinforced cabinets or countertops if you want to get a fireclay kitchen sink. 
Plus, since fireclay is handcrafted, it tends to be expensive. So unless you don't mind splurging, fireclay isn't the best material for a kitchen sink.
 Pros 
Sturdy

Easy to maintain

Prolonged lifespan

Sleek design
Cons
Limited styles

Heavy

Very expensive

The sink needs to be installed by a professional
Stone
Stone sinks can quickly become the focal point of any kitchen. And these are durable, add to home value, and are heat resistant! So if you're looking for a rugged model, go with stone sinks. 
Moreover, you can create unique designs thanks to the natural pigmentations of stones. Not to mention, each one gets carved from one block. That means it preserves its tone and textures, giving you a one-of-a-kind sink. 
However, this material also has its downsides. 
Firstly, stones are naturally porous. So you need to regularly maintain it to prevent stains, scratches, and further damage. And since they're heavy, stone sinks can only be mounted on reinforced cabinets. 
 Pros
Heatproof

Durable

Adds value to a home

Unique designs
Cons
Heavy

Pro installation required

It needs regular maintenance and sealing

Extremely expensive
Composite
A bold mix of quartz dust and acrylic resins gives you the composite sink. Composite sinks have become a popular pick for modern homes thanks to their sleek design, modest price, and durability. 
You can get the gorgeous appeal of stone sinks without breaking the bank. And not to mention, it's more consistent as it can offer a more uniform look than stones.
But despite being uniform, it also comes in a broad range of colors, shapes, and sizes. With this in your kitchen, you'll be washing the dishes in style—every time!
Also, you don't need to worry about rapid degradation as composite is sturdy and doesn't require sealing. However, even if it's durable, be careful overexposing it to heat as this can crack or damage the surface. 
Pros
Affordable

It doesn't need sealing

Available in different styles
Cons
Expensive

Not heat-resistant
Porcelain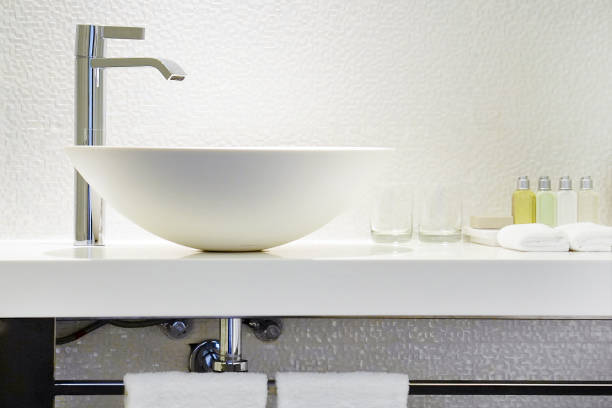 If elegance, efficiency, and durability are what you want in a sink, choose porcelain. This material blends well with modern and traditional kitchens, making it an excellent choice for homeowners of all kinds. 
Additionally, besides being aesthetically pleasing, this sink material is hard, dense, and non-porous. So expect your porcelain sink to help wash your dishes for years. And the best part is, this sink doesn't require you to maintain it regularly!
What's more, since porcelain is resistant to heat and stains, it can be an excellent pick for homes with large families. It lets you wash dishes without worry. And you don't need to think about being hygienic as porcelain sinks are immune to water spots. 
However, since porcelain is extremely heavy and bulky, you'll need to have a pro install it for you. 
Pros
Stylish

Heat-resistant

It has a non-porous surface

Stain-resistant
Cons
Very heavy

It requires professional installment
Copper
Are you looking for a unique sink to add to value and style? Then I recommend getting a copper kitchen sink. 
A warm and calming copper sink can be a great focal point of any kitchen. You can have it as a traditional under-mount or a unique drop-in model. You can have a copper sink with a smooth or hammered finish to add more to its flexibility. 
Either way, it promises style and functionality regardless of its construction. Not to mention, you can install the sink yourself!
However, copper sinks go beyond style and are also one of the most practical choices for kitchens. After all, copper can kill 99.9% of bacteria naturally. And this is all thanks to the punch holes present in copper molecules. 
The only downside is that genuine copper sinks can be expensive. But it's worth the investment if you're looking to have it built in your home. 
 Pros 
Gorgeous design

Kills bacteria naturally

Flexible

Available in different styles
Cons
Extremely expensive

Some may not like the 'old' vibes it presents
---
Choosing The Right Type of Sink for Your Kitchen
When it comes to picking a type of sink for a kitchen at home, you'll need to consider your need for it. For instance, a stainless steel low divider sink would be your best bet if you need it for regular dishwashing. After all, they're durable, sleek, and can handle the harshest of stains! 
Meanwhile, if you're looking for a stylish sink to add to your vacation home, a stone sink should suffice. These are unique, stylish, and gorgeous. 
Either way, choosing what is the best type of sink for a kitchen shouldn't be a chore. After all, every homeowner has their own needs and style. So, remember to go with one that works well with your purpose and preference! 
---
Frequently Asked Questions
Q: What is the most durable item for a kitchen sink?
A: Stainless steel models are the most durable sinks that can last you for years, even with continual use. These are thicker and can hold up to hundreds of pounds without issue. Aside from this, it's mostly stain-proof due to its tough exterior. 
Q: Are stainless steel sinks better than composite models for a kitchen?
A: Stainless steel sinks are better for kitchens as they're tough and require minimal maintenance. Additionally, it's affordable and heatproof. Not to mention, it can heal itself over time, making it look good as new. 
Q: What are the most effortless kitchen sinks to clean?
A: Kitchen sinks made from stainless steel, porcelain, fireclay, and ceramic are the ones that are easiest to clean. After all, these have non-porous and high gloss exteriors, making them more manageable. Not to mention, they're naturally stain-resistant. 
Q: What's the best depth for a kitchen sink?
A: Kitchen sinks, no matter the design and style, should be at least 7 inches deep. Anything beyond or less than this can make your dishes pile up fast. On the other hand, heavy dish loads benefit from sinks with a depth of over 8 inches. 
Q: Is a deep sink better than a shallow sink?
A: A deeper sink is ideal for households that regularly wash oversized items. On the other hand, shallow models are best for those who need a more accessible sink. 
---
Final Thoughts
What is the best type of sink for a kitchen? The best ones depend on your kitchen inspiration, needs, and overall personality. Either way, choosing a sink for your kitchen shouldn't be a challenging task. Once you know what different materials offer, you can select the best one in no time.