Are you moving into a new kitchen and not sure what you need to get started? Do you want to know the things you need for the kitchen when moving in? Perhaps you are overwhelmed by the thought of stocking up on kitchen essentials and need help figuring out where to start.
There's nothing quite like the feeling of moving into a new home. Everything is new and shiny, and you can't wait to start making it your own.
If the sight of your new kitchen makes you excited to start cooking again and entertaining friends and family, it's a good idea to make a kitchen essentials list before you move in. However, with all the equipment you'll need for cooking, baking, and hosting, stocking your kitchen can seem like a huge undertaking.
To help you get started, here's a list of the essential items that you need for the kitchen when moving in:
Tips For Moving Prepping Your Things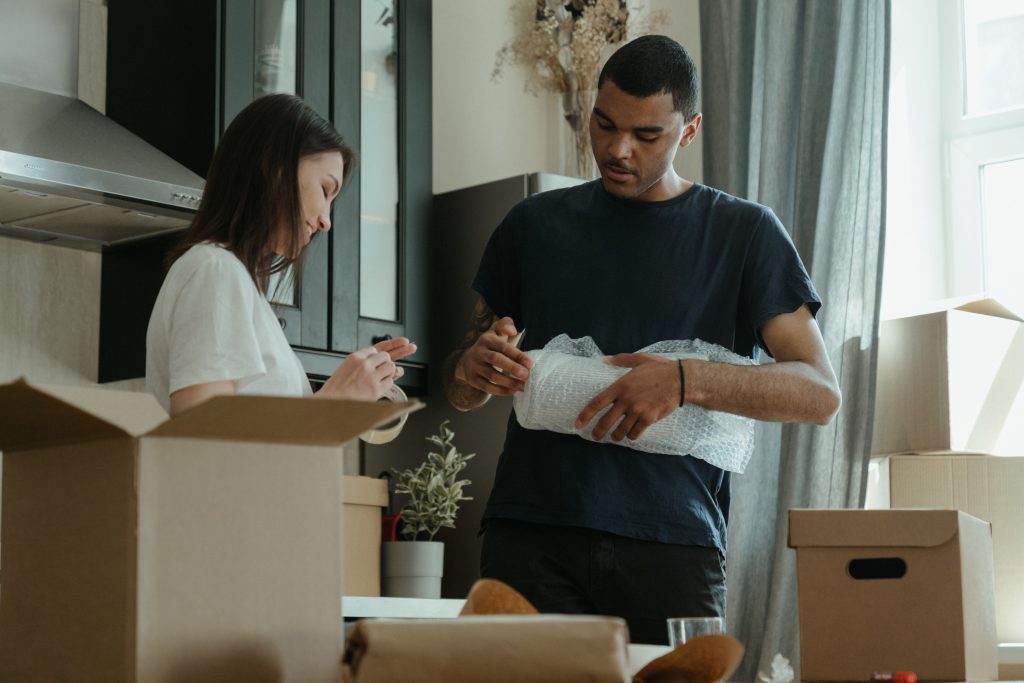 Moving can be stressful yet exciting, so take the time to prepare for it properly. Have a plan and timeline in place to help you stay organized. Here are moving tips you should consider:
🏠 Start Packing Non-Essential Items
Starting early is key when packing for a move, especially for non-essential items. Set aside clean packing paper, bubble wrap, and boxes, so you don't have to scramble to find them last minute.
Make sure to label items with the room they need to go in when you arrive at your new home, along with an inventory of what was in each box. Taking this extra step makes unpacking much easier later on, as everything will be organized and easy to locate!
🏠 Make a Checklist
It is important to create a checklist with all of the essential tasks that need to be completed before moving in. Use your checklist to keep track of tasks such as sorting, cleaning, and packing. Make sure to include items that you will need for your kitchen, like kitchen essentials, on your list as well.
These tasks will help ensure your transition into the new home goes smoothly and that you have fewer unexpected hiccups to handle. Making a checklist can help alleviate some stress from the move and give you peace of mind that you are prepared for your big day.
🏠 Separate Fragile Item
Fragile items, like glassware and dishes, require more care when packing. Make sure to pack them in paper or bubble wrap so they stay intact during the move. If possible, try to avoid putting fragile items in heavier boxes since they can get broken.
🏠 Maintain The Kitchen Before Your Move
Before moving into the new home, it is important to ensure the kitchen is in good condition. Clean out all drawers and cabinets, as these are often overlooked when packing. It is also a good idea to clean and disinfect the refrigerator, stovetop, oven, and other surfaces before moving in. This will help ensure that your new kitchen is completely clean and ready for you to use.
🏠 Moving Perishable Food
Food is often one of the last things people think about when it comes to moving. However, a few special considerations should be made if you have perishable food in the fridge or pantry.
It is generally not recommended to move perishables unless you can consume them within 24 hours of arriving at your new home. If this is not possible, donating them or throwing them out before you move is best.
🏠 Consider Hiring A Moving Company
Hiring a professional moving company can be a great way to reduce stress and make a move easier. Professional movers are experienced with packing, transporting, and unpacking fragile items and larger furniture pieces. They also have access to specialized tools that make moving heavy appliances and furniture much easier, saving you time and effort.
Having a professional moving company on your side can make the entire process smoother and less stressful. They will be able to provide you with helpful advice and tips that will help you transition into your new home with ease.
Kitchen Essentials That You Need When Moving In
Now that you have some tips to help you with the move let's look at the kitchen essentials that are must-haves for a new home.
✅ Drawer Organizers
Do you want to keep your kitchen organized and tidy? Drawer organizers are a must-have for any kitchen. Not only do drawer organizers provide an efficient way to store everything from utensils and silverware to household gadgets, but they also add sophistication and class when entertaining guests.
Moreover, with various sizes, styles, and colors available, there is something perfectly suited to any kitchen that helps you stay organized without sacrificing your aesthetic vision.
✅ Knives
A good set of knives is essential for any kitchen. From slicing and dicing to carving, you need the right tools to get the job done. Make sure to invest in a good set of knives that is sharp and comfortable for you to use.
A good set will include a chef's knife, a paring knife, and a bread and carving knife. Each one is crafted to fulfill a particular function. The chef's knife is multifunctional, perfect for chopping, mincing, and slicing. 
The paring knife is small and sharp enough for detailed tasks ranging from coring fruits to cutting flowers from stems. Bread knives feature long blades that easily slice through even fluffy loaves of bread.
And lastly, the carving knife is designed with a long blade featuring pointed tips, which allows you to cut thin, precise slices.
✅ Cookware
Are you looking for something to cook your meals in? The four main types of cookware are saucepans, skillets, Dutch ovens, and stockpots. Saucepans can be used on the stovetop or in the oven and provide great versatility for simmering sauces or burning dishes like omelets or frittatas.
Skillets are ideal for searing, frying, and sautéing, while Dutch ovens are traditionally used to prepare stews and other slow-cooked dishes. Finally, stockpots come in useful when boiling pasta, cooking stock, or creating large batches of soup or stew.
It's important to consider high-grade materials such as stainless steel or copper when shopping for cookware, as this will affect how well your food cooks, lasts over time and how healthy it is for you and your family.
✅ Pantry Bins
Whether you have a small or expansive pantry, it's important to keep all your food items organized and within easy reach. Pantry bins are the perfect solution for this, as they can help you store and categorize food items with ease. Not only do pantry bins save space, but they also help keep your food fresh and make it easier to find what you're looking for.
For instance, you can invest in clear bins with lids to store dried goods like grains, flour, and cereals. Alternatively, you can buy wire racks to store canned and jarred items. This way, you can easily grab what you need without rummaging through your entire pantry.
✅ Bakeware
Do you love baking cookies and cakes? Or maybe you're more of a savory person who likes to bake pizzas, focaccia, or lasagna? Regardless of your baking preferences, having the right bakeware is key.
Here are some of the basic items you'll need for any kitchen:
✔Cake pans
✔Baking sheets
✔Muffin tins
✔Pie dishes
✔Loaf pans
✔Casserole dishes
✔Round cake pan
✔Springform pan
No matter what your baking needs are, you can find an array of bakeware items to suit them. With so many options available, you can easily create delicious treats in your own kitchen and enjoy the fruits of your labor.
✅ Small Appliance
Every kitchen needs reliable small appliances. Coffee makers, blenders, and toasters are all staples that help make meal preparation easier and faster. Investing in good quality kitchen appliances can save you time, money, and energy.
For instance, a good coffee maker can provide you with a hot cup of coffee in the morning, while a blender can help you whip up smoothies or soups. Having a toaster oven is also handy, as you can use it to prepare quick meals like pizzas or toast.
In addition, purchase immersion blenders and slow cooker for soups, stews, and other dishes that require a longer cooking time.
✅ Condiments and Spices
No kitchen is complete without a variety of condiments and spices. From olive oil to honey, these pantry staples can easily elevate the flavor of any dish.
When shopping for condiments, look for high-quality ingredients that are free from additives and preservatives. Additionally, try to invest in organic products whenever possible.
The same goes for spices. In order to ensure that your recipes turn out flavorful, it's important to use fresh and fragrant spices. Consider purchasing whole spices and grinding them at home for maximum flavor.
Here are some staples to keep on hand:
Salt
Pepper
Garlic powder
Cinnamon
Basil
Oregano
Cumin
Paprika
Chili powder
✅ Measuring Utensils
Baking and cooking typically require precise measurements to get the desired results. This is where measuring utensils come into play. From liquid measuring cups to dry measuring spoons, these tools can help you ensure that your recipes are accurate and consistent.
It's important to invest in high-quality measuring utensils to ensure accuracy in all your recipes. Look for sturdy and durable materials such as stainless steel or glass rather than plastic.
In addition to measuring cups and spoons, it's also a good idea to have kitchen scales and thermometers on hand. Kitchen scales can help you weigh ingredients for baking, while thermometers can help you monitor the internal temperatures of your cooked food.
✅ Cutting Board
A good quality cutting board provides an ideal surface for prepping food and is durable enough to withstand repeated slicing and chopping. Wood boards are most commonly used, as they have natural anti-bacterial properties that protect against contamination. But if sanitary preparation is your priority, consider a plastic model which can be easily disinfected before use.
✅ Silverware and Tableware
Have you ever tried to eat a meal with plastic utensils? Not exactly the most pleasant experience, right? Having the right tableware is essential for any meal.
Start by purchasing silverware – forks, knives, and spoons – that are comfortable and easy to hold. You may also want to invest in larger pieces such as serving spoons, salad forks, and carving sets.
For dining plates and bowls, opt for stylish and durable materials. Ceramic or stoneware is a great choice as it can withstand repeated use without losing its luster.
✅ Utensils
You'll need a variety of utensils for stirring, scraping, and flipping food. Look for tools with non-slip handles, as these will provide you with the best grip when handling hot pans and pots.
This essential kitchen list includes:
Spatula
Ladle
Tongs
Wooden Spoon
Whisk
Masher
Peeler
Grater]
✅ Oven Mitt
Most cooking requires some degree of heat, so you'll need a pair of oven mitts to protect your hands from burns. Look for models made from fire-resistant materials such as silicone or polyester. Additionally, ensure that the mitts have a snug fit and are comfortable enough to use for extended periods.
✅ Bottle and Can Opener
Having a reliable bottle and can opener is essential for opening jars, cans, and bottles. Look for durable, easy-to-use models that won't require too much effort from you. Consider investing in openers with ergonomic handles or finger guards to prevent injury while using them.
✅ Kitchen Shears
Kitchen shears are amongst the handiest tools to have in your home. Their versatility makes them ideal for a variety of applications, including cutting herbs, opening packaging, and even tackling small household tasks such as snipping twine and trimming plants.
Not to mention, if you cook often, you can use kitchen shears instead of knives for many larger ingredient prep purposes. They can quickly cut through thicker ingredients like large pieces of meat and even lobster claws – without compromising safety or cleanliness.
The result is perfectly proportioned pieces that can be used instantly or stored away for later meals. Even if you aren't particularly adept at slicing and dicing with a regular knife, kitchen shears can give your dishes that professional-looking finish when everything's said and done.
✅ Cups and Mugs
When considering different types of drinking vessels, cups and mugs typically stand out among the most popular. Their versatility makes them perfect for everything from hot drinks like tea and coffee to cold drinks like smoothies or milkshakes.
One truly amazing feature of these vessels is that both the handles and walls are desensitized, meaning that no matter what temperature the beverage is, your hands won't get burned or chilled.
✅ Apron
An apron is an important piece of clothing that can help protect your most precious items. Whether you're cooking or doing chores around the house, aprons are the perfect garment for keeping your clothes and skin safe from harm.
For example, an apron will protect your nice shirt from potential spills if you're making dinner. With its unique fit and design, it's easy to stow all of your essential tools, so you never worry about leaving something behind.
Aprons also come in numerous styles, colors, and patterns so one can show their personality even while keeping clean.
✅ Garbage Can
The kitchen is where the creative magic happens, and it needs to be kept clean and organized. The right trash can is a key component of this. A sturdy, well-designed unit can simplify daily tasks by providing easy access to waste while complementing the room's design scheme.
Look for tight-fitting lids with easy open/close mechanisms that can help contain odors and liquids, as well as models made from nonporous materials that are resistant to bacteria growth. For those striving for an eco-friendly lifestyle, look for models made from recycled materials or compostable materials that break down over time.
✅ Cleaning Supplies
It goes without saying that a clean kitchen is crucial for preparing food in the safest way possible. To ensure that your space is sanitized, stock up on cleaning supplies such as sponges, scrubbing brushes, and soaps.
Additionally, for deep-cleaning tasks like degreasing ovens or stovetops, use all-natural solutions that won't produce harsh fumes.
Frequently Asked Questions
A: What should I do with my kitchen items when I move?
B: It's a good idea to pack kitchen items securely in boxes and label them with the room they came from. You may also want to consider taking photos of your kitchen before moving out so that you have a record of where you placed everything. This will make it easier to unpack and set up your new kitchen.
Q: What packing supplies do I need for my kitchen?
A: Use plastic wrap or packing paper to help protect glassware and delicate items. For larger pieces of equipment like blenders and toaster ovens, invest in boxes specifically designed for moving. Additionally, don't forget to have plenty of packing tape on hand and a few markers to label each box.
Q: Is an ice cube tray necessary to have in the kitchen?
A: Ice cube trays are incredibly useful and can be used for much more than just making ice cubes. They are also great for freezing sauces, juices, herbs, and other small items that need to be stored for later use. Plus, they're usually inexpensive and easy to find in most grocery stores.
Q: What is the correct way of packing breakable items?
A: When packing breakable items, the most important thing is to use plenty of bubble wrap or newspaper. Start with a layer of either material and then place the item in the center. Wrap the item tightly, and make sure that all edges are protected from bumps and jostle. Once it's secure, tape the bubble wrap or newspaper in place. Finally, label the package as "Fragile" to remind yourself and anyone who may be handling it that extra care is needed.
Q: Are there any kitchen items I should avoid packing?
A: The best rule of thumb when it comes to packing kitchen items is to avoid anything that could spoil or melt. This includes food items, perishable goods, and beauty products like makeup and lotion. Of course, if you need to pack these items for a short-term move, then make sure to use plenty of ice packs or coolers. Keep in mind that it's best to unpack any essential kitchen items first, so you can get cooking right away.
Final Words
No matter what kind of kitchen essentials you need, these items are essential for setting up a functional and efficient kitchen. From cooking utensils to cleaning supplies, investing in the right materials is sure to help you get the most out of your culinary experience. With the right items on hand, you can whip up delicious meals with ease and keep your kitchen looking great for years to come.