Have you just got a new home or an apartment with a small kitchen but loves to buy kitchenwares? Don't know where to keep your pots and utensils? Do you have no pantry? No problem! We're going to reveal the most effective way to organize your kitchen. Aside from this, we will talk about the storage hacks, especially if you are dealing with a kitchen that is a little bit on the small side and doesn't really know where everything will fit in. So, want to start organizing your kitchen? Let's jump to the hacks right away.
Don't forget to share your kitchen hacks stories below!
Types Of Modular Kitchen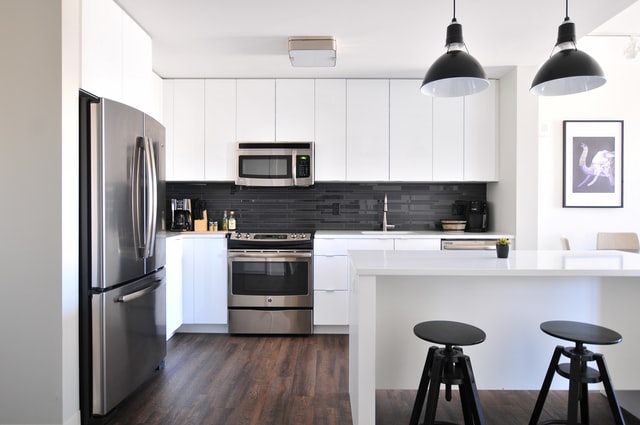 Before organizing your kitchen, you must first know what type of kitchen you have. This is to ensure that you are not just piling up your things inside your drawers.
🍳 L shape
The L-shaped kitchen is the most typical type, especially for small kitchens. It has a small, compact, discreet, very versatile definition to provide maximum storage. This kitchen shape is essential because it has a work triangle where you can still roam around even though you only have a small space.
🍳 Straight
The straight type kitchen is usually advised in studio apartments. This is because there is no work triangle present, but you can still achieve an easy workflow. The straight style is also compact and unobtrusive for large and small kitchen spaces. Organizing your kitchen in a straight style will only give you limited space so you must limit your kitchen things to avoid overstacking.
🍳 U shape
If you have a large kitchen, the U shape works best for you. This is because it gives more working area and can divide your tasks such as preparation, washing, and cooking. The U shape fits into more extended kitchen spaces and can handle much storage and countertop space.
🍳 Parallel or Gallery
This type of kitchen is like the smaller version of a U-shaped kitchen. As its name suggests, it has two parallel countertops that are very helpful if you have lots of cooking. The work can be easily divided, especially since the countertops are very long and can split into wet and dry workspaces. Another thing is that a parallel kitchen is ideal for a longitudinal area and can serve as a passage of a utility balcony that's connected to your kitchen. This makes an easy movement flow to the adjacent area without bumping to corners.
🍳 Island
The island design is the most elegant and has a modern look of all the kitchen types. It is a combination of straight or L-shaped with an unconnected island placed along with the layout. The island type is versatile and not only helps in the creation of separate storage and cooking spaces but also has a great contemporary look and feel.
🍳 G shape
The G-shaped kitchen is slightly similar to the island type. The only difference is that the island type is joint to the counter and generally acts as a breakfast table. To make it simple, this kitchen has four sides giving meaning to its name "G."
That is why it is the most economical arrangement which can hold almost all of your kitchen needs, including the freedom to move and plenty of additional storage. G-shaped type kitchens are ideal for those adjacent to expansive living rooms, allowing you to stay in touch with the family or visitors while cooking.
Organizing Kitchen Appliances And Tools
Let's jump right in about what to do with some of those big appliances and tools, such as a crockpot, an instant pot, or even an electric skillet that you might use on a regular basis. This becomes a problem, especially if you need off your counter space for those quick weeknight dinners.
✅ Use your refrigerator.
So an unexpected space to find some extra kitchen storage, especially for those big appliances, is the top of your refrigerator. Generally, refrigerators do not go floor-to-ceiling, and you will usually have space above. You can put some medium-weight things that can your refrigerator hold just fine. This technique ensures that your items are out of the way, but they are still pretty easily accessible. You can put the kettle, small skillet, or a crockpot up there.
✅

Don't forget about the walls.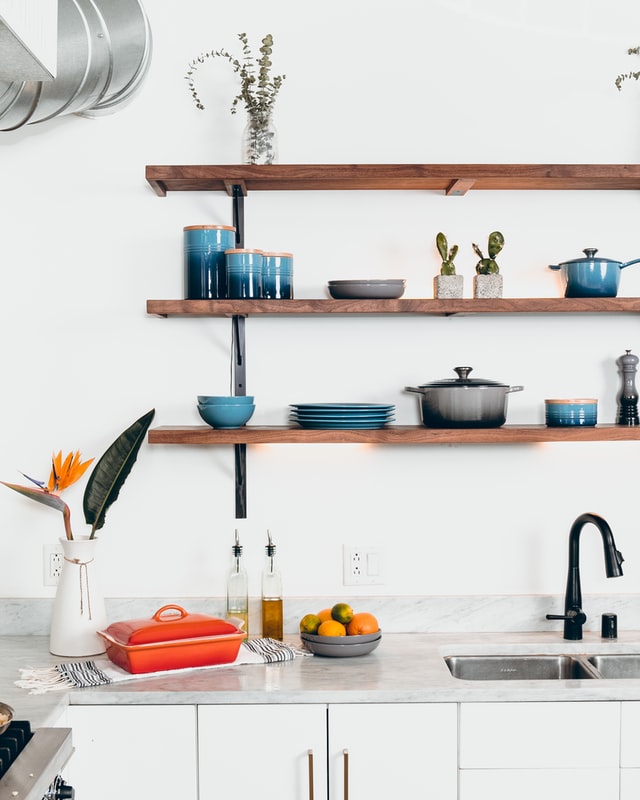 A big issue that you can run into having a small kitchen is no enough drawer space. There are drawers that can't handle a standard silverware holder. So using unconventional wall space can actually make up for the lack of drawer space. You can just hang utensils with a nail that can also add an aesthetic design to your kitchen wall. This hack will also make your knives super handy while saving so much drawer space.
Aside from utensils hanging on the wall, you can also hang spice racks so that you will not have a hard time using those spices and herbs while cooking. These racks are also very affordable, especially on thrift container stores that can fit small spice jars. So look for ways and hacks that you can use the wall space and think about the things that you can hang, like mittens and kitchen towels.
✅ Stacking silverware.
To use your drawer efficiently, you can purchase silverware and utensil organizers that can stack all of your silverware, especially on four to five-inch sections. Take note of the width of your organizer because every space in your drawer is still usable for other things.
✅ Big drawers.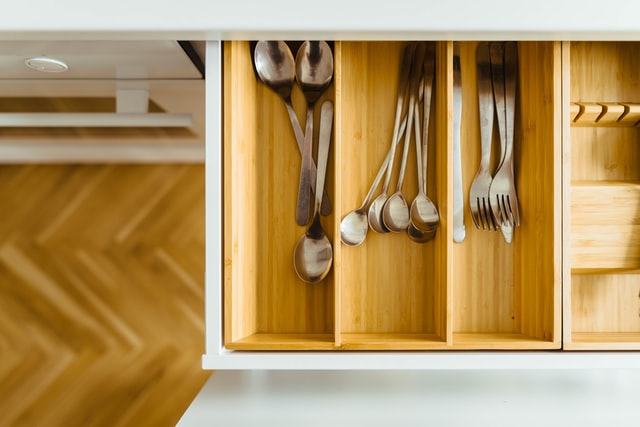 One tip if you have ample drawer space is to have a container to hold every tool. The point here is to open the drawer and for it to look everything to have an outlined place. This is to help you find what you need quickly so that everything is not jostled around and no popping out whenever you open your drawer. Having a drawer organizer is also helpful to make your countertop free from all the mess.
✅ Vertical spaces.
There are kitchens that have an under-the-bar-top cabinet, and you need to utilize this cabinet space to the best of your ability. The first thing to note is having an over-the-counter basket that can hold your handheld mixer and grater. These baskets are very important whenever you set stuff down in a cabinet. You can also put some metal handles or hooks to hang things on the sides of your cabinet where you can put your strainer that really helps fill the vertical space.
To fill the cabinet, you can also stack there your plastics, nested food storage containers, and other kitchen things that are not typically used every minute. So as with everything else in your kitchen, anywhere that you can use vertical space, it is going to save the space you need for other items seriously.
✅ Positioning your pans and bowls.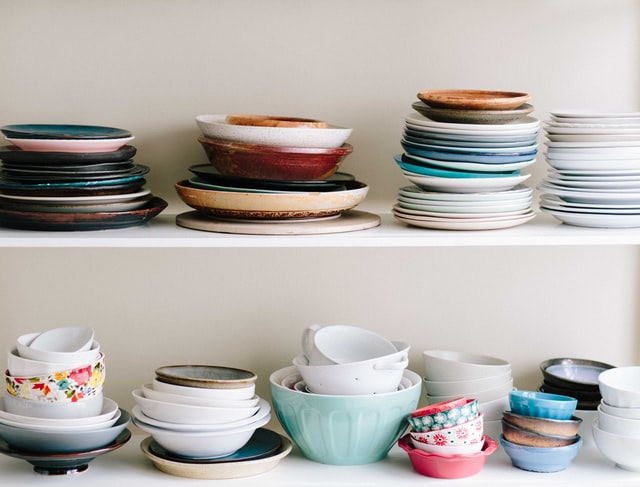 In practically positioning your pans, you can use hooks to keep your lightest saucepan hanging right on a cabinet door and other pans leaning up against either side of the cabinet. Your larger pans must not be rallying on your way whenever you want to get a smaller pan. So make sure that large saucepans are in the very back of your cabinet.
Now you want to be careful with putting stuff behind other things. That is why anything that you are going to use more often, you want to make sure that it is easily accessible towards the front. It's a matter of making your kitchen work, not that your kitchen is just for posting it to social media.
✅

Thinking outside your kitchen.
There are kitchens that have spaces or rooms attached. Some use this space as a bit of beverage bar entryway, and you can still install a cabinet for an additional space saver. It was not something a requirement in envisioning having it in your kitchen, but it really helps in keeping your mugs and dishes that are only used on special occasions.
Remember that extra shelving can do some really creative things in and out of your kitchen. If you are strict on your budget or saving money for more important things, you can find a cheap shelf liner that you can customize for whatever purpose you want it to use.
✅

Having a small pantry is not a problem.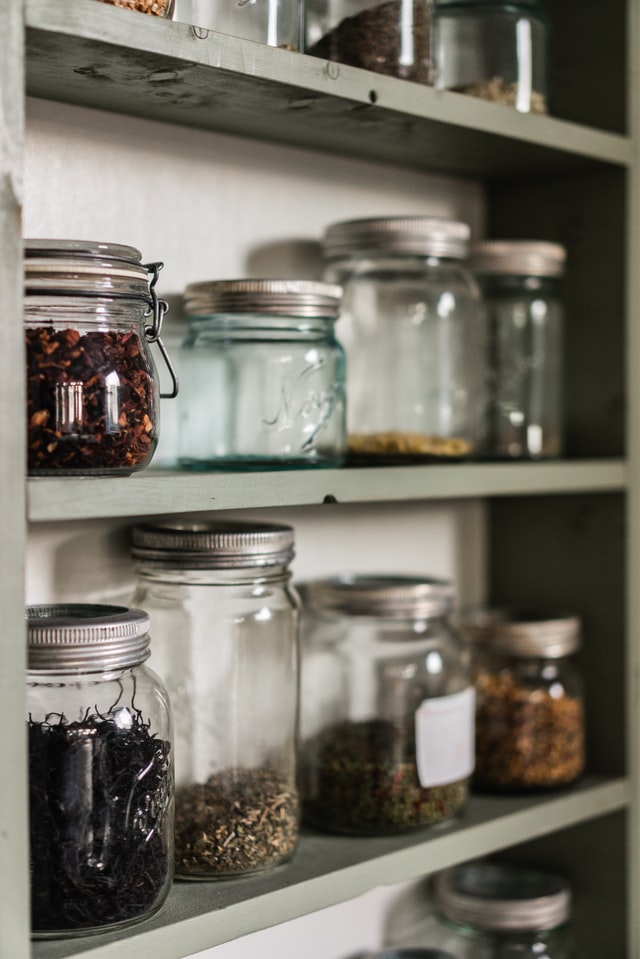 One of the biggest problems you run into when organizing a kitchen is cabinet space for a pantry. And sometimes, when people are designing kitchens, they forget that we actually need to keep food in the kitchen as well, and not just kitchen appliances. So the question comes, where are you going to put all of these when there is no pantry?
It is highly advisable that anything is in your pantry that is not usable, like expired products, get rid of it. Another thing that is taking up pantry space is that there are some ingredients you probably realize you are just never going to use. So the less that you can keep in your pantry, the more space you can have for the things you need.
Bottom Line
The most essential principle you must keep in mind is that the less you buy, the more space you are going to have. It is normal to have the tendency of buying things because they're on sale or because we think we'll use them in the future, but you'll end up stacking these things on your pantry, creating a mess. Organizing your kitchen is a must not only make your kitchen aesthetically gorgeous but also get rid of the things that can collect dust and bugs. So, make sure to buy only what you need and arrange your shelves and containers.
Want to know more kitchen hacks? Learn more about the proper care for kitchen knives by clicking here.