Are you sick of looking at the garbage can in your kitchen? In many kitchens, the garbage can is kept just beneath the sink, under a cupboard. That's good for some individuals, but if you don't have that choice, or if you're wary of reaching into a confined spot to throw everything out, coming up with an alternate solution might be difficult.
With the help of accessories, storage goods, and innovative ideas, you can easily transform your kitchens. Many of those suggestions can assist in hiding and concealing garbage cans.
Ingenious Ways to Conceal your Trash Can in the Kitchen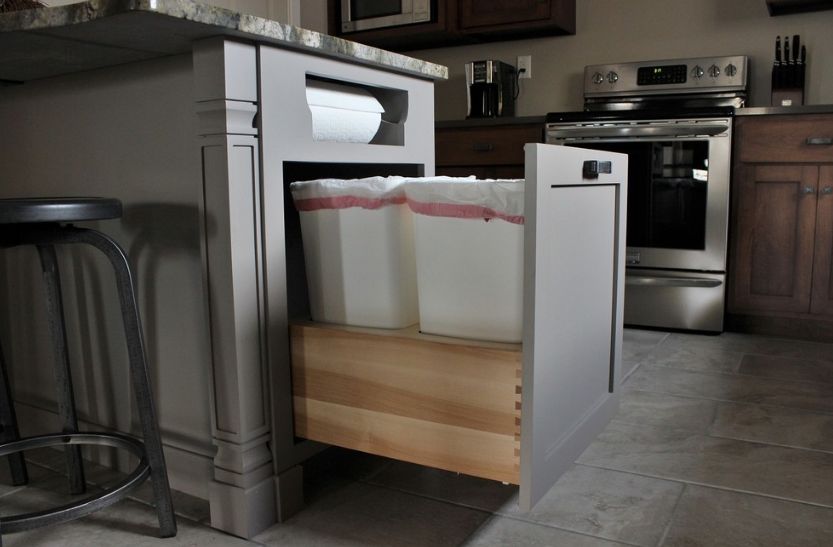 ❕ The Under-Counter Trash Slide Out
This garbage pull-out concept makes it simple to find a long-term solution to rubbish storage. With just a few screws, it readily attaches to the cabinet floor.
On robust ball-bearing guides, it slides in and out of the cabinet. You may enter two. As a result, there is a recycling version as well as a conventional single bin version.
❕ The Trash Cans in Interior Cabinets
If you have enough inside cabinet space, these pull-out trash cans can be a useful addition to any kitchen. There is almost always a pull-out trash can that will work with any cabinet style.
As pull-out garbage cans lie within the cabinet, the most crucial thing is to double-check the cabinet's width, depth, and height specifications.
Slide-out trash cans are usually sold as a complete unit that includes the frame assembly, right and left slides, one or two waste bins, and mounting hardware.
❕ The Tilt-Out Trash Can
A tilt-out trash can cabinet is a wonderfully inventive method to conceal your rubbish. These are the next best thing to a pull-out garbage can in an inside cupboard.
Tilt-out trash can cabinets provide a dual-use as an additional counter or side table. With various colors and finishes to pick from, it's simple to make them blend in and function as an extension of your kitchen.
What you give up in floor space, you make up for in-drawer and counter space.
❕ The Cabinet Door Hanging Trash Can
A kitchen drawer hanging bin is a little smaller, but it fits nicely under the counter. The 2.6-gallon container is large enough to dispose of a large amount of waste swiftly and conveniently.
If you don't want it hanging on your door, you may use the included bracket to attach it to the interior of a cabinet or wall.
❕ The Trash Can With Gliding Wheels
When in doubt, you can always relocate your garbage can about the kitchen or even hide it in a pantry or a laundry room.
If you don't have an extra cabinet or create a lot of garbage, this is a perfect solution.
❕ The Pivot-Out Trash Can Under the Sink
The more we strive to conceal or disguise our rubbish storage, the less our alternatives become. We frequently sacrifice bin size in exchange for improved usefulness.
This is when locating one-of-a-kind goods, such as pivot out garbage bins, comes in handy. Pivot trash cans can be used in both kitchen and vanity cabinets. The trash can will pivot out towards you and the lid will open as you pull the cabinet door open.
You'll have to give up some internal cabinet space because this requires space, but it surely conceals the can. Gathering measurements is required for anything that will be installed into the interior of the cabinet.
Also, keep any plumbing pipes or garbage disposals in mind, as pivot out waste containers must revolve back into the cabinet.
❕ The Dual-Bin Under Sink Pull Out
This is another useful one. This is a great pull-out if you need several compartments for carrying about the house. There's a huge 16-quart front bin and a smaller 9-quart back bin.
Both have lids and handles. The two bins are housed in a frame with slides. It also includes an incorporated handle pull. This is also simple to set up.
How to Clean your Trash Cans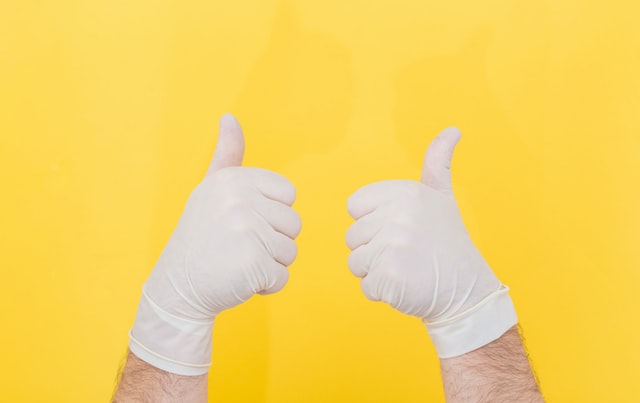 Even if scrubbing a stinky garbage can isn't something you're looking forward to doing, the excellent news is that trash can cleaning isn't a tough task.
● First Step
Before cleaning your garbage can, make sure it is empty. Put on your rubber gloves and carry out your garbage as normal.
But go one step further by removing any residual food debris that may have slipped into the can itself.
● Second Step
The next step is to thoroughly rinse your can with water. If you have access to a garden hose, the simplest method to rinse your can is to do it outside.
● Third Step
After rinsing the trash can, use the cleaner of your choice — either disinfectant spray or all-purpose cleaner — to spray down the interior and exterior of the can.
If you want to go the additional mile to ensure that your trash can smells refreshed, you may also deodorize it with approximately half a cup of baking soda. Allow 5–10 minutes for the cleanser and deodorizer to work.
● Fourth Step
The most difficult element of the garbage can cleaning process is scouring the can empty.
For this step, you may use a sponge, a microfiber cloth, or a bristled brush. And just be sure to clean the outside of the trash can and its lid as well.
● Fifth Step
After you've washed the can to your liking, properly rinse it, dry it with paper towels or an old towel.
Make sure no mold-causing moisture gets stuck in the can by not putting a fresh garbage bag in until it's completely dry.
Methods to Keep your Garbage Can Clean and Odor-free
How can you maintain your garbage can clean and odor-free for a long time now that it's clean?
These tricks will keep your wastebasket clean for several days. So you won't have to clean it as regularly, and when you do, you'll be able to do so quickly.
✔️ Set a Reminder for Garbage Day
Set a reminder on your smartphone on recycling days. You might also put a note on a calendar in your kitchen. Regardless of how you handle your reminder, be sure you set it for garbage day before the truck goes down the block.
If you wait until garbage collection day to put out your rubbish, you will almost certainly miss a pickup. Especially if the truck arrives earlier than usual or if it's your day off and you sleep until noon.
✔️ Minimize Your Trash Load
Reducing and recycling waste is one of the most effective strategies to reduce your trash burden. Less rubbish means less waste in your garbage can. Choosing items with minimum packaging is one of the most efficient strategies to reduce your garbage.
Avoiding the use of paper and plastic bags, and preferring fresh vegetables and meat over-packaged goods Reusing. This involves bringing your containers and bags when you go shopping, which is another excellent technique of minimizing the garbage burden.
You will not only be minimizing the quantity of waste you will throw away at the end of the week, but you will also be helping the environment.
✔️ Use Different Trash Cans for Different Types of Trash
You may already have separate bins for recycling and rubbish. Then, you may include a compost container where you can dispose of particular kitchen waste. If your compost begins to reek, you can add wood chips to it to improve air circulation.
Installing a trash compactor is another key strategy to reduce the amount of rubbish you leave out for pickup. A trash compactor may reduce your waste volume by 75% and features odor treatment filters to keep your old junk in your trash basket from smelling.
✔️ Use a Trash Bag at All Times
Using a garbage bag is the simplest method to keep your 13-gallon kitchen trash can clean.
Consider purchasing a trash bag for each wastebasket in your home where you dispose of food or other stinky or sticky stuff. Before the garbage collector comes, all rubbish, moist or dry, should be placed in a trash bag and placed in your outside waste bin.
✔️ Prevent Overfilling
When you're in a rush, you're more likely to crush your garbage and add more to your trash can. However, this will almost certainly cost you both comfort and time in the end. Of course, it's a pain to constantly move rubbish down to make room for more things.
To avoid overfilling your trash bin, make sure you take out the garbage from your kitchen and other high-traffic places every day.
In addition, as part of your weekly cleaning program, be sure to carry garbage from every litter container surrounding your property to the curb for pickup to minimize overflowing.
✔️ Install Sliding Cabinet Hardware in Your Kitchen
For garbage that does not go into a compactor or a compost bin, you will require to add sliding hardware for effortless access. Tracks that go in a cabinet area and attach to its front are examples of sliding hardware.
This lets you slide your garbage can out, allowing for convenient item disposal as well as the disposal of the trash bag.
✔️ Rinse Your Trash Bin 
The majority of garbage collectors will insist on you rinsing your litter basket. Even though local garbage collector does not demand it, it is a good habit to always rinse your trash can.
Rinsing food waste out of your trash can will aid you to eliminate odors and maintain it clean for a long time.
✔️ Odor Elimination
Odor is one of the most vexing and irritating aspects of a garbage can. There are a few strategies you may apply to avoid this odor. One of the most efficient strategies to reduce odor is to sprinkle baking soda in your 64-gallon trash can since it absorbs the odor.
Dryer sheets can also be used. This comes in helpful when trying to get rid of a bad stench.
✔️ Drill Holes
It's a suitable idea to drill some holes in the base of your garbage bin. This allows you to wash the interior of a litter bin without having to empty the filthy water.
Furthermore, the perforations will allow rainfall to flow from your trash can.
✔️ The Location of your Trash Can
As much as where you keep your outdoor garbage can is a matter of personal taste. Animals and bugs are likely to be drawn to an outside litter basket.
As a result, it is critical to always keep insects, rats, and other pests away from your property.
If, for example, your garbage can is kept in your garage, it is more likely to attract animals and pests. There are fewer creatures that will get to it if you keep it indoors. But there's also the stink to consider. It is also critical to protect it.
Considerations When Choosing an Indoor Trash Can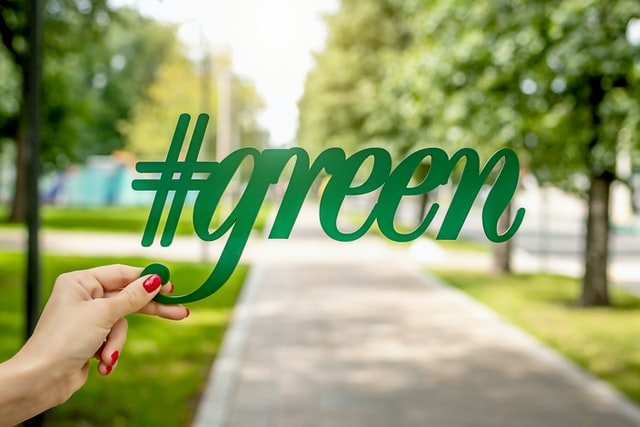 🟢 General Waste and Recycling
Trash cans come in a variety of sizes and shapes. Consider the kind and amount of garbage generated by your company before installing recycling bins.
If you have a lot of waste paper, a lot of kitchen waste, or the bulk of your garbage is general waste, use these parameters to determine how many standard and recycling trash cans you need.
Not overinvesting in bins that will not be utilized is part of an efficient waste management strategy.
🟢 Maintenance
Choose bins that are tough and durable. Items are not only dumped into bins but they are also moved and sometimes knocked around.
Ornate trash cans are attractive in the foyer and public spaces, but be mindful of any care that may be necessary to keep them looking their best.
🟢 Quantity
Consider how many and what size garbage cans you presently have. If recycling bins are kept empty for extended periods, whereas general garbage bins are overflowing as soon as they are emptied. Purchase fewer recycling bins and more garbage cans.
If a specific region has bins that fill up faster than others, consider bigger garbage cans for that area as well. Ideally, each bin will fill at the same time, which will correspond with your cleaning and bin emptying schedule.
🟢 Applications
Consider where and how you will use the garbage cans you purchase. Kitchen bins should have a lid, workplace bins should be tiny and unobtrusive, and public garbage cans should be ornamental and appealing.
The kitchen is another place where additional recycling disposal is frequently required.
🟢 Material Options
The correct material will guarantee that a garbage can lasts for years, looks as good as new, and does not require excessive maintenance or care. While outdoor garbage cans may need size and weight to deter theft, inside trash cans are less of a worry.
Metal, such as stainless steel, is strong and durable, does not require routine maintenance, and will not crumble or shatter when loaded with trash.
Plastic models are less expensive than metal models. However, they are less durable, which may or may not be a problem relying on usage.
🟢 Design
Many people believe garbage cans to be solely practical, and thus disregard how they will appear.
However, if you have spent a significant amount of money on having your office or other premises decorated to a high degree, an unsightly trash can may ruin this look and give a poor impression. Consider the appearance and aesthetic appeal of some of the garbage cans you purchase.
Polished metal bins have a modern appearance, but waste paper trash cans are more conventional. And stone or wood should be picked to complement the design of the location where the garbage can will be located.
🟢 Ease Of Use
In addition to ensuring that the trash cans and recycling bins you purchase are useful and stylish, you need also to ensure that they are of high quality and simple to use.
Those garbage cans with lids and self-contained bags should be simple to reach without leaving rubbish strewn on the floor. Individual trash baskets should be lightweight and portable, and all models should be of great quality so that you don't have to replace them frequently.
Various Types of Kitchen Trash Cans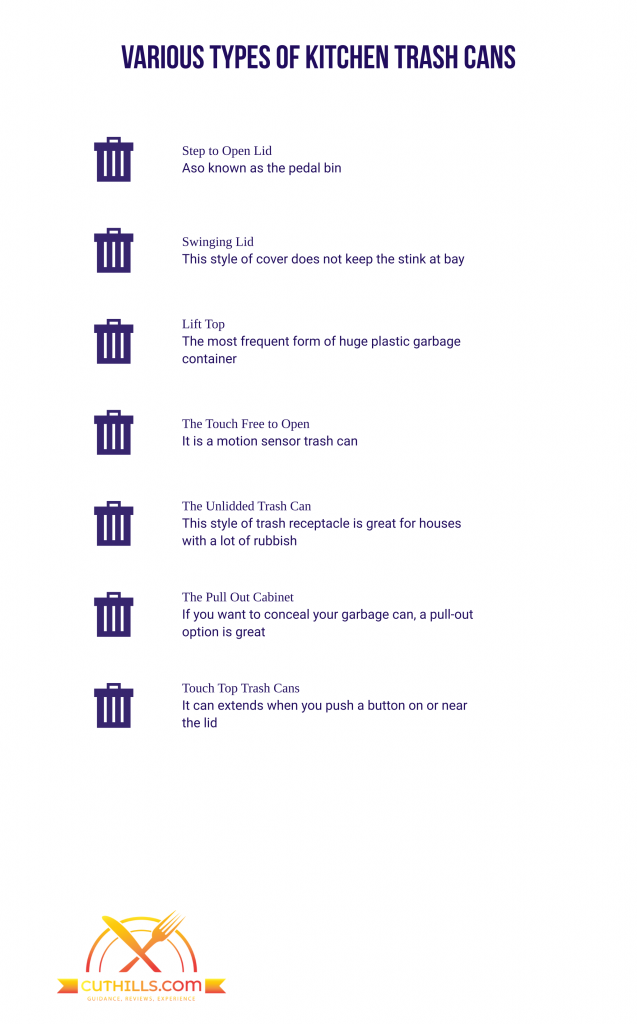 ⭐ Step to Open Lid
The step garbage, also known as the pedal bin, aids to prevent contact with germs, parasites, and bacteria. This is because you do not have to handle the lid while disposing of garbage.
To open the lid, simply set your foot on the pedal. While a plastic garbage can with a cover might keep your rubbish out of sight, think about how you'll open it while your hands are full of junk.
When you need to dispose of rubbish without touching the container, a step trash bin might come in handy.
⭐ Swinging Lid 
A swing-top lid is used on this sort of plastic garbage can. When you press the lid down to dump your garbage into the bin, one side rises. However, this style of cover does not keep the stink at bay.
It also provides easy access to its content for pets and pests. Furthermore, fold-in lids can become entangled in the trash as the rubbish can build up, preventing the lid from opening.
Then, before you dump the trash in, you must remove the lid.
⭐ Lift Top 
The most frequent form of huge plastic garbage container. It includes a lid to make it more appealing and to keep rubbish out of sight. You physically raise the lid to dispose of your garbage.
The main advantage of this garbage can is that it has only two mechanical pieces that might break, which are the lid hinges. It is simple to dispose of garbage in this sort of trash container. You can simply open the lid, descend the trash, and close the lid.
However, because you must touch the lid to discard the rubbish, it is less hygienic than a step trash can.
⭐ The Touch Free to Open
If you want a hands-free garbage disposal solution, a motion sensor dustbin is an excellent choice. These can have a lid that opens using a detector or voice activation.
You must come near enough to trigger the sensor, after which the cover will flip open. As an outcome, it is more sanitary than the lift-top lid. Furthermore, unlike a pedal bin, it will last longer because you will not need too much force to move it.
Although most touchless garbage cans are made of stainless steel, there are a few plastic sensor trash cans on the market. These automated trash cans make your life simpler by making it easy to dispose of rubbish.
⭐ The Unlidded Trash Can
If you don't want to deal with the inconvenience of opening lids every time you want to toss out trash, an open-top garbage can is a good option.
This style of trash receptacle is great for houses with a lot of rubbish. The lack of a lid makes trash disposal more straightforward, quick, and easy.
Also, you won't have to touch it, making it sanitary. Plates and food trays are also readily thrown.
⭐ The Pull Out Cabinet
A garbage can, no matter how nice it appears, is still a garbage can. If you want to conceal your garbage can, a pull-out option is great. You'll need to make room within a cabinet since most such containers are stored in the cabinet under your kitchen sink.
While any garbage can that fits under the sink would suffice, specialized in-cabinet cans provide for easier access.
This alternative is especially ideal for a tiny kitchen with limited space, where a huge plastic garbage can would take up too much space.
⭐ Touch Top Trash Cans
A touch lid garbage can extends when you push a button on or near the lid. It is an ideal choice for folks who are unable to utilize the foot pedal on a step can.
However, if you are concerned about hygienic issues, you should get a step can. And because touching the lid can bring you into contact with germs, you may need to clean your hands whenever you dispose of waste.
Frequently Asked Questions
Q: Where should I place my kitchen garbage can?
A: The optimal location for a bin is in the cleaning zone. It should be far enough away from fresh food but close enough to the exit to make taking it out and recycling simple.
Q: How do I safeguard my walls by hiding them behind a garbage can?
A: To keep your walls secure and free of scuffs or damage, apply a splash or scuff protector decal to the wall behind your kitchen garbage can.
Q: How can I keep the odors in my garbage can cabinet at bay?
A: Baking soda may be quite effective in preventing smells in garbage cans. To absorb foul odors, sprinkle it at the bottom of a trash can or straight into the trash.
Q: Is it worthwhile to invest in garbage compactors?
A: Compactors are said to be excellent for the environment since they minimize the amount of garbage bags that end up in landfills and the volume of rubbish in the dumpster, which decreases the number of times the dumpster needs to be emptied each week.
Q: What creates the stench of garbage cans?
A: Decomposition generates a large number of chemicals and gases, which contribute to the stinky stench of waste.
Final Thoughts
Hide your garbage can in the kitchen to improve its appearance and performance. There are several inventive ways for you to conceal it. By concealing it, you can keep the trash in one location and reduce the stink. That is when it is properly maintained and cleaned.