How many kitchen cabinets do I need? It is a question that plagues many homeowners planning a kitchen remodel. When it comes to kitchen cabinets, many homeowners are unsure how many they need. After all, not everyone has the same amount of storage space in their kitchen. This blog post will provide you with a guide to kitchen cabinet storage. We will help you figure out how much storage you need and tips on making the most of your cabinets!
Calculating the Kitchen Cabinet You Need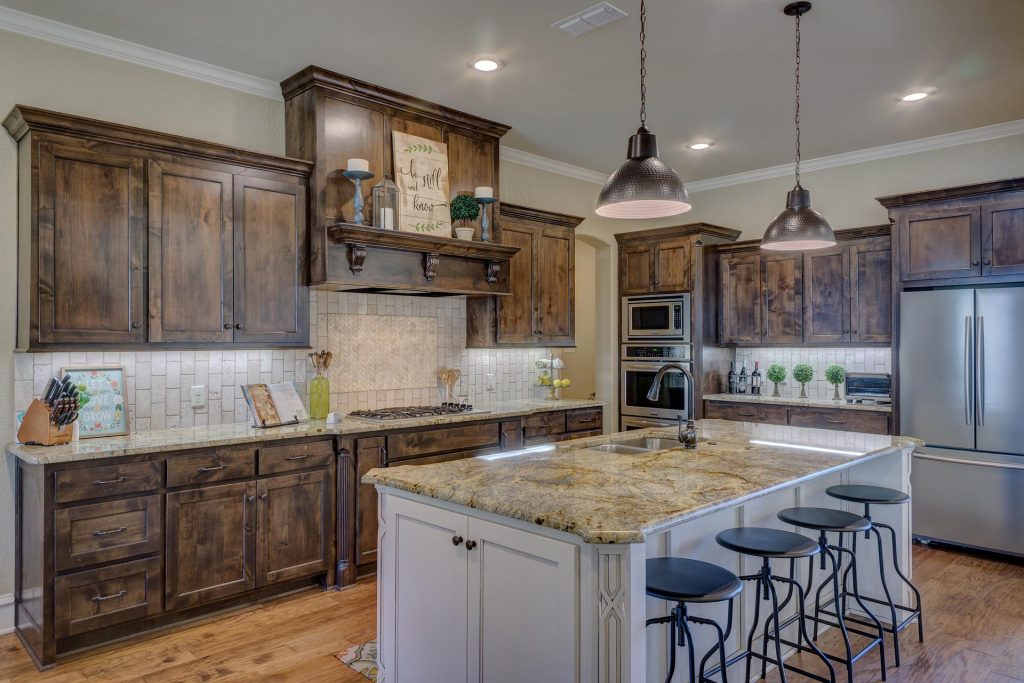 For a good reason, the kitchen is the center of the house. It's where we prepare meals, entertain guests, and gather as a family. Because of its importance, it's crucial to have a well-designed kitchen that meets all your needs. If you're planning a kitchen renovation, one of the first things you'll need to do is calculate the number of cabinets you need.
When outfitting your kitchen with cabinets, there are a few things you'll need to consider to ensure you have enough storage space.
First, you'll need to measure the linear footage of your kitchen's perimeter – this will give you a good idea of the maximum number of base cabinets you can have.
Next, you'll need to decide how tall your cabinets are – the standard height is 30 inches, but some homeowners prefer 42-inch tall cabinets for added storage.
Finally, you should consider what kind of cabinet configuration will work best for your needs – do you want wall-mounted cabinets, floor-to-ceiling pantry cabinets, or a mix of both?
Once you've answered these questions, you'll be able to calculate the number of cabinets you need to create the perfect kitchen layout.
How Many Kitchen Cabinets Do I Need: Factors to Consider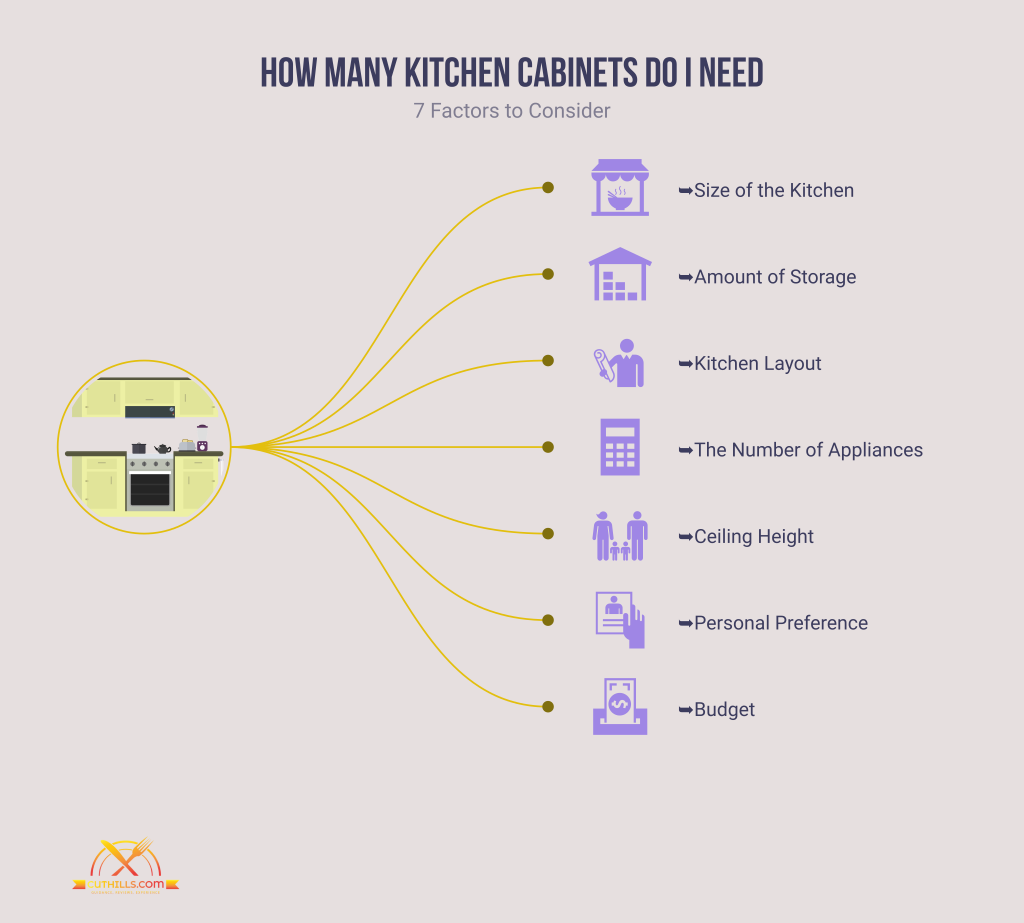 Kitchen cabinets are one of the most critical aspects of your kitchen. They offer storage for your utensils, cookware, and food. When deciding how many cabinets you need, you must consider several factors.
➥Size of the Kitchen
The size of the kitchen heavily influences the number of cabinets you require. You may only need a few cabinets if you have a small kitchen. However, you may need several cabinets if you have a large kitchen.
Furthermore, the size of your kitchen will also determine the size of the cabinets you need. If your kitchen is tiny, you might only need a few cabinets. However, you may need large cabinets if you have a large kitchen.
➥Amount of Storage
Storage capacity is certainly one factor when deciding how many cabinets to include in your kitchen. If you love cooking and entertaining, you'll likely need more storage space than someone who doesn't cook as often. Kitchen appliances, dishes, glassware, flatware, and bakeware require designated storage space.
You'll also need room to store non-perishable food items, such as canned and dry goods. In addition to wanting enough cabinet space to accommodate your current needs, it's also essential to consider future needs. As your family grows or your cooking habits change, you may need more or less storage space.
➥Kitchen Layout
The layout of your kitchen will have a significant impact on how many cabinets you need. For example, if you have a galley kitchen, you will likely need fewer cabinets than an L-shaped kitchen.
In a U-shaped kitchen, you will likely need the most cabinets. It is because you will have three walls that can accommodate cabinets. The number of cabinets you require will also depend on whether your kitchen has an island.
➥The Number of Appliances
Most kitchens have large appliances, such as refrigerators, ovens, and dishwashers. In addition, many homeowners like having smaller devices on their hands, such as microwaves and toasters. When designing a kitchen, you must consider how many appliances you want to include. It will assist in estimating the number of cabinets you'll require.
For example, if you want a coffee maker on the counter, you will need a cabinet nearby for cups and coffee beans. Similarly, if you want to keep your mixer on the countertop, you will need additional cabinet space for flour, sugar, and other baking supplies. By taking inventory of your appliances and planning accordingly, you can ensure that your kitchen has enough storage for your needs.
➥Ceiling Height
Most kitchens have upper and lower cabinets. The number of each you need depends on the ceiling height in your kitchen. You can have four upper cabinets if your ceilings are eight feet high. Or six upper cabinets if your ceilings are ten feet tall. It can fit eight upper cabinets in a room with a ceiling height of 12 feet.
If your ceiling is lower than eight feet, you will need to reduce the size of your overhang or do without it altogether because the standard overhang for an upper cabinet is one and a half inches.
➥Personal Preference
If you enjoy cooking and entertaining, you'll likely need more cabinets than someone who rarely uses their kitchen. The same holds if you frequently host visitors or have a big family.
On the other hand, if you live alone or prefer to eat out, you can get by with fewer cabinets. Ultimately, the number of cabinets you need is up to you. So take some time to consider your needs and preferences before deciding.
➥Budget
Not only do cabinets come in a wide range of prices, but the installation cost can also vary greatly. As a result, it's essential to understand your budget before you start shopping for cabinets. Otherwise, you take the chance of blowing through more of your budget than you had anticipated.
After establishing your budget, you can begin narrowing down your options. If you're on a small budget, you may have to settle for lower-quality cabinets or a smaller number of cabinets. However, if you have more than enough money to spend, you will have a more significant number of choices.
Kitchen Cabinets You Must Have in a Modern Kitchen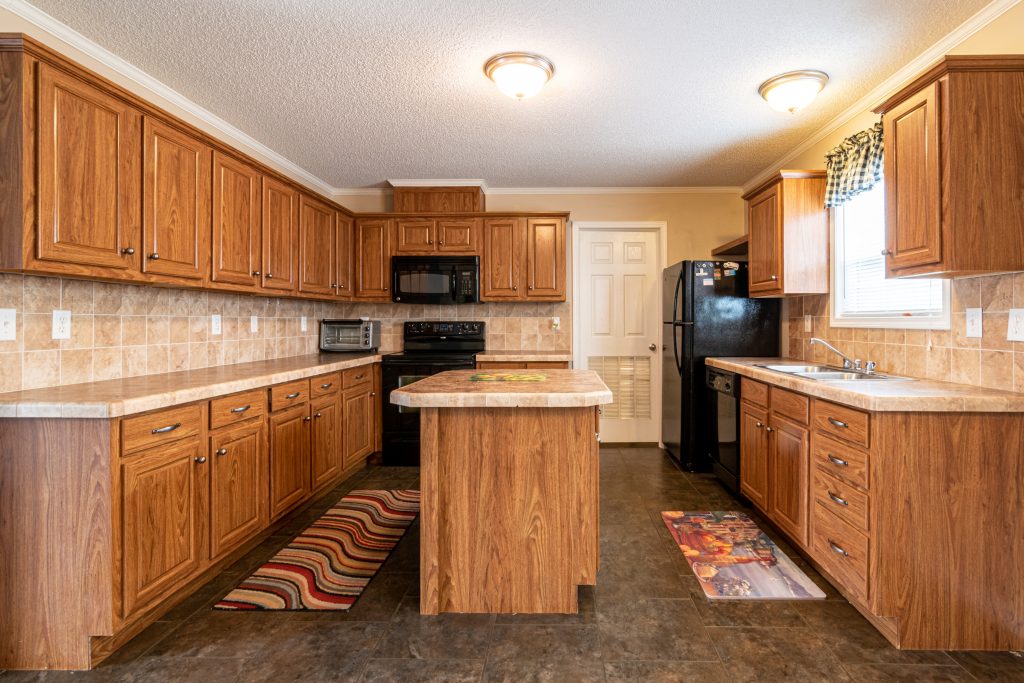 Any modern kitchen must have specific cabinets to be fully functional. More than just storage, these cabinets provide the counter space you need to prep meals and the organizational tools necessary to keep your kitchen tidy.
Here are some cabinets that you must have in a modern kitchen:
📌Pantry Cabinet
A pantry cabinet is essential for any kitchen, large or small. Not only does it provide storage for food items, but it also helps to keep the kitchen organized. The pantry cabinet is typically located near the stove and is used to store dry goods, such as flour, sugar, and spices. It is also suitable for storing canned goods and other non-perishable items.
The pantry cabinet is typically made of wood or metal and has several shelves that can be adjusted to accommodate different-sized items. In addition, it often has open and closed doors to help keep food items fresh.
📌Drawer Base Cabinet
This cabinet has sufficient space for storing all your kitchen essentials and is set up to make it simple to find what you're looking for whenever you require it. The base cabinet typically has two or three drawers, each designed for a specific purpose.
The top drawer is typically shallower than the other drawers, making it ideal for storing smaller items like silverware and spices. The middle drawer generally is the deepest, making it perfect for more oversized items like pots and pans. And the bottom drawer is often used for storing bulky items like pots and pans.
📌Wall Cabinet
Wall cabinets are usually positioned above the countertop and can be used to store food, dishes, and cookware. You may find them in a wide selection of sizes, styles, and colors, so you can easily find one that meets your needs. Wall cabinets include glass doors, spice racks, and pull-out drawers.
In addition to being functional, wall cabinets can add a touch of style to your kitchen. For example, if you have a tiny kitchen, you might want to choose a wall cabinet with glass doors so that the entire contents are visible and easy to reach. Or, if you have a large kitchen, you might want to choose a wall cabinet with multiple shelves to maximize storage space.
📌Corner Cabinets
It is to make the best use of the corner space in your kitchen. Corner cabinets are usually triangular and have two shelves on each side of the triangle. Most corner cabinets have doors that open to allow access to the shelves.
The corner cabinet is a great way to maximize storage space in your kitchen. It is also an excellent way to display your favorite dishes, cookware, or other items you want to keep out of reach of small children.
📌Base Pull-Out Cabinets
The Base pull-out cabinet is a versatile and handy storage solution that offers easy access to your pots, pans, and other cooking supplies. The base pull-out cabinet features two doors that reveal three shelves, each of which can be adjusted to accommodate your specific needs.
The base pull-out cabinet also features a built-in spice rack, making it easy to keep all of your spices organized and within reach. In addition, it is equipped with soft-close hinges, ensuring that your doors close quietly and smoothly.
📌Trash Can Cabinet
The trash can cabinet is a great way to keep your kitchen organized and tidy. It features two doors that open to reveal a spacious interior that can accommodate a variety of trash cans. The trash can cabinet also has an adjustable shelf, making it easy to customize the opening size to fit your needs.
In addition, the trash can cabinet is equipped with soft-close hinges, ensuring that your doors close quietly and smoothly.
How to Increase Kitchen Storage Space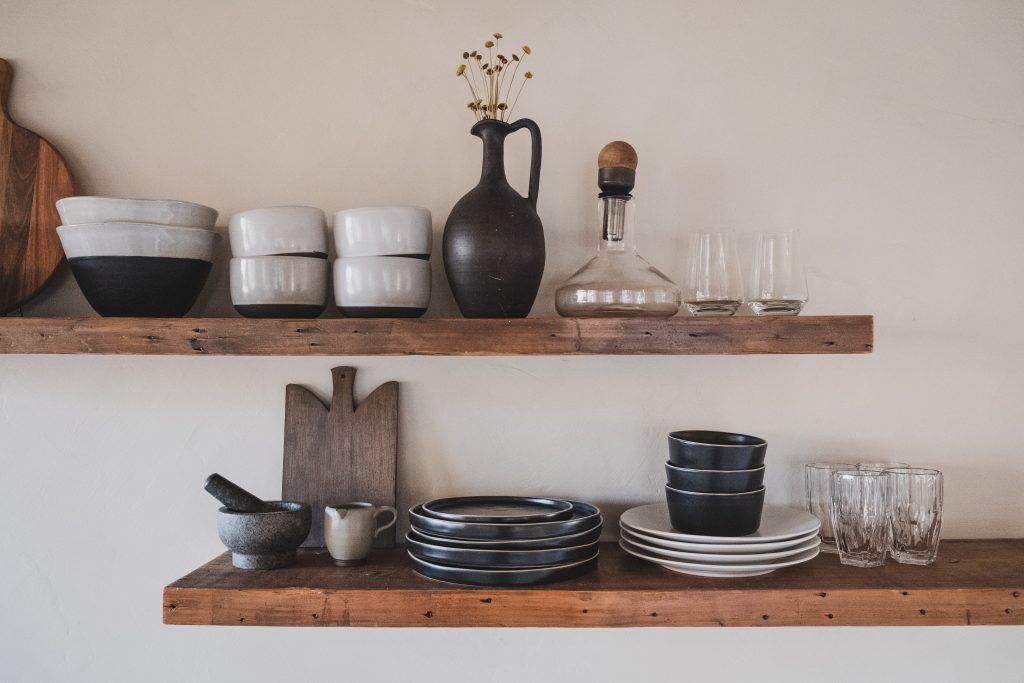 When it comes to kitchens, storage space is always at a premium. Potentially valuable items are constantly piling up, and finding a place for everything can be difficult. If your kitchen feels cramped and cluttered, there are a few simple ways to increase storage space.
✔️Install Shelves
Shelves can be hung on walls or countertops, providing a perfect spot for storing frequently used items. If you don't have a lot of wall space, consider adding shelves above the sink or stove.
✔️Use Hooks
Another option is to use hooks to hang pots, pans, and utensils from the ceiling or walls. It frees up valuable cabinet and drawer space while keeping often-used items within easy reach.
✔️Keep Utensils in a Cutlery Box
A cutlery box is a handy way to store knives, forks, and spoons. It keeps them organized and within reach while freeing up space in your drawers.
✔️Use Baskets
Baskets easily store fruits and vegetables, pasta, spices, and more. They can be placed on shelves or cabinets, making it easy to grab what you need.
✔️Invest in a Kitchen Cart
A kitchen cart is a great way to add extra storage and counter space to your kitchen. Kitchen carts come in various sizes, styles, and colors, so you can find one that fits your needs.
✔️Get Rid of Unnecessary Items
Take stock of everything in your cabinets and drawers, and eliminate anything you don't use regularly. Donate unused items to charity or sell them at a garage sale. Once you've decluttered your kitchen, you'll be surprised at how much extra space you have.
✔️Invest in Multi-Purpose Kitchen Appliances
A toaster oven, for example, can be used for cooking, warming bread, and reheating leftovers. A blender makes smoothies, soups, and sauces, whereas a food processor is useful for chopping vegetables, grinding meat, and kneading dough. Investing in a few essential appliances can declutter your kitchen counters and open up valuable storage space.
✔️Use Containers for Storing Goods
Another way to increase storage space is to get organized. Invest in a few good-quality containers for storing dry goods like flour, sugar, and cereal. Label these containers so that you know what goes where. You can also use mason jars or other glass containers to store spices, herbs, and other small items.
✔️Invest in a Rolling Kitchen Island
Investing in a rolling kitchen island can be helpful if your kitchen doesn't have a lot of countertop space. This way, you can quickly move the island when you need more counter space and tuck it away when you don't. You can also look for multipurpose items that serve double duty, like a coffee maker with a built-in grinder.
Common Mistakes When It Comes to Kitchen Cabinets
There are a few common errors that people make in regards to kitchen cabinets. The following are some of the most frequent types of mistakes made:
❗Going for Style Over Substance
While it's important to choose cabinets that fit the overall aesthetic of your kitchen, it's even more important to select ones that are well-made and will stand the test of time.
❗Not Taking Advantage of All the Storage Space
Many people only use the bottom half of their cabinets, leaving the top half empty. Adding shelves or installing a pot rack can make good use of this unused space.
❗Ignoring the Kitchen's Style
Your kitchen's style should be taken into consideration when choosing cabinets. For example, if you have a modern kitchen, you might want to choose sleek, minimalist cabinets. Choose cabinets with ornate details and wood grain finishes if your kitchen is more traditional in style. It will complement the look of the rest of the room.
❗Ignoring the Cabinet Measurements
Make sure to take accurate kitchen measurements before you start shopping for cabinets. If you fail to consider the cabinet measurements, it can lead to problems such as not being able to open the doors or drawers fully or having to make costly modifications to the cabinets after installing them.
❗Overlooking the Details
When choosing kitchen cabinets, paying attention to the small details is essential. Pay attention to things like the hardware, the finish, and the construction of the cabinets. These details can make a big difference in your kitchen's overall look and feel.
❗Failing to Plan Ahead
Before shopping for cabinets, it's essential to take measurements of your kitchen and list what you need. It will enable you to narrow your options and locate cabinets that perfectly fit your available space.
❗Not Considering All the Options
There are many different types of cabinets to choose from, so it's important to do your research and explore all the options before making a final decision.
Tips for Installing Kitchen Cabinets
Now that you know all about kitchen cabinets, it's time to start planning your installation! Here are a few tips to help you get started:
Hire a professional installer if you are not confident in your ability to install the cabinets yourself.
Start by taking measurements of your kitchen and sketching out a rough layout. It will help you determine the best placement for your cabinets.
Always measure twice and cut once! It will help prevent any costly mistakes.
Consider using stock or semi-custom cabinets if you're working with a limited budget. These are typically more affordable than custom cabinets but can still provide high quality and style.
When drilling holes for the cabinet hardware, be careful not to drill too deep and damage the cabinets.
Be careful when handling the cabinets, as they are delicate and can be easily damaged.
Always follow the manufacturer's instructions carefully to avoid voiding the warranty.
Consult a kitchen designer or contractor before making any final decisions. They can help you create a layout that is both functional and stylish.
Once you have your cabinets installed, be sure to keep them clean and well-maintained. It will help them last for years to come!
Frequently Asked Questions
Q. How deep should a kitchen cabinet be?
Cabinets in the kitchen are typically 24 inches deep, but they can range from 12 to 36 inches. The depth of your cabinets will affect both the function and the aesthetic of your kitchen. For example, shallower cabinets are much easier to reach into, but they may not be able to accommodate all of your kitchen equipment.
However, accessing items in the back of deeper cabinets may require using step stools or ladders, which can make your kitchen appear smaller. Ultimately, deciding how deep to make your kitchen cabinets is a matter of personal preference.
Q. What height should wall cabinets be above the counter?
There is no one-size-fits-all answer when deciding the perfect height for wall cabinets. Various factors, including the size of the counter and the ceiling, can affect the ideal cabinet height. For example, if the counter is 36 inches tall and the ceiling is 8 feet high, then a cabinet that is 30 inches tall would likely be too short, while a cabinet that is 42 inches tall would be too tall.
Generally, it is best to err on the side of taller cabinets, as they will provide more storage space and be easier to reach. Ultimately, the best way to determine the perfect height for wall cabinets is to consult with a kitchen designer or take measurements in your kitchen.
Q. Is there anywhere that kitchen cabinets should not be installed?
There are a few locations where installing kitchen cabinets is not recommended. One is near the stove or oven, as the heat can damage the cabinets over time. Another is in front of a window, as the sunlight can fade the wood. Finally, avoid placing cabinets too close to the sink because splashback from the faucet may harm them. Kitchen cabinets can be put in just about anywhere in the room after considering these things.
Q. What is a toe kick?
A toe kick is a space between the bottom of the cabinets and the floor. It is typically about four inches high and allows you to stand close to the cabinets without kicking them. Toe kicks are crucial in kitchens, as they help prevent damage to the cabinets from shoes or pets.
Q. Do all kitchen cabinets need doors?
No, not all kitchen cabinets need doors. Many homeowners choose to install open shelving in their kitchens for various reasons. Open shelving can provide easier access to items, give the kitchen a more spacious feel, and allow you to display decorative items.
However, it is important to remember that open shelving requires more upkeep, as dust and dirt can accumulate more easily on unprotected surfaces. If you install open shelving in your kitchen, keep it clean and clutter-free.
Q. How long do kitchen cabinets last?
With proper care and maintenance, kitchen cabinets can last for many years. However, the lifespan of a cabinet will depend on its material. For example, laminate cabinets might require replacement sooner because they are less enduring than wood cabinets. Finally, taking good care of your kitchen cabinets is the best way to ensure they last as long as possible.
Final Thoughts
When it comes to kitchen cabinets, there is no one-size-fits-all answer. The number of cabinets you need will depend on the size and layout of your kitchen and your personal storage needs. However, by following our tips and guidelines, you can be sure to make the most of your kitchen cabinet storage!
Do you have any tips for kitchen cabinet storage? Please share them with us in the comments below!