Do you want to know how to add color to a grey kitchen? Are you tired of your kitchen looking boring and bland? Are all of your appliances the same color? If so, it's time to add some color! 
In recent years, grey has become one of the most widely adopted colors as a chic replacement for traditional white kitchens of every kind. Some people may have had an all-or-nothing stance toward kitchen color in the past. Today's palette is more restricted, with grey kitchen concepts being particularly popular.
The tone is significant, perhaps even more so within the grey family, where warmer greys, for example, have a different feel than blue-based slate tones. Everything from the walls to the countertops and beyond should be considered when planning a kitchen in shades of grey.
Adding color to a gray kitchen can help create a feeling of warmth and coziness. Here are some tips to get you started:
21 Ideas To Add Color To A Grey Kitchen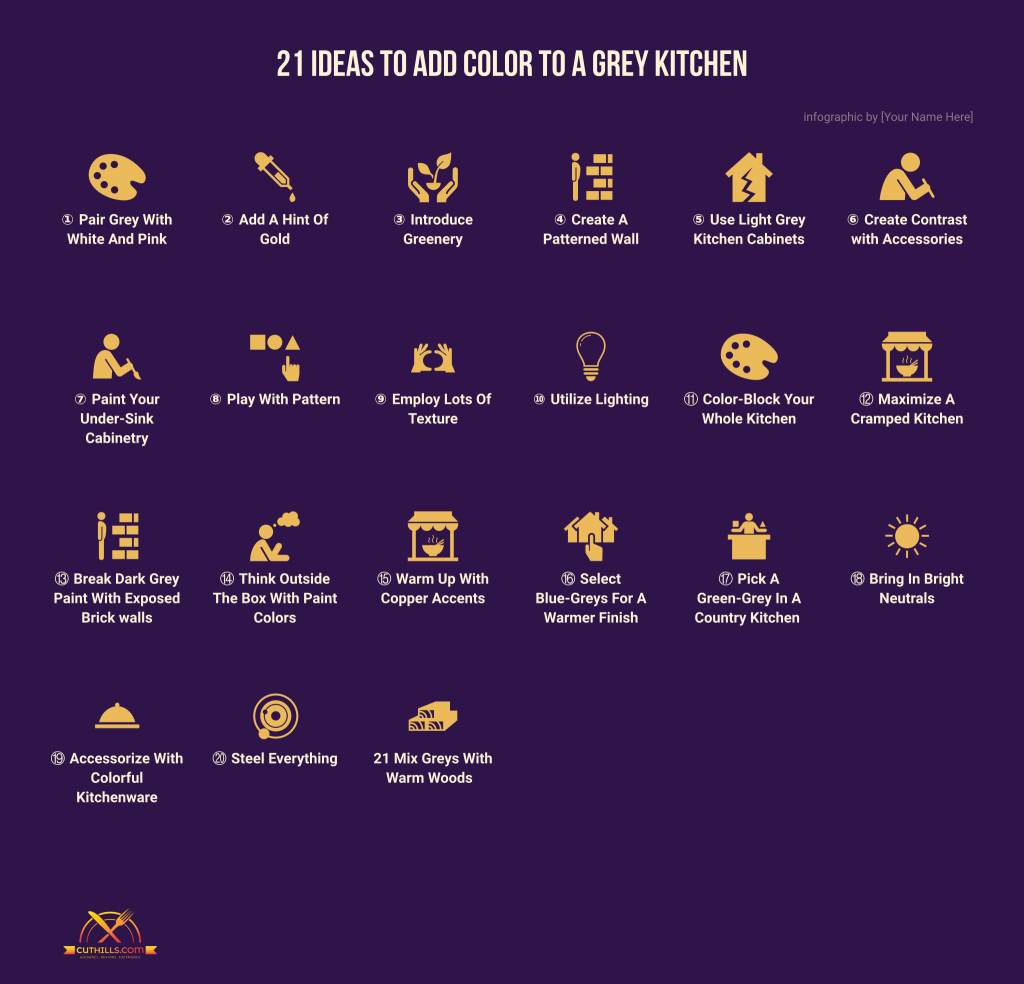 Paler greys are stylish and sophisticated, but steely charcoals and graphites create a moodier, more dramatic environment.
You might go for a wall-to-wall grey plan or blend different colors together, painting walls with a lighter tone to create a soothing scheme. Contrast grey cabinets with a whole other color, or mix in some patterned tiles – or other materials, such as rich oak or sumptuous marble – with something a little bolder.
Here are 21 ideas to help you add color and personality to your grey kitchen:
① Pair Grey With White And Pink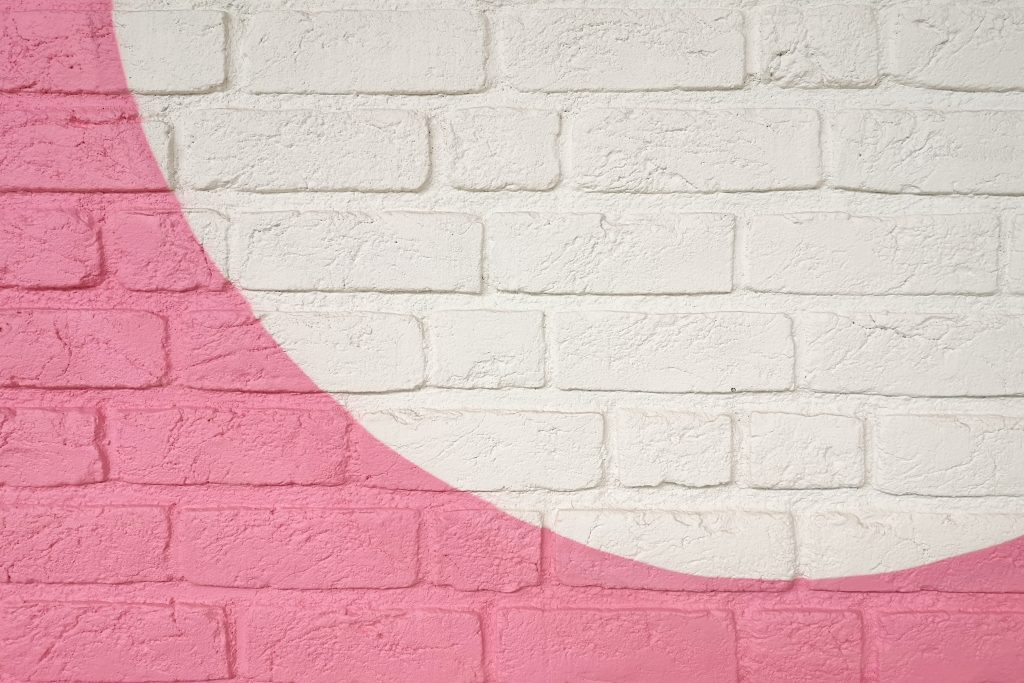 Grey and white are classic color choices for a contemporary kitchen design, but adding some pink into the mix can bring in a burst of cheerful energy. The trick to balancing out these three colors is ensuring there is enough contrast between them — shades of grey that lean towards blue pair nicely with both white and pink accents.
For example, floor tiles in grey with darker features can be complemented by glossy white cabinets. At the same time, pops of dusky or rose pink can be added through accessories such as countertop appliances, artwork, or even kitchen linens.
This stylish color palette adds sophistication to any space and will create an inviting atmosphere for you and your guests.
② Add A Hint Of Gold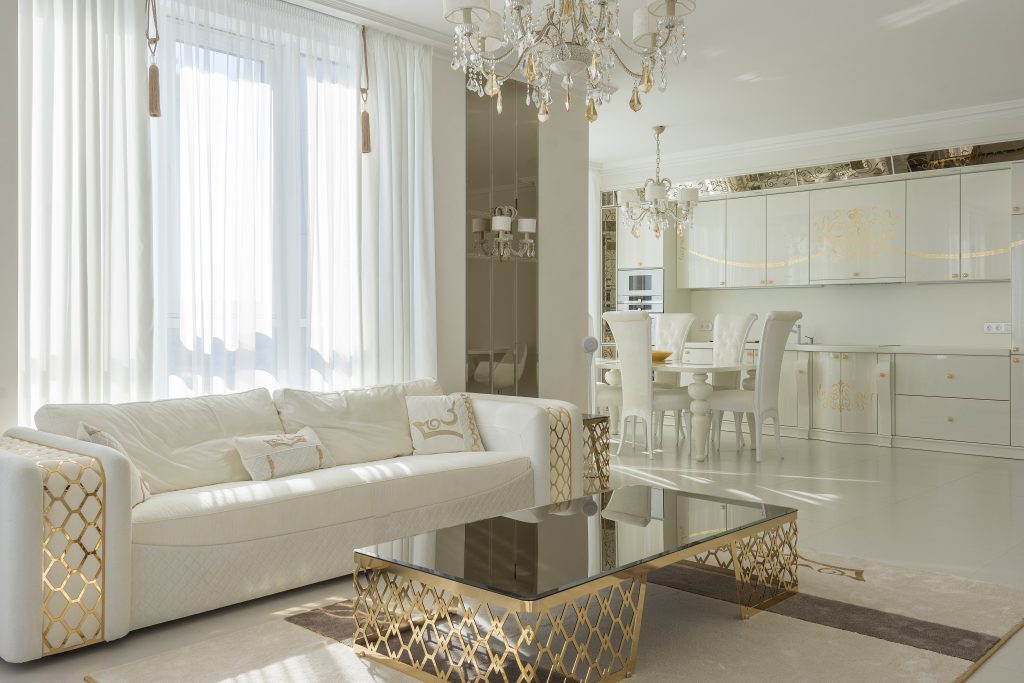 Grey and gold is a classic combination that will always look timeless and luxurious. For example, you could opt for a few metallic dishware pieces like plates, bowls, or cutlery. Alternatively, try placing gorgeous gold-plated accessories, such as vases or sculptures, throughout the room to break up any overwhelming feelings of grey.
Additionally, fabric accents such as curtain rails, cushion covers, and tasseled placemats can provide subtle yet striking golden details; just be sure not to overload your space with too much color.
Finally, keep in mind that warm and shimmering tones of gold perfectly complement natural elements like plants and wood accents – so don't forget to add them as well!
③ Introduce Greenery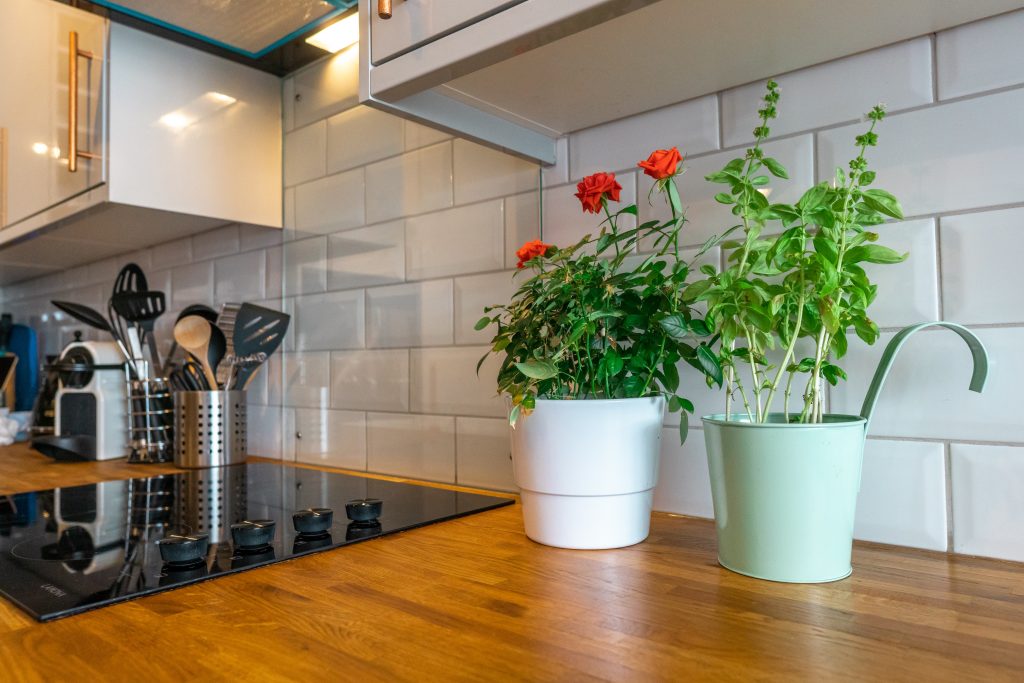 Bringing greenery into a grey kitchen can add elegance, cheerfulness, and vibrant color to the room. But how should you go about introducing the plants? Greenery comes in many forms, from artwork featuring foliage to potted plants that can work as décor pieces.
To leverage both decorative function and functionality, consider hanging pothos or spider plants in baskets around the kitchen. These greenery options are relatively easy to care for and help cleanse the air.
And if you want an indoor herb garden within arm's reach while you're cooking, you can go with edible options such as oregano and chives on bright planters sitting on top of your countertop. Whatever greenery types you choose – make sure they light up the space!
④ Create A Patterned Wall
If you're feeling adventurous, why not consider adding a patterned wall into the mix? From intricate geometric shapes to eye-catching chevrons or creative wallpaper, there are many ways to do this.
To ensure that your pattern does not dominate the room, use darker shades of grey for the walls and lighter shades for the pattern itself. This will create a visual balance in the room and make sure that your newly added feature is manageable.
Plus, you can always switch up the design later on if you want to keep things fresh!
⑤ Use Light Grey Kitchen Cabinets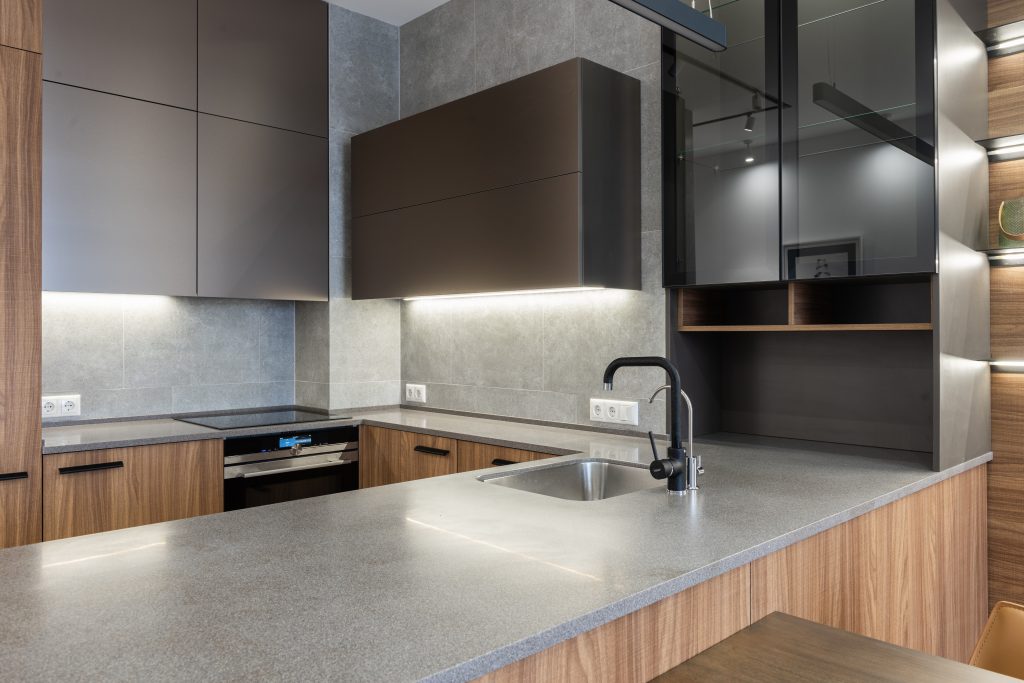 Adding a pop of color to a grey kitchen can be done without making any permanent decisions, like painting the cabinets. Instead, something as simple as adding light grey kitchen cabinets can do the trick! The key is to keep things muted; lighter shades work better than darker ones.
Plus, opt for textures and patterns in complementary shades to bring depth and dimension to the overall design. For an unexpected twist, incorporate bright green or blue accents around your light grey cabinets through textiles or artwork. Not only will this add a splash of color, but it will also help brighten up the entire kitchen space.
⑥ Create Contrast with Accessories
Incorporating accessories into a kitchen is an excellent way to add pops of color, especially when it comes to a grey space. Selecting bold items for the walls and shelves provides an interesting focal point that can stand out against the neutral backdrop.
Bright-toned rugs and window coverings also create contrast with a light or medium grey color scheme. With accessorizing, less is more: select one color that works with the décor and keeps everything else as complementary neutrals. 
Small appliances can also be used, such as replacing a dark espresso machine with something in a lighter hue that complements the kitchen's color palette.
⑦ Paint Your Under-Sink Cabinetry
Painting your under-sink cabinetry is an excellent way to add visual interest to a grey kitchen without needing to commit to an entire remodel. With a careful color selection, you can create this eye-catching hip with minimal effort. If you opt for a bright accent color such as yellow or orange, make sure to keep the rest of the room's palette neutral, so the effect isn't overwhelming.
Painting the base of the cabinets in a lighter shade than the walls helps draw attention to them and creates a nice level of contrast that won't clash with other design elements. Utilizing off-the-shelf paint products creates easy access for anyone looking for an affordable way to inject some personality into their kitchen design.
Cabinets in these colors will draw attention to the area and work as a great conversation starter.
⑧ Play With Pattern
Have you ever thought about adding a pattern to your grey kitchen cabinets? If not, now's the time! From herringbone to chevron, there are plenty of options. Going with a patterned cabinet will add texture and depth to the room and break up the monotony of the grey walls. Of course, it won't be too overwhelming if you go for a lighter pattern.
You can do this by strategically placing colorful feature elements in the form of decor items, furniture, or textiles such as curtains, tablecloths, and cushions. Utilizing bold printed wallpaper or flooring is another great option for those wanting a bigger impact.
If you need more than one large pattern, try adding one small piece, like artwork or a stunning serving bowl that's sure to make a statement. With so many creative options available, there's no shortage of ways to play with patterns and bring color into any dull grey kitchen.
⑨ Employ Lots Of Texture
If you're not interested in adding color, another way to make a grey kitchen more interesting is by playing with texture. You can do this in a number of ways, such as using different materials for the countertops, backsplash, and flooring.
Incorporating stone, wood, glass, or even metal into the design creates a unique look that adds visual interest and dimension to the room.
Start off by replacing any flat surfaces with textured options – stone countertops and herringbone-patterned backsplashes are great for adding an instant touch of character. Softer textures like curtains, rugs, and throws also help to break up the grey space, while vibrant glassware looks stunning against light gray cabinets.
When introducing texture in accessories, like colorful dishcloths, an interesting pottery range, or patterned vases and mugs, use them sparingly so that each piece stands out as a highlight amongst the other shades of grey.
There's no right or wrong way to do this—just go with what looks and feels best for your kitchen design.
⑩ Utilize Lighting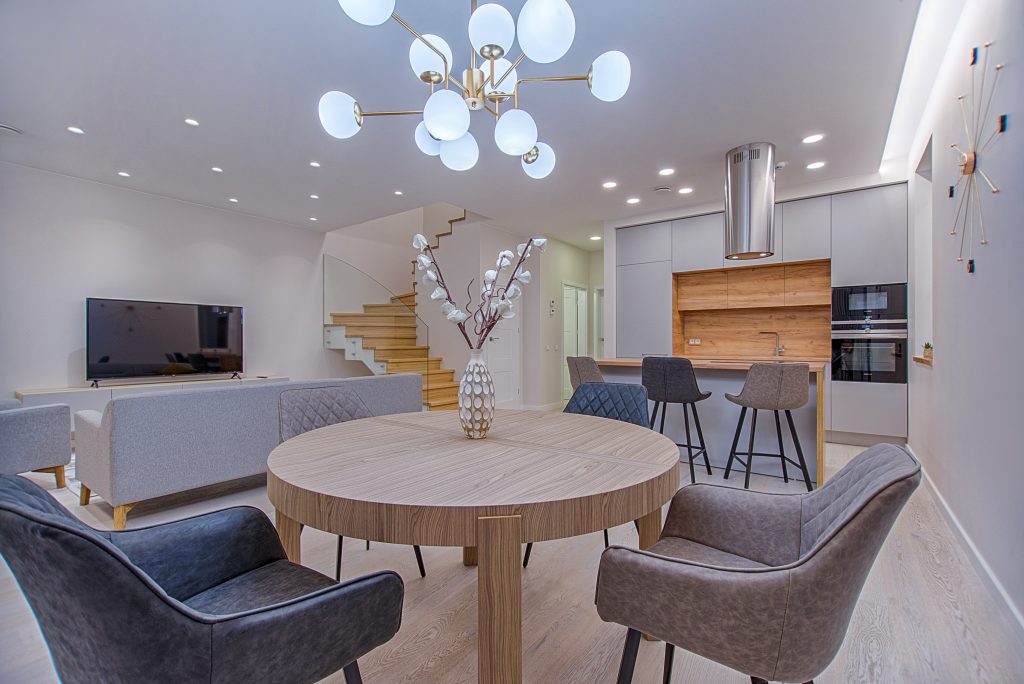 Lighting is often overlooked when it comes to kitchen design but can be a great way to add warmth and depth to a grey space. Natural light from windows helps bring life into the room, while strategically placed task lighting keeps things functional.
But add some decorative fixtures like pendant lights, statement chandeliers, or wall sconces to bring in a hint of color and style for an extra bit of flair.
When it comes to interior lighting, the possibilities are endless. From vibrant colors to soft hues, there's something for every taste and space. Whether you go with bright pendant fixtures that hang over an island or opt for more subtle wall sconces near the kitchen sink, they'll help to add a touch of sparkle and shine to the area.
⑪ Color-Block Your Whole Kitchen
If you've got an all-grey kitchen, why not give it a complete makeover? Color blocking is the perfect way to get creative and inject some personality into your space. This technique involves breaking up a grey kitchen with blocks of bold color, like bright blues or vibrant yellows, that contrast against one another. It's a great way to give the room some much-needed dimension and make it look unique,
To start out with color blocking, take an inventory of all the colors that you're interested in incorporating into your kitchen. From there, decide which you should paint walls or cabinets and what accent pieces should be added. You can even go for a more subtle approach, like painting one wall in a bright hue and adding some colorful dishware or chairs to pull the look together.
With a bit of creativity, you can transform your grey kitchen into an eye-catching masterpiece that's sure to be the envy of all your guests.
⑫ Maximize A Cramped Kitchen
Even if you have a small kitchen, there are still plenty of ways to add color without making it feel cramped. For starters, add an accent wall that instantly brightens the room. Wallpaper is a great option for those wanting to bring in some pattern and texture; choose one with bold colors or intricate designs to make the most of the small space.
If you're looking for something more subtle, paint the wall a bright hue or add some fun decals and stickers to bring out your personality.
Mirrors also make tiny kitchens look larger as they bounce light around the room and create an illusion of space. Hang one over the sink or countertop, and accent it with colorful frames or artwork. You can also swap out your old lighting fixtures for more sophisticated options to draw the eye and make the room look larger.
⑬ Break Dark Grey Paint With Exposed Brick walls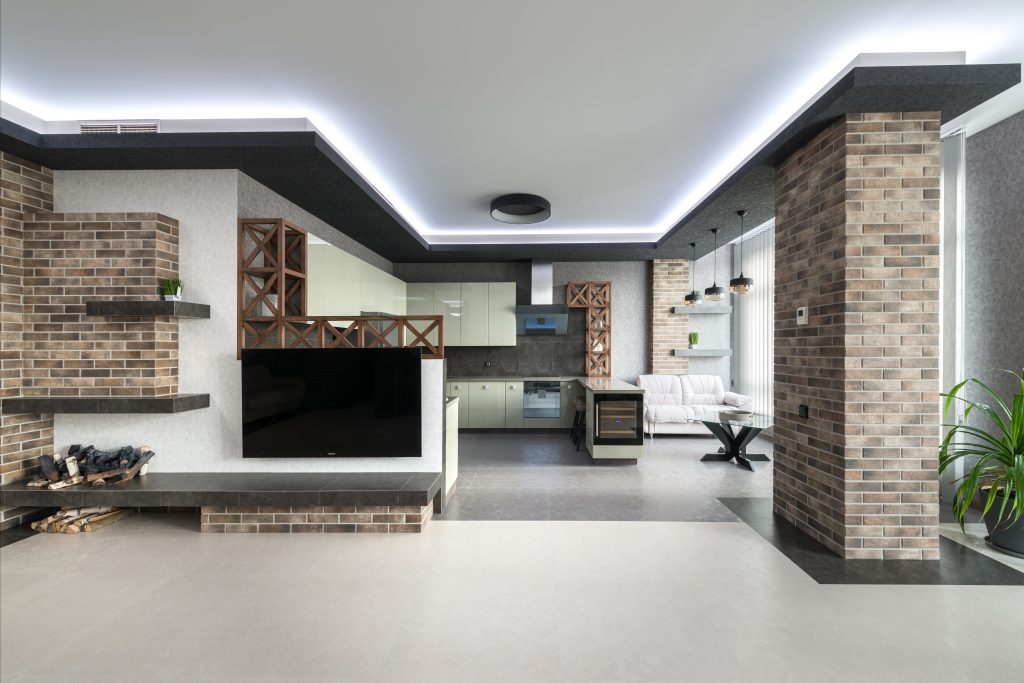 If you have a kitchen with grey walls and don't want to change the look drastically, try adding exposed brick walls to give it some character. The contrast of the bright red bricks against the dark grey paint will instantly transform your space and make it feel more inviting.
Exposed brick can be an eye-catching focal point in any room, but it also provides a unique opportunity to incorporate color into your kitchen design. For instance, you can choose a bold hue like yellow or pink and use the brick as an accent wall that stands out against the rest of the room.
Adding exposed brick walls is also a great way to add texture to your kitchen. The rough surface of the bricks gives off a rustic vibe that adds some visual interest to the room, making it a great option for those who want to keep their grey kitchen but also want to make an impact.
⑭ Think Outside The Box With Paint Colors
If you want to add more color to your grey kitchen without changing the walls, paint is the way to go. From bold blues to pastel pinks, there are many options for adding a splash of color with paint. You can choose a single hue that covers the entire kitchen or picks two colors and use one for the walls and the other for the cabinets or trim.
You can also use paint to create an ombre effect, where one color transitions into another.
Paint isn't the only way to add color to a grey kitchen. Consider using colorful tile backsplashes or patterned wallpaper on one wall for added texture and contrast. You can even hang bright-colored paintings or photographs to draw the eye and make your kitchen look more vibrant.
⑮ Warm Up With Copper Accents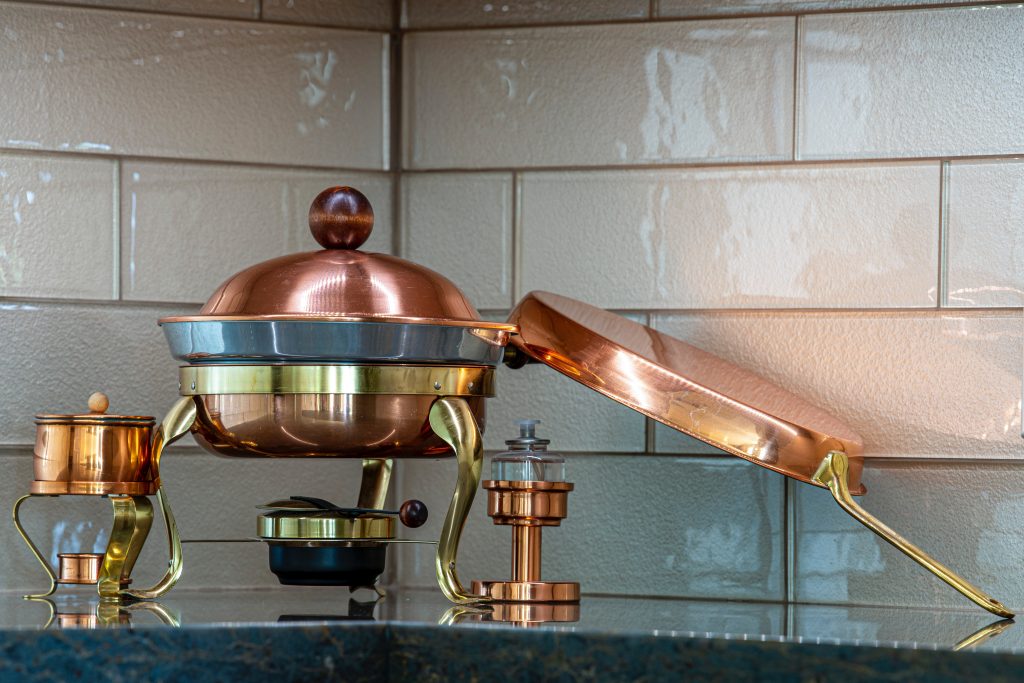 Copper has an elegant look, and its warm hue adds just the right amount of contrast to a grey backdrop. Plus, it's easy to give your kitchen a modern look without overwhelming the space. To get the most out of copper accents, try using them for sinks, faucets, and even light fixtures.
From sleek and modern styles to more traditional looks, there's something for everyone in this chic metal.
If you want to avoid splurging on copper kitchen accessories, you can always use copper-colored paint for a more budget-friendly option. This can be applied to cabinets and countertops, giving them an instant upgrade without the hefty price tag.
⑯ Select Blue-Greys For A Warmer Finish
Are you looking for a warm, inviting look to your grey kitchen? Consider blue-greys! A cool grey shade can bring a feeling of timelessness and sophistication, but too much can make things look dull and dreary.
However, adding a blue-grey to the mix breathes life into an otherwise monochromatic interior. Tastefully used, the hue provides the perfect balance of contemporary minimalism and subtle color without sacrificing any coziness in the room.
It's versatile enough to fit many styles, textures, and vibes, whether you prefer modern touches or something more traditional. With shades ranging from barely there hints of light blue up to deep smoky blues, blue-grey can be just what you need to pull together all aspects of your dream kitchen décor.
⑰ Pick A Green-Grey In A Country Kitchen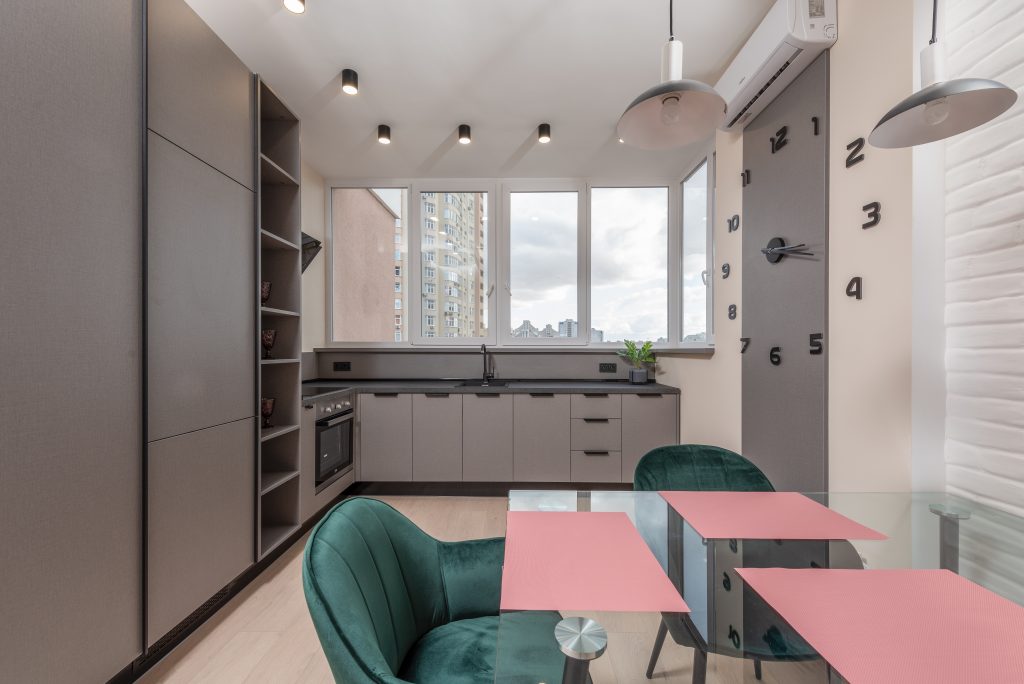 For those who want to keep their grey kitchen walls still, but inject a bit of nature, consider a green-grey. This muted hue can be used for the entire space or just as an accent wall for a daring yet subtle pop of color. With everything from sage green and olive tones to mossy greens and seafoam shades, you can find the perfect hue to fit your kitchen's theme.
The color will give off a cozy countryside feel and look great when paired with natural elements like wood floors, wicker furniture, clay pottery, or even potted plants.
⑱ Bring In Bright Neutrals
If you're looking for a more traditional way to add color to your grey kitchen, consider bringing in bright neutrals. By integrating lighter shades of beige, creamy whites, and even pastel blues into the mix, you'll be able to give the room some life without overwhelming it with too much color.
This is a great way to add softness and balance to the room, allowing you still to keep the grey walls as your primary backdrop while introducing some lighter tones for a more inviting atmosphere.
The key to using bright neutrals is to create contrast between them and the grey walls. To do this, consider adding hints of color to the kitchen island, cabinets, or furniture. Paint them in bright shades of yellow, pink, or blue to add pops of contrast and interest.
⑲ Accessorize With Colorful Kitchenware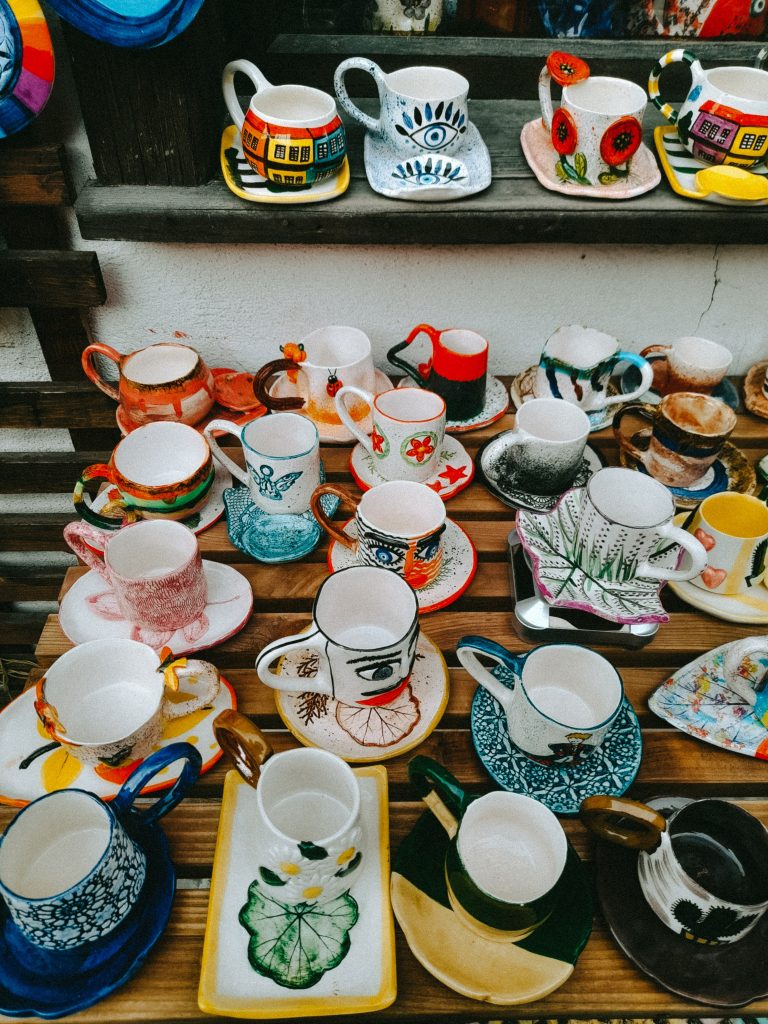 Even though you may already have a grey kitchen with plenty of color options, don't forget about the accessories. Kitchenware is the perfect way to add some fun colors and texture to your space. From brightly colored dinnerware sets, kitchen utensils, teapots, and mugs to unique cutting boards, trays, or tablecloths, you can easily create a vibrant atmosphere with just a few accessories.
If you don't want to invest in new kitchenware, consider creative ways to upcycle what you already have. Paint vases, mugs, or small pots with bright colors and use them as decorative elements on the countertop or shelves. Another great idea is to hang colorful pot holders, aprons, or oven mitts on a wall rack for an unexpected pop of color.
By following these ideas, you'll easily be able to transform your grey kitchen into a cheerful and inviting space that reflects your unique taste and style. Get creative and have fun adding color to your grey kitchen!
⑳ Steel Everything
Are you looking for a sleek, modern look in your grey kitchen? Steel can be just the right choice! Steel Everything is one of the best ways to spruce up a grey kitchen. With plenty of stainless steel options like colorful cookware, decorative tiles, and well-appointed appliances, you can incorporate hues of your choice while adding an element of style and modernity.
This versatility allows you to mix and match to achieve the perfect desired look. If you're looking for a bolder statement, try adding a steel backsplash or accent wall as an industrial touch that will add drama to your space.
Steel is also very practical, allowing for easy maintenance and durability. And because it's such a neutral hue, it can be paired with just about any other color or material, making it a great way to add some contrast to your grey kitchen space. So don't be afraid to experiment with steel – you may be surprised by the classic and contemporary looks that you can create!
㉑ Mix Greys With Warm Woods
Finally, don't forget to incorporate warm woods into the mix. Adding some natural wood pieces or furniture can be a great way to provide texture and warmth in a grey kitchen. The combination of cool grey hues with warm wooden accents will create an inviting atmosphere that's perfect for cooking, dining, or socializing. You can opt for wooden countertops, flooring, shelving, or furniture to bring a cozy and rustic feel.
The key to achieving this look is making sure the grays are not too cool and allowing for natural variation in the wood grains, so each piece adds its own unique texture and depth. This simple combination can create an elegant, modern space with plenty of warmth and character.
Frequently Asked Questions
Q: What other kitchen ideas can I use to add color to my bland kitchen?
A: There are many ideas you can use to add color and character to a bland kitchen. Consider painting the walls, cabinets, or furniture in bright shades, accessorizing with colorful kitchenware, and mixing greys with warm woods. In addition, add bold prints and patterns, bring in bright neutrals, or introduce a pop of color with a statement piece.
Q: How to make my grey kitchen cabinet look more interesting?
A: To make your grey kitchen cabinet look more interesting, you can add some colorful accents like a bright-colored backsplash, artwork, or wall decals. You can also use different finishes like matte, glossy, or textured to create visual interest. Finally, consider adding some decorative hardware, such as knobs and handles, to add an extra touch of style.
Q: Can I paint my white cabinet a grey color?
A: Yes, you can easily paint your white cabinets grey. However, it is important to make sure that you use the right type of paint and prep work for the best results. Make sure to use acrylic-based paint on the cabinets and properly sand them before applying the new colors.
Q: Which color scheme goes well with grey kitchen cabinets?
A: A great color scheme to use with grey kitchen cabinets is a combination of light neutrals like beige, creamy whites, and pastel blues. This contrasts the cabinets and walls while still keeping the overall look soft and inviting. You can also add pops of color by using bright neutrals on the island, cabinets, or furniture. Lastly, add some warmth with natural wooden elements and kitchenware in vibrant hues.
Q: How can I implement a modern kitchen look with grey cabinets?
A: To achieve a modern look with grey kitchen cabinets, consider combining them with light neutrals and bright accents. Choose furniture with clean lines and incorporate metallic elements like handles, faucets, and lighting fixtures. You can also add some texture to the space by installing a marble or stone backsplash or splash guard. Finally, use a variety of materials such as wood, metal, or glass for the countertops and shelves to add more visual interest.
Final Words
Having a grey kitchen can be a great way to create a stylish and timeless look. With the right combination of colors and materials, you can easily make your grey kitchen look modern, inviting, and unique. So have fun mixing greys with warm woods, bright neutrals, and pops of color to bring life into your space!
And don't forget to add plenty of natural elements like wood, stone, marble, and glass to make your kitchen look even more beautiful. With a little bit of creativity, you can transform an ordinary grey kitchen into one that is truly extraordinary!