Sooner or later, you'll get to the kitchen if you're packing everything up yourself or only packing the items you're confident you can accomplish and leave the trickiest things to expert packers. The sheer variety of flatware, tools, cookware, plates, tubs, cups, dishes, glasses, tiny kitchen equipment, and huge kitchen equipment makes the kitchen one of the trickiest rooms to pack. This will end you up thinking of ways how to package knives for shipping.
The kitchen is likely to be full of fragile items that will be damaged or lost during transit if not packed correctly. But knives are likely to be the first problem you run into when moving. If you have a cutlery set with ten or more individual knives, each with a specific purpose. You may be at a loss as to how to package knives for shipping without causing any harm to other belongings, you, or your movers.
How to Package Knives for Shipping: Know the Reasons Why Knives are so Tricky to Pack?
There are a lot of factors that make it challenging to safely store kitchen knives. The main danger comes from their long, sharp, open blades. The wide range of knife sizes and shapes also makes them difficult to pack for a move.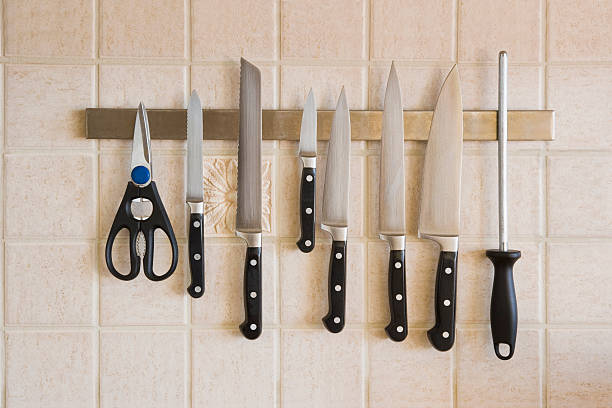 Open Sharp Blades
Cutting surfaces on kitchen knives can be a hazard during a move for a number of reasons. One of the most important things to remember when moving is to secure any knives with open blades so that they cannot injure anyone. When moving from one house to another, there are two primary risks involved with bringing knives:
1-Injuries or Cuts
Cutting oneself with a kitchen knife is a real possibility, whether you're packing them up for the move or unloading the kitchen-labeled boxes once you've settled in. When packing knives, you risk injuring yourself most severely in the hands and fingers. So, knowing the ways how to package knives for shipping is a better idea.
2-Trouble with Property
Damage to other boxes or home objects in the moving truck is another reason for the difficulty of packing knives. Boxes include furniture, which could be damaged by kitchen knives if they are not packed properly.
Various Sizes and Lengths
Moving kitchen knives can be difficult since they come in a wide variety of shapes, sizes, and lengths, making them awkward to safely bundle together. The extent to which you prepare meals at home will determine which, if any, of the following three types of knives you keep in your kitchen:
1-Chef's Knives
Knives such as a butter knife (with its characteristic "teeth" anywhere along a straight blade) and a paring knife.
2-Meat Knives
For carving, chopping, and slicing bones. Furthermore, knives, a fish meat cleaver. A chef's knife is included as a spare.
3-Vegetable Knives
One for peeling, one for cutting, and one for slicing with a nakiri.
How to Package Knives for Shipping: Points to Know Before Moving Your Knives
Before we get into the specifics of how to package knives for shipping, there are three safety measures you need to take to protect yourself from harm. 
Get All the Necessary Materials for Packing
During a move, cutting tools can be kept safe without having to buy any extra equipment. Why? There was plenty of plain packing paper, some bubble wrap, and some packing tape. Maybe a permanent marker is all you really need.
Materials for Safely Storing and Transporting Knives
Bubble wrap, packing paper, and packing tape are all that are needed for packing. It's going to take a lot of extra layers of bubble wrap and packing paper to make sure the blades can't cut through the wrapping.
Make sure each stack of knives is wrapped in at least three layers of packing paper.
Obtain some more manageable packing containers. To lessen the possibility of accidents, it's best to store the knives in a separate, smaller box.
Packing peanuts or crumpled paper work well for this. These will offer additional protection for the knives.
Prepare All Moving Boxes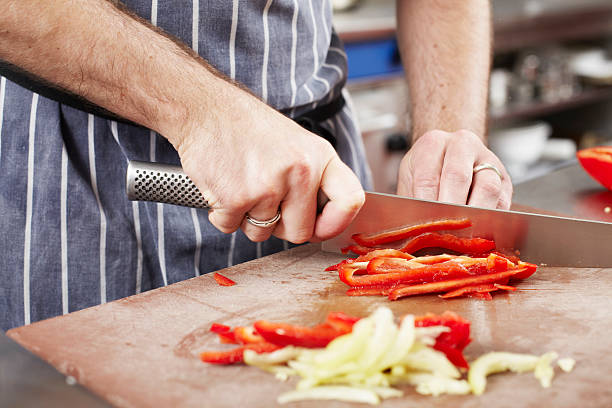 Also, gather some tiny cardboard boxes (shoe boxes work great) to hold your neatly wrapped kitchen knives. Set aside a box or crates for your knives alone to prevent them from scratching any of your other cookware. After that, fill the inside of the box with bubble wrap and stuff crumpled packing paper on the bottom to protect the cardboard from the knives.
Separate your Knives for Packaging
Before learning how to package knives for shipping, it is important to categorize your blades by kind and size. The butter knives are usually the dullest of the bunch, so keep them together. Separate the vegetable-chopping knives from the steak knives and bread knives. The last packing tip is to keep your large knives, such as your chef's blades and cutting knives, in a separate container.
Packing Knives in a Block
Knives that are already stored in a knife block should not be removed from the block before being wrapped. Steak knives and other large knives can be easily packed while still in their cutlery block to save valuable storage space. The following are the procedures for storing blades in a block:
Step 1: Tape the blades together.
Packing tape applied at several angles will secure the blades. The knives will remain safely in the block throughout the relocation. This will keep them from moving around inside the block and cutting someone while they are being moved. Using many pieces of packaging tape at varying angles, begin on one edge of the kitchen knife and wrap around the handles before moving to the opposite side.
Step 2: Get them into the knife block.
Put the knife block on its side at the end of the stack of paper, and then roll the paper up in it from all four sides.
Step 3: Bubble Wrapping
To ensure the safety of your knife block, cover it in bubble wrap after you've wrapped it in the paper. Wrap the rolled-up block in many layers of packing paper before adding a layer or two of bubble wrap on top.
Step 4: Proper Positioning
To pack, place the wrapped block at the bottom of a box containing other kitchen items. Cutlery, including your big package kitchen knives, should be stored in a separate box from the rest of your kitchenware, but the protective cutlery block should be placed at the bottom of the box.
Packaging Knives for Shipping: Cutting All the Sharp Edges
How to package knives for shipping? Knives must be packed in a way that prevents damage to both the knives and the packaging, as well as the consumers' fingers. Basics and advanced strategies for improving your cutting tool are discussed below. Of course, you'll want to bring additional stuff along—who doesn't? In order to better prepare you for your next trip, we have compiled this extensive playlist of "how to pack" guides covering a wide range of topics.
Basic Way How to Package Knives for Shipping
Once you have your cardboard boxes and packing materials ready and have arranged your sharp kitchen items, it is time to pack your knives. Here are the recommended procedures for knife storage:
1-Make them Tighter
Safer your knife bundles by sorting them by size.
2-The first knife should be rolled up in some packing paper.
The recommended number of knives per bundle is four or five. They should be coiled up tightly to prevent knives from falling out. Once again, we're looking for compact, secure packages. However, remember this – when wrapping the sheet over the pointy end of the bundle, we should allow a little wiggle room. 
In the event that anything or someone does apply a little amount of pressure to that end, the additional padding will help prevent the knife tips from piercing through.
3-Maintain the package sealed and tight having the tape stays for the entire trip. 
The sharp end is given double protection by being wrapped around and over itself.
4-Write the word "knives" in capital letters on a label and attach it to the package. 
It might also be beneficial for the person unpacking them to see which way the pointers are pointing. Take care, though, because an arrow could be misread as a command to seize the business end. If you'd like to shorten the phrase, you'll have to come up with your own abbreviation, like "SE" for "Sharp End," or "HFH" for "Handle From Here." Please, whatever it is, make yourself understood!
5-Knives inside
Put a warning on the box's exterior. It will helpful for the handler to have an idea that they will be moving a sharp tool inside the box.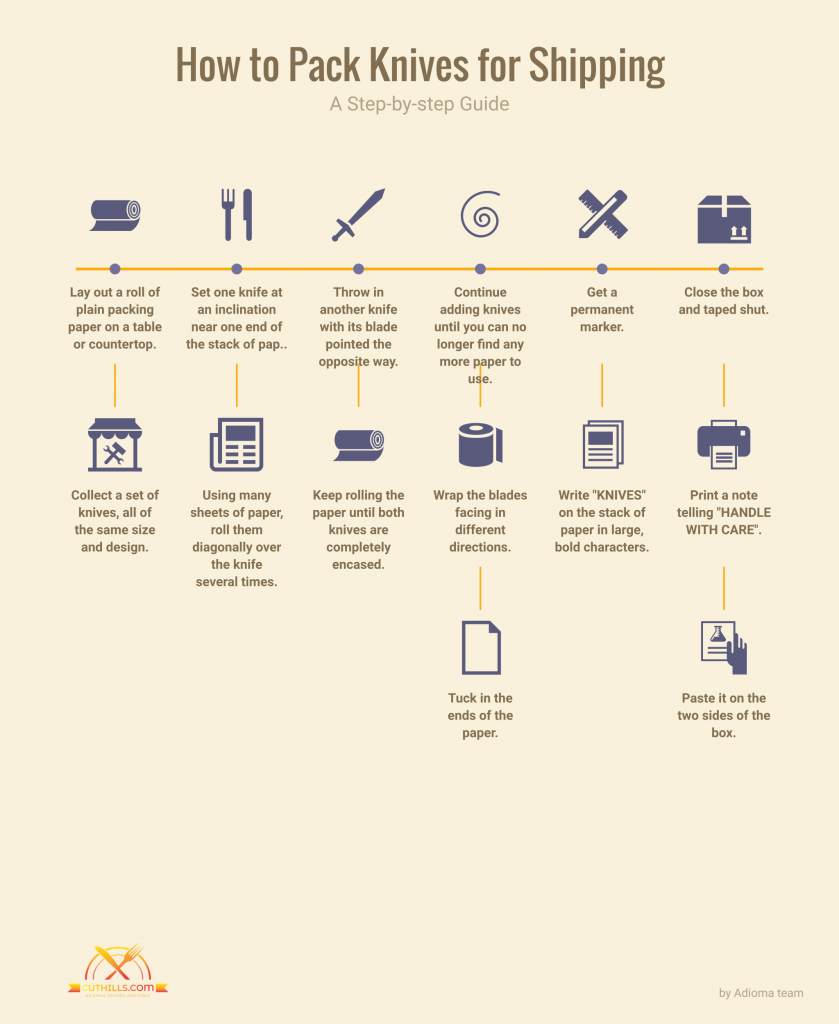 How to Pack Kitchen Chef Knives
Some chef knives may fit in a cutlery box, which can be used for storage. Knives and blocks can be kept together with just some packing paper. Then, simply wrap the cube in bubble wrap or wrapping paper, and you're ready to travel.
Because of their sharpness, chef's knives pose a risk not only to your other belongings but also to the movers who will be transporting them. It's also crucial to know how to safely pack and transport knives if you're making a solo relocation. Pack them securely by wrapping each item in a layer of old clothing or a dish towel.
Packing Knives Safely for a Move
Finally, here are some safety measures to take when moving knives: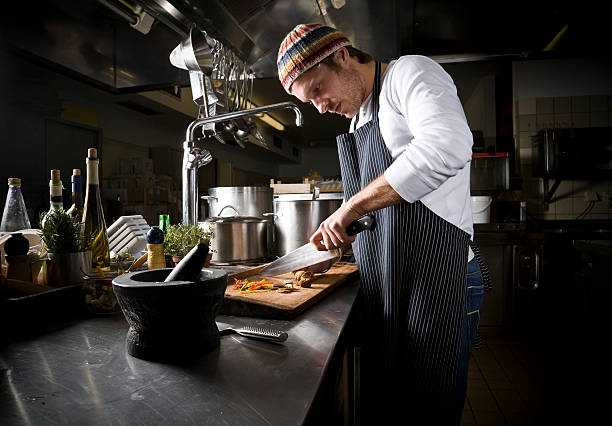 Wrap the blades of any larger or sharper knives with bubble wrap, secure them in place with tape, and then wrap the blades in packaging paper as described above.
In the same manner, you would pack individual pieces of cutlery, and securing bundles of four butter knives is recommended.
Consequently, slicing through a moving stack of paper with a knife is an extremely difficult task.
You may want to pack the towels or clothing in them to protect them from being damaged by the knives.
When putting blades in luggage, you should be extra careful because they could cause serious injuries if they fall out. Never put your bare hands near a knife's blade or cutting edge; instead, use the handles.
Frequently Asked Questions
Q: How come this particular way of storing knives is risk-free?
If you wrap each knife in three layers of paper, that's about twenty sheets of paper just to protect the blades in the paper roll.
Q: Is there a courier service that will allow me to ship knives?
Shipping knives to another country is typically not a problem for most nations. Cutting tools and kitchen blades can be difficult to ship internationally without proper preparation. So that neither the courier nor anyone else who is helping with the delivery gets hurt. Each knife must be packed separately and with a lot of padding.
Q: How do I pack knives safely for mailing internationally?
If your knives came with a case or sleeve, that's where they should stay during shipment. If not, you should construct a case out of thick cardboard to safeguard the knife.
Create a snug enough case so the blade won't move, but leave some slack so that it won't get nicked.
The homemade container should be taped up well.
Pack the knife and any empty spaces in the box.
Closing the box securely and making sure the knives aren't rattling around inside are both vital safety precautions.
Q: What kinds of materials provide the most appropriate packing for things that are easily damaged?
Whether you're transporting plates, mirrors, photos, or anything else that can break in transit, bubble wrap is your best bet. It must be used in conjunction with additional packing supplies, such as packing paper or packing peanuts, to fill in any residual gaps and holes in your boxes.
Q: With no bubble wrap available, how do you send fragile items?
Many people assume that regular wrapping paper may effectively replace bubble wrap. When used to make a cushioning layer, white packing paper can keep breakables safe during transport. Wrapping paper is versatile and effective because it can be molded to fit any object and prevents air and moisture from getting to its contents.
Final Thoughts
Delivering knives is not always easy. You should just know that knives are considered dangerous and are handled differently than regular mail because of this. Couriers make it easy to send your knives with confidence by giving you ways to track them and leave detailed delivery instructions.
Most importantly, remember to practice safe knife packing techniques when relocating. You should be careful when packing your knives and should make sure they are well protected. When in doubt, take safe practices to protect oneself and one's possessions.