Having the best kitchen gloves for cutting is a must, regardless of how good your knife skills are. After all, these are the only things that ensure your safety in the kitchen—and fingers intact! Also, this way, you don't have to worry when chopping, slicing, or mincing ingredients.
With that said, check out the seven best cut-resistant kitchen gloves below! Each product is of food-grade quality, ensuring your utmost safety when handling food.
CUT-RESISTANT GLOVES
BRAND
EXPERT RATING
CHECK PRICE

Our Top Pick!


NoCry Cut Resistant Gloves

Check Price

Dowellife Cut Resistant Gloves

Check Price

Schwer Cut Resistant Gloves

Check Price

DEX FIT Cut Resistant Gloves

Check Price

FORTEM Cut Resistant Gloves

Check Price

MAGID Cut Resistant Gloves

Check Price

Stark Safe Cut Resistant Gloves

Check Price
---
Why You Should Get Cut Resistant Gloves
Cuts, abrasions, cuts, slices, punctures, and burns are common injuries in the kitchen. And though these go away, you wouldn't want to go through the lengthy and painful recovery process, would you? That's why having the best kitchen gloves for cutting on hand is always a good idea!
These gloves protect your hands and fingers, making meal prep more manageable and safer. If you're struggling to find the perfect pair, check out the seven cut-resistant kitchen gloves below. Each one ensures safety in each cut.
---
Best Kitchen Gloves for Cutting – Our Top Picks!
OUR #1 CHOICE
OUR TOP PICK: NoCry Cut Resistant Gloves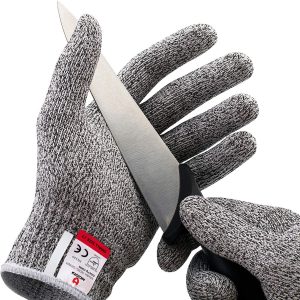 Product Name: NoCry Cut Resistant Gloves
Product Description: My pick for the best kitchen gloves for cutting is the NoCry Cut Resistant Gloves. They get rid of nearly all the risks of cuts, slices, abrasions, and burns to your hands when in the kitchen. The pair uses a unique combination of glass fiber, polyethylene, and spandex. You can see why these are among some of the best in the market, promoting comfort and protection. Aside from that, this pair is also durable and flexible, perfect for any kitchen task. Adding its comfort is its ambidextrous sizing, making the pair even more versatile! With this, you can enjoy a snug fit no matter how big or small your hands are. You can choose from small to extra large. Meanwhile, NoCry has made cleaning easy by making the gloves 100% dishwasher safe. But most notably, these have a level 5 cut-resistance, handling over 3,500 grams of pressure. In short, with NoCry, you don't have to fear cutting yourself in the kitchen ever again.
Offer price: $$$
Availability: InStock
Durability

Cut resistance

Design

Value for money
Summary
Overall, the NoCry gloves are flexible and sturdy enough to handle any kitchen task you throw at them. And since they're ambidextrous, virtually any hand can use the pair. So, for an easier and safer time in the kitchen, choose NoCry. 
My issue is since the material used for the gloves is like leather, they dry exceptionally slowly. For this reason, I don't recommend them for everyday use. That is unless you don't mind cleaning and drying the pair daily, then NoCry is the perfect one for you!
You can get them in sizes small to large, in colors gray, white, black, etc.
Pros
They're durable and flexible, using polyethylene, spandex, and glass fiber.

Level A5 or five cut resistance. 

Ambidextrous fit, perfect for any application.

The gloves are dishwasher safe and friendly. 

Small to large sizes are available. 
Cons
The gloves dry slowly, which is not ideal for everyday use. 
---
RUNNERS-UP
Dowellife Cut Resistant Gloves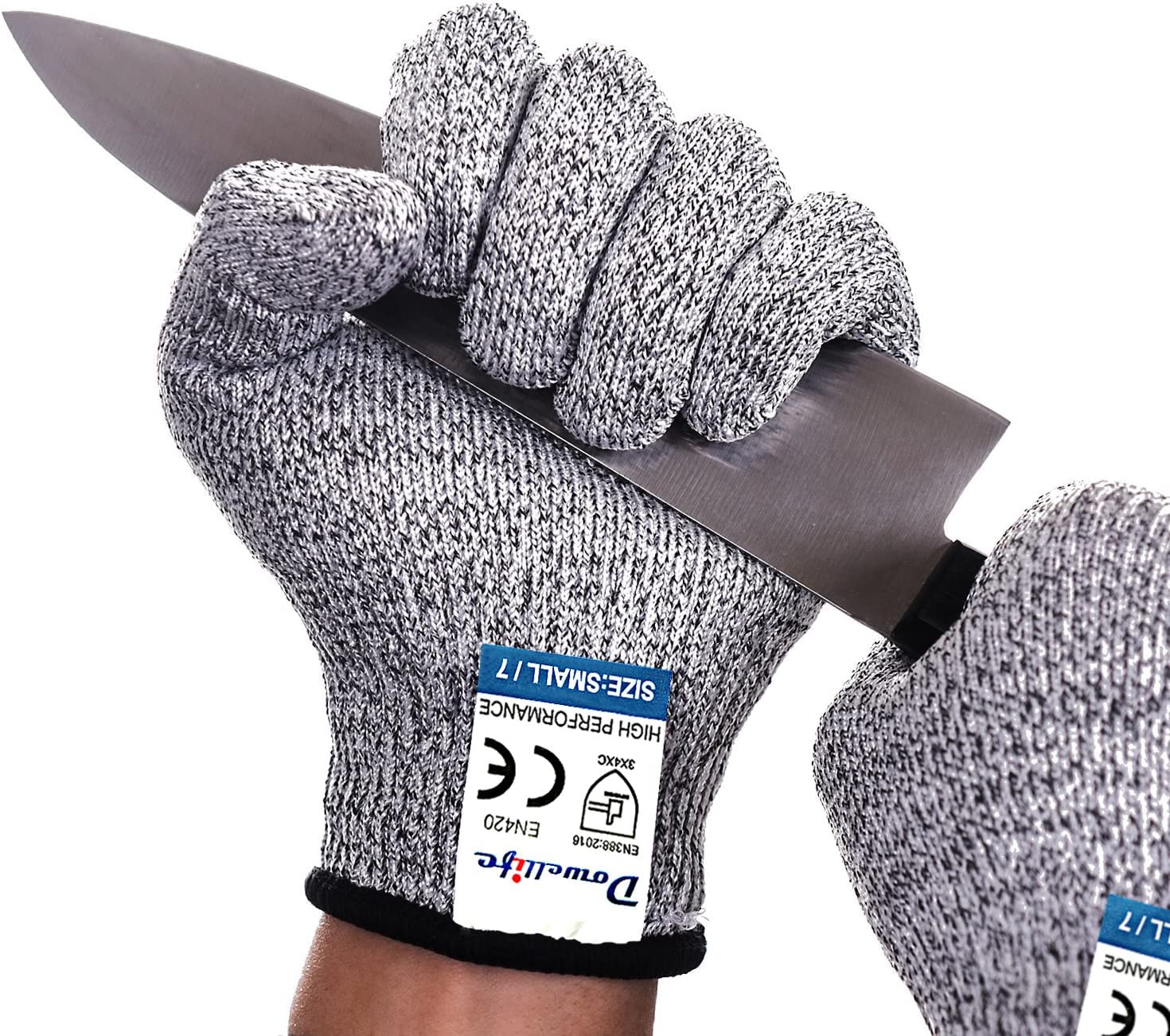 If you're looking to stick to a budget, I heavily recommend the Dowellife Cut Resistant Gloves. These are quality gloves that retail for a low price, offering optimal protection.
With spandex, polyethylene, nylon, and fiberglass used for its construction, it's easy to see why these gloves don't disappoint despite their low price tag! They have the perfect combination of materials, providing adequate elasticity. With this, you can enjoy a comfortable and secure fit.
Moreover, thanks to the pair's elasticity, you'll be able to retain all the mobility needed. And you'll be as dexterous as you can be, no matter the dish in hand.
Aside from their impressive design, these kitchen gloves are also very tough. They boast a level 5 rating, providing ample cut-resistance. But they're not as durable as others as they lack finger reinforcement.
However, even if they're not as cut-proof as others, they still offer ample protection. They can handle most sharp kitchen tools, ranging from knives to chicken skewers.
Meanwhile, when it comes to maintenance and washing, Dowellife makes it easy. The pair are dishwasher safe. Also, uniquely enough, the gloves have sewn-in hanging rings for easy drying. As a result, you only need to chuck them in after each use.
Overall, if you want to save some cash but don't want to skimp on quality, go for Dowellife. After all, there's no reason to use up your money on a pair of gloves.
You can get these gloves from small to extra large, available in a different number of pairs. 
---
Schwer Cut Resistant Gloves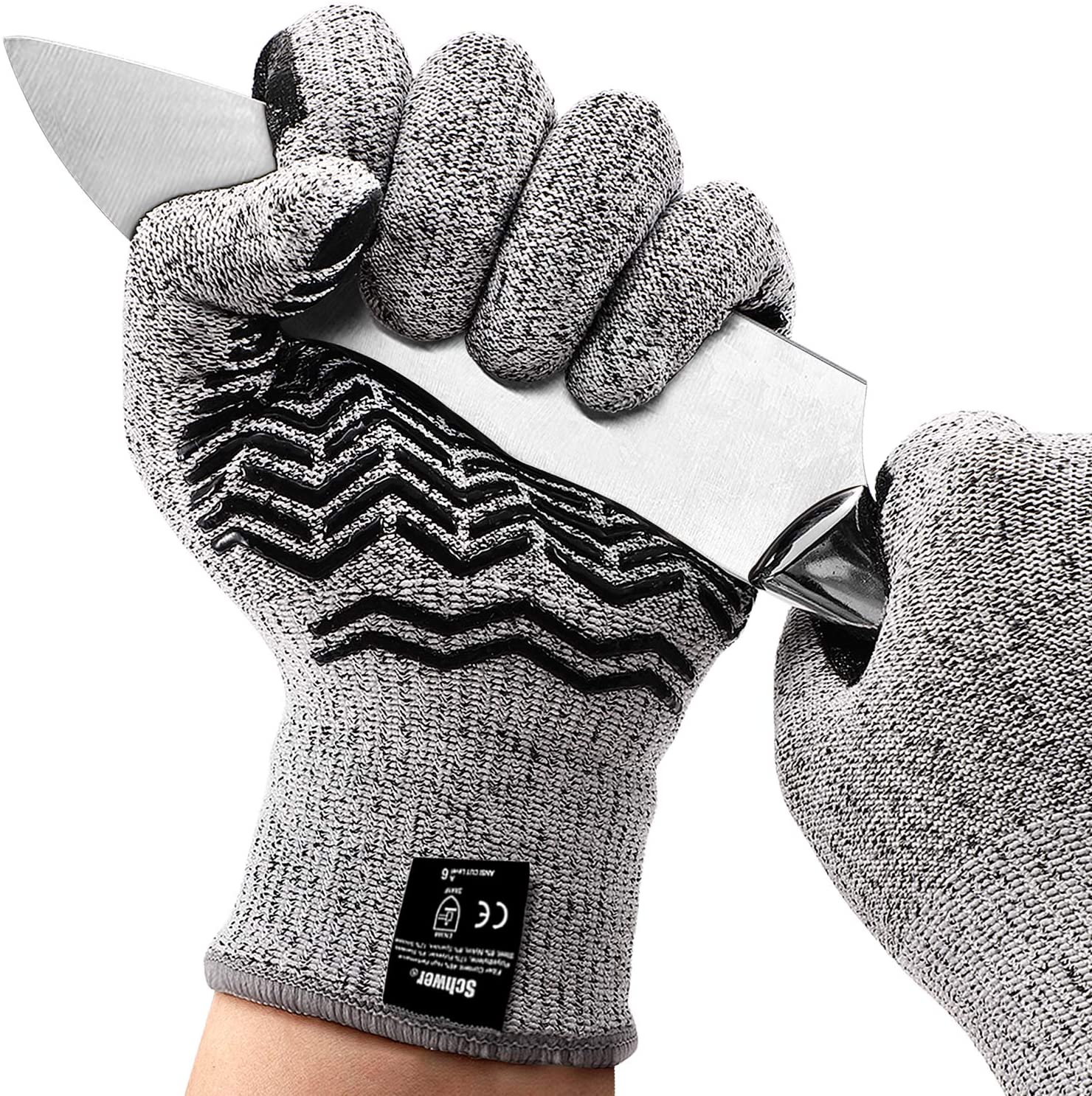 Are you looking for durable yet flexible kitchen gloves? Look no further than the Schwer Cut Resistant Gloves. This pair uses cut-resistant materials, making them stronger than other gloves.
It has a whopping level 5 cut-resistance, making them ten times tougher than normal gloves. And because of this, you can use the pair for tasks beyond the kitchen. These range from wood carving to butchering meat.
What makes this product stand out is its silicone strips along the palm. This unique addition ensures that the food you're making won't slip out of your hands. Plus, it gives you a better grip when holding knives and other kitchen tools.
Aside from added durability and grip, they helped the gloves withstand water better. After all, these silicone strips are water-resistant.
Meanwhile, the silicone strips in the palm area give you a better grip than your bare hands. As a result, you can prevent your hands from getting soaked or slipping.
Overall, the Schwer Cut Resistant Gloves are a flexible and tough pair that can meet most of your needs. So, whether you're chopping off vegetables or cutting wood, Schwer ensures optimal safety.
 My issue, however, is that despite claiming they're wear-resistant, reviews have pointed out that they wear out fast. But this was only the case with non-stop use. So unless you're going to use the gloves every day, this should last you for a while. 
---
DEX FIT Cut Resistant Gloves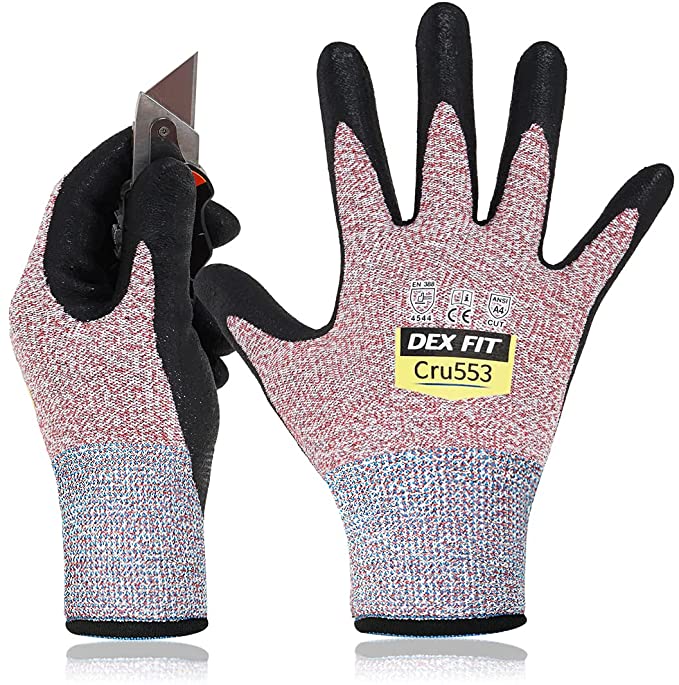 The DEX FIT Cut Resistant Gloves are the perfect all-around pair you need in and beyond your kitchen. You can use these for other tasks besides cutting, slicing and dicing food.
Promoting dexterity and secure fit, these DEX FIT gloves ensure optimal movement. And this is extremely crucial when you regularly work with sharp tools. Regardless, they can snugly fit any hand, ranging from extra small to large.
Adding to the pair's comfort levels is its water-based coating. With this, the gloves stay breathable even after extended periods.
Aside from the fit and comfort, this pair's toughness is worth highlighting. After all, thanks to its unique mix of spandex, foam, fiberglass, and rubber, you can enjoy optimal protection.
Moreover, these gloves have a level 5 cut resistance, making them the strongest of the strong. As a result, you never have to worry about getting hurt while in the kitchen again with DEX FIT.
But what made these gloves shine is their touchscreen compatibility. The fingers let you use your smartphones and other gadgets without the need to remove the pair. With this, you can enjoy a safe and convenient cooking experience.
However, these gloves are rather flimsy on the inside. They tend to fray with non-stop use over time, which can be uncomfortable. But this shouldn't impact the overall feel and practicality of the product. 
---
FORTEM Cut Resistant Gloves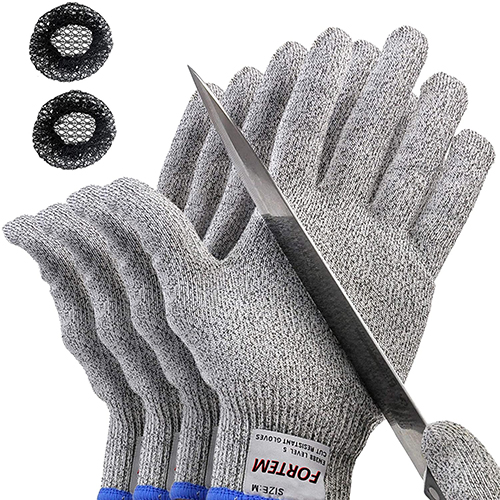 FORTEM is a name you'll often see when searching for no-frills and tough kitchen gloves. The FORTEM Cut Resistant Gloves boast level 5 cut resistance, offering advanced protection.
The pair are made with 13-gauge knitted and seamless nylon, coping level 5 protection. As a result, you get to use the gloves for different tasks in the kitchen and beyond.
From oyster shucking to slicing thick meat, cooking has never been this easy! So, whether you're a casual cook or a professional chef, this is one of the best kitchen gloves for cutting on the market.
But regardless of your intention of use, this should let you handle knives more confidently.
Aside from toughness and versatility, these also boast great comfort. The snug fit and overall design make these anti-cut gloves easier to use and maintain. It lets you handle precise blade handling with confidence, allowing you to slice like a pro in no time.
And to make it even more convenient for you, the gloves are 100% washing machine and dishwasher safe. So, after each use, you can just place the gloves in and let them air dry.
What makes these gloves stand out, however, is their one-year warranty. You can enjoy the pair while whittling, protecting your hands without worry. And you can enjoy this for a whole year! 
---
MAGID Cut Resistant Gloves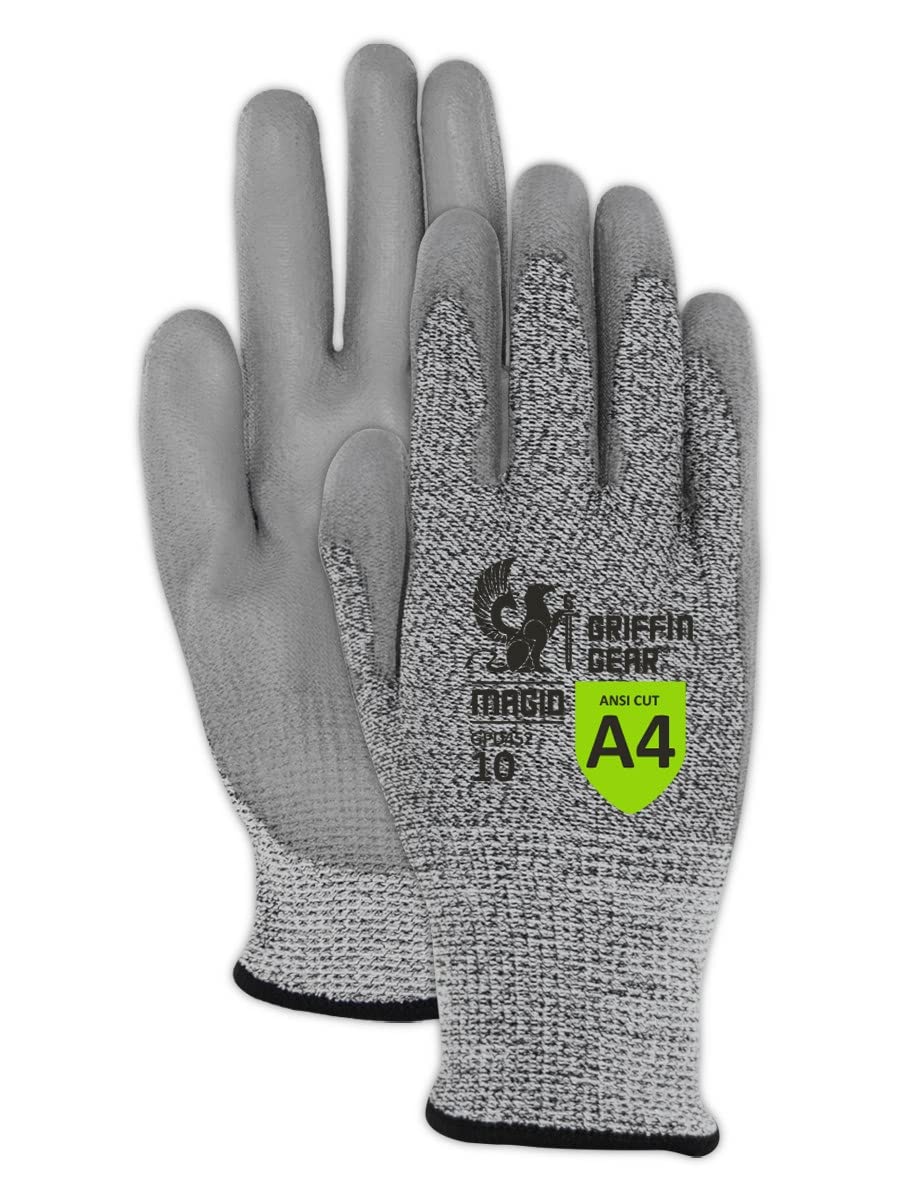 Are you having difficulty finding a pair of kitchen gloves that fit you snugly? The MAGID Cut Resistant Gloves are here to save the day.
These gloves are available in a broad range of sizes, ranging from extra small to triple extra-large. So, no matter how massive or tiny your hands are, you can now find your perfect fit through MAGID.
Besides that, the gloves are also extremely durable. They have a level 5 resistance for cut and abrasion, protecting your hands from injuries. Moreover, they're puncture-resistant. The pair has a level 4 puncture resistance, allowing it to withstand stabbing motions.
Also, the product's 13-gauge shell structure lets you enjoy 360 degrees of protection. From your fingertips to your wrists, these gloves have got you covered—literally!
Adding to the toughness of this pair is its use of polyurethane coating on the palms. However, this addition not only makes your gloves tougher but also gives you a firmer grip. With this, you can grab a hold of your kitchen tools without worry.
My only problem is that these gloves are pretty uncomfortable. Although this shouldn't be an issue for short-term cooking, they aren't the best pair for complex tasks. Anyway, if you can withstand the rough feeling of the gloves, this pair is a decent pair you should consider.
---
Stark Safe Cut Resistant Gloves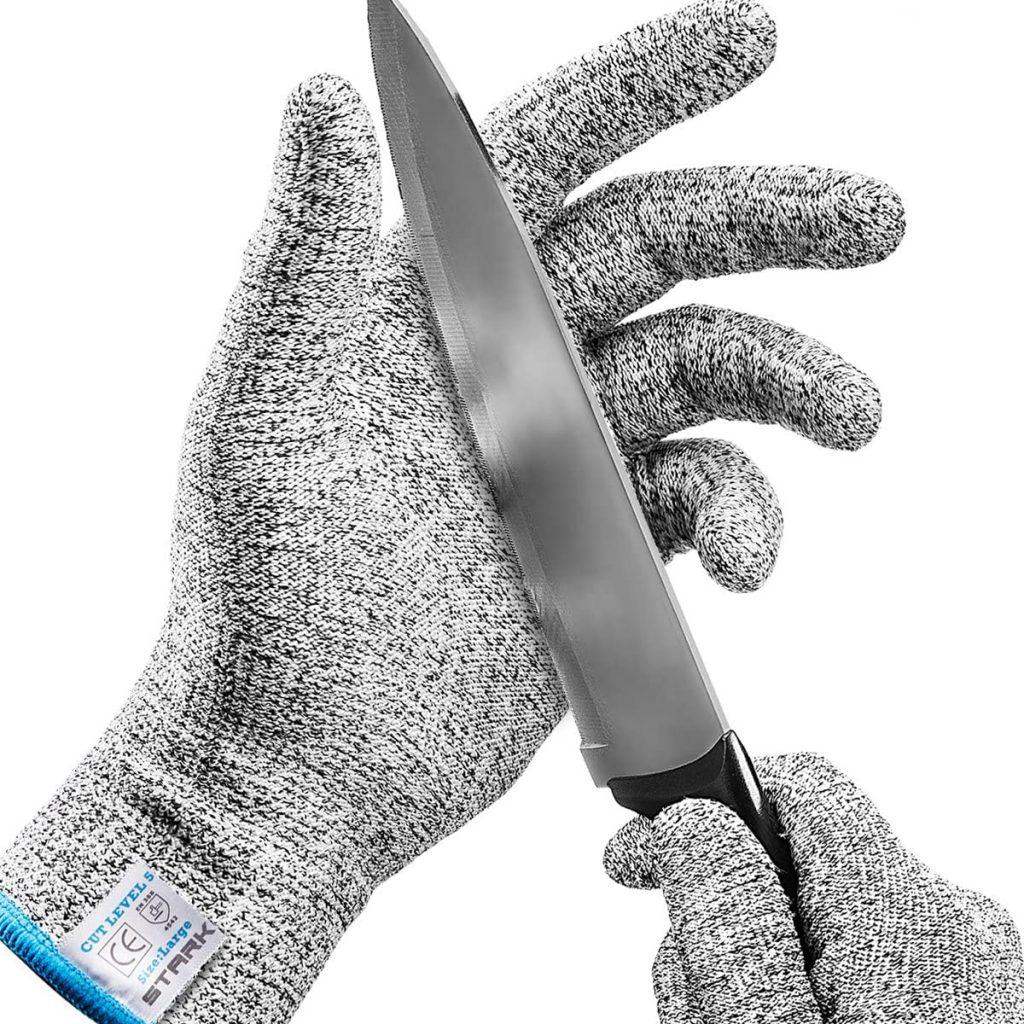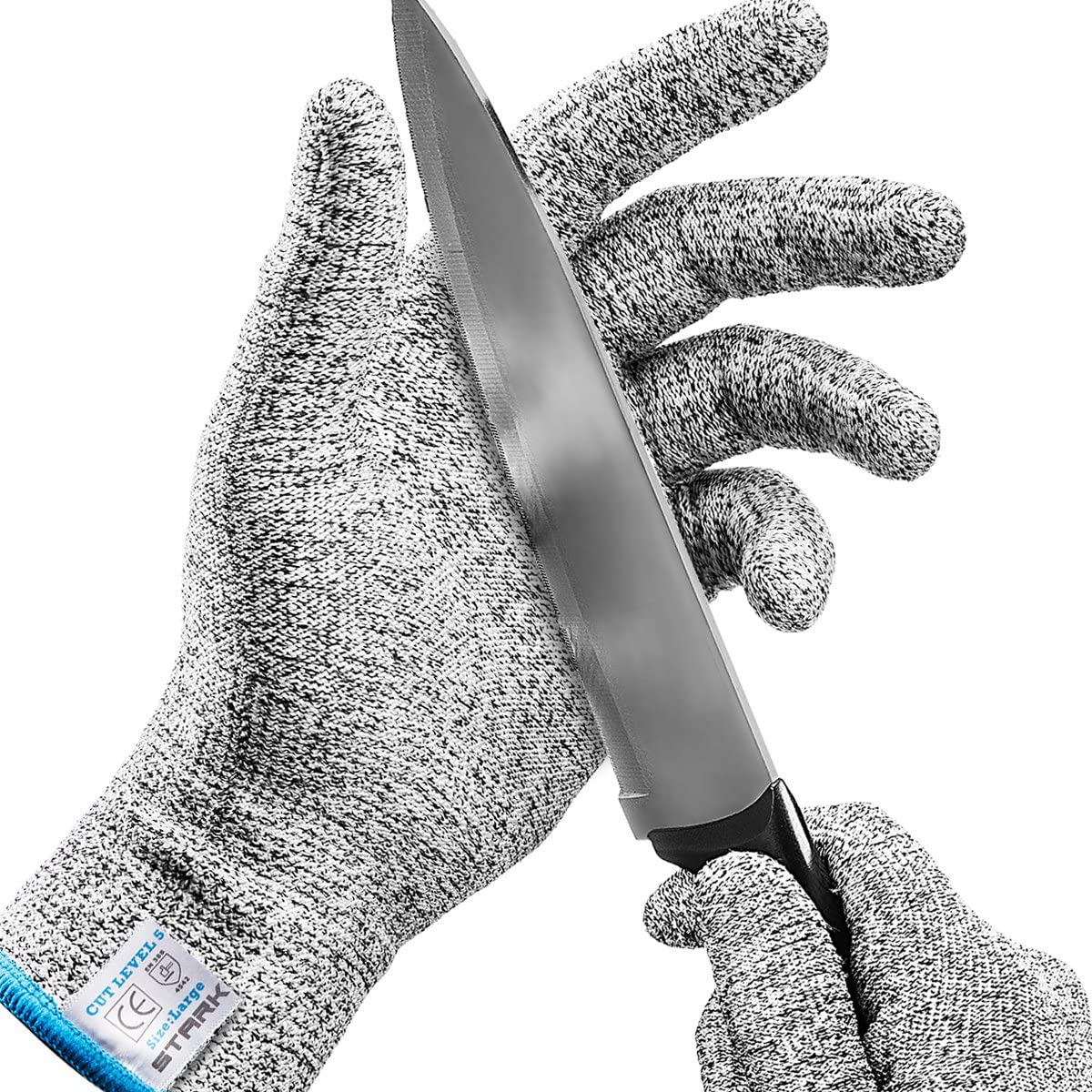 I chose Stark Safe as my last pick for the best kitchen gloves for cutting due to their snug fit and sturdy design. Coming from a brand dedicated to kitchen safety, it's no wonder why they're famous among the pros.
The gloves are made from moisture-wicking material, making the pair breathable and secure. With this, you'll be able to enjoy a snug fit without worrying about your hands sweating profusely.
Also, with its ambidextrous design, it's almost impossible not to find your perfect fit!
Aside from that, these gloves also have impressive cut resistance. The pair boasts a level 5 cut resistance, protecting you from most injuries in the kitchen.
However, what I liked about these gloves is their palm grip. Its moisture-wicking material made its grip far superior to the other listed products. You'll be able to cut anything like a pro with these gloves in no time, regardless of your experience.
But these are incredibly thick, which can get uncomfortable fast. So, if you're looking for a pair that can protect your hands for extended periods, look somewhere else. Otherwise, these Stark Safe gloves can be the perfect companion for short-term tasks.
---
How to Choose the Best Kitchen Gloves for Cutting
It's imperative to do some research when looking for the best kitchen gloves for cutting. After all, these are responsible for keeping your hands and fingers intact!
So, to make it easier, I've gone all through the points you must consider and see which gloves suit you best:
🧤 Levels of Cut Resistance
Manufacturers combine fibers and fabrics to keep up with the different levels of cut-resistant gloves. After all, every kitchen and general working environment has unique protection needs.
Generally, level cut-resistant gloves are enough if you're solely slicing vegetables and fruits. On the other hand, if you're going through thick slabs of meat you may need something beyond level 5.
Regardless, I advise you to choose carefully. After all, these pairs of gloves will be the only barrier between your hands and a sharp object.
That said, the cut resistance level of these gloves is based on four factors:
Hardness
Lubricity
Rolling action
Strength
Generally, gloves with these four characteristics make them tougher —boosting their levels. But it can be tough to determine the exact grade since brands follow different standards. While that's a thing, most manufacturers abide by the standards of the ANSI.
The ANSI determines cut resistance levels in the grams of weight applied to the tested item. And they see how much weight and force is required to cut through a material with 25 mm of blade travel.
To give you better insight, the newest levels given by the ANSI are the following:
Level A1 > 200 grams
Level A2 > 500 grams
Level A3 > 1,000 grams
Level A4 > 1,500 grams
Level A5 > 2,200 grams
Level A6 > 3,000 grams
Level A7 > 4,000 grams
Level A8 > 5,000 grams
Level A9 > 6,000 grams
Remember that these refer to the grams of weight needed to cut through particular materials. With that said, the highest you can get is level A9, protecting you from most cuts.
🧤 Materials
Aside from the cut-resistance levels, the material is also a crucial factor to consider. Although the strength of each one depends on their levels it's worth checking out. After all, different materials work on various tasks.
For instance, some work better for light kitchen preparation or handling more complicated tasks like cutting meat. With that said, here are the most common cut-resistant gloves to watch out for:
✅ Kevlar Fiber
Kevlar fibers are para-aramid synthetic fibers offering high cut resistance. Generally, most cut-resistant gloves made from this fall under level A2, but they can go higher. With that in mind, here are Kevlar fiber's most notable advantages:
Kevlar fiber is at least fives times stronger than steel when compared per unit weight.
It also has decent fire resistance, ideal for high heat kitchen environments.
Generally, lightweight construction ensures comfort and protection.
Overall, Kevlar fiber is best for food prep and other high-heat tasks like glass handling.
✅ Spectra Fiber
Spectra fibers are high molecular-weight polyethylene fibers with high cut resistance. Also, it stays resilient even when soaked! So, no matter how wet and messy you get in the kitchen, Spectra fiber gloves got your back!
Generally, most Spectra fiber cut-resistant gloves go as high as levels A4 to A5. Here are Spectra fiber's most notable advantages:
Spectra fiber is at least fifteen times tougher than steel per unit weight.
It's 40% stronger than other aramid fibers.
The material stays incredibly durable while maintaining optimal comfort and flexibility.
Low-density material allows gloves to float on water, keeping moisture out.
Spectra fiber is UV light and chemical resistant, perfect for complex kitchen tasks.
Overall, Spectra fiber is best for larger-scale kitchens like restaurants. It can also do well if you handle meat often. 
✅ Dyneema Fiber
Dyneema fibers are gel-spun and multifilament fibers, dubbed as the strongest globally. Like Spectra fiber, Dyneema also uses ultra-high molecular weight polyethylene. So, you can see why this material has high cut resistance.
Regular Dyneema fiber falls under level A4. However, it bumps a level up if you blend it with other materials like spiral-wrapped steel.
Here are Dyneema fiber's most notable advantages:
Dyneema fiber is at least fifteen times stronger than steel per unit weight.
It can withstand extremely high and low temperatures, perfect for complex tasks.
The material is over 40% tougher than most aramid fibers.
It's low-density and lightweight, ensuring comfort at all times.
Overall, Dyneema fiber is perfect for general food prep. These range from dicing, slicing, and chopping delicate fruits to tough meats.
✅ Metal Mesh
This cut-resistant glove refers to interlocked stainless steel, providing advanced protection against cuts and punctures. However, note that only gloves made with pure metal mesh are puncture resistant. So, other kitchen gloves with materials other than metal mesh still leave you vulnerable to punctures.
Generally, most metal mush cut-resistant gloves go as high-level A5. Here are metal mesh's most notable advantages:
Since metal mesh consists of metal, it's bound to stay cleaner than other materials. Hence, its gloves offer high hygiene.
Its stainless steel construction makes it more robust than other gloves.
Overall, metal mesh gloves are best for tasks involving very sharp cutting tools. For instance, if you handle meat and poultry often, I recommend this version. 
🧤 Intentions
When looking for the best kitchen gloves for cutting, you must also consider their usage. You wouldn't want to get flimsy gloves for meat cutting after all, don't you? For instance, if you're going to use the pair in the kitchen, you must ensure they're food safe. That means they should be able to let you handle raw and cooked food without cross-contamination.
Although it depends on your needs, level 5 kitchen gloves are your best general pick for food prep. 
🧤 Size
Your gloves mustn't affect your movement and dexterity when cooking. After all, not only will this mess up your cuts, but it can also harm your hands and fingers. As a result, it's imperative to pick a pair that's just the right size!
If you pick a pair that's too tight, you'll feel uncomfortable and restricted. Meanwhile, your movements will become inefficient and dangerous if you choose large gloves. So, you can see why you must consider the size carefully.
Luckily, most reputable brands like those I've listed offer sizing guidelines. With this, finding the perfect pair should be a breeze. Also, if you don't want to be bothered, there are ambidextrous gloves that fit most. It helps you be less restricted by adapting to your unique hand shape, size, etc. 
Finally, if you somehow manage to get the wrong size, don't fret. After all, you can always get elasticated cuffs. These help you secure your gloves, preventing them from sliding on and off. 
🧤 Maintenance
Since you'll be using your gloves often, you need to ensure it's easy to maintain. In other words, they should be sturdy and easy enough to wash after each use.
I know this seems like a hassle, but it is necessary to clean your gloves after each use. Luckily, you don't have to manually wash most gloves as many brands make their cut-resistant gloves dishwasher-friendly. So, you can just chuck your pair in after use.
But, I have to warn you that most gloves of that kind are vulnerable to machine drying. It wears out the pair's material, degrading faster than usual. I suggest letting their gloves air-dry before using them again.
However, if you have slow-drying kitchen gloves, that might be challenging to follow. So, if you cook daily, I recommend investing in several pairs of cut-resistant gloves. This way, you can alternate your gloves depending on your washing schedule.
🧤 Style
Many people overlook this factor, but style is more crucial than you think. The colors and styles of these gloves can determine how visible the knife will be. I suggest light hues as they let you see your kitchen tools better, avoiding potential cuts.
On the other hand, I recommend darker gloves if you have bright kitchen knives and other tools. Either way, don't forget to consider the style to boost your protection further!
🧤 Comfort and Feel
The last consideration for the best kitchen gloves for cutting is the comfort and feel. After all, no one wants to use gloves that are one size too small or generally uncomfortable. And it just defeats the purpose of purchasing a pair in the first place.
Fortunately, most brands make their cut-resistant kitchen gloves fit snugly. With this, your search shouldn't be complex nor take too long. But aside from that fit, you should also consider the breathability of the gloves.
For instance, what happens when a dish requires at least two hours of preparation? You wouldn't want to go through the whole thing with sweaty hands, would you? So, carefully consider how breathable the gloves are first to ensure comfort all the time.
Not to mention, you won't have to worry about your hands slipping inside the gloves, causing damage. 
---
Additional Safety Cutting Tips to Remember
While the best kitchen gloves for cutting guarantee safety, be more cautious. After all, anything can happen in a place filled with sharp things, fire, and food. That said, check out a few of my proven tricks and tips for cutting safety in the kitchen:
Grab by the handle. Make sure always to get your knife by the handle and never touch its blade. And yes, you should do this even when the knife has a dull blade.
Always chop on a flat surface. I recommend getting a reliable cutting board that fits your current knife. And regardless of what you get, make sure to always slice and dice on a flat area.
Choose the right knife size. Knives come in different sizes for various purposes. So, it only makes sense to grab the correct knife size for that task you have at hand. For example, if you're slicing broad cuts of meat into smaller pieces, a large and sharp knife should do.
Chop food items away from their bodies. It reduces your risk of getting into an accident while cutting away.
Wash after use. Never submerge your knives into the water. After all, it promotes faster rusting. So, I suggest washing your blades quickly and letting them air dry.
---
Frequently Asked Questions
Q: Is it necessary to get cut-resistant gloves?
A: If you often cook dishes involving sharp tools and appliances, you need cut-resistant gloves. These keep your hand and fingers safe and intact, protecting them from most dangers. However, I also recommend getting a reliable pair even if you don't cook much. After all, it's better to be safe than sorry. And it only takes a single mistake for something to go wrong in the kitchen.
Q: Can cut-resistant gloves protect me from all kinds of cuts?
A: There are different resistance levels to these cut-resistant gloves. And not all tiers can protect you from all cuts. However, gloves with Level 5 ratings above might do as they can withstand over 3,000 grams of pressure. But, like any other product, these cut-resistant gloves do have a limit. So, I still recommend being cautious.
Q: What are level 5 cut-resistant gloves?
A: Level 5 cut-resistant gloves are some of the toughest, handling over 3,500 grams of pressure from a blade. These are stronger than the standard EN388, but they cost more.
Q: What's the best way to choose cut-resistant gloves?
A: You must consider many factors, but the level of protection is the most crucial for cut-resistant gloves. You can find these in the form of two ratings, which come in two versions: the ANSI and EN. Either way, these should give you a good insight, helping you find the best kitchen gloves for cutting.
Q: Do professional chefs wear cut-resistant gloves?
A: Chefs that regularly handle meat and other tougher ingredients wear cut-resistant gloves often. After all, they handle sharp tools daily, protecting their hands and fingers from any possible injury.
---
Final Words
The key to protecting your hands from most dangers in the kitchen is cut-resistant gloves. Investing in these reduces the risk of cuts, scratches, and burns while doing different tasks! I stand by the seven products mentioned, ensuring your safety at all times.
So, whether you're a professional on the clock or a casual cook at home, investing in the best kitchen gloves for cutting is best for you—and your hands!