The knife itself is the primary tool in any knife set. You can't do much chopping or slicing without a good knife in your kitchen. You can select between Western knives, which are primarily created in Germany and France, and Japanese knives, which are produced in Japan. With that, we will try to discover the best budget Japanese chef knife.
Although Western-style blades are prized for their longevity and bulk. Japanese knives are admired for their sharpness, precision, and ease of use. Since the days of the samurai, who wielded swords of unimaginable sharpness, Japanese craftsmen have been honing their craft.
To prevent your knives from rolling around in a drawer, though, you may want to get an organizer. There are many factors to consider, such as whether you want to begin with a nakiri or a santoku, whether you want a single or dual bevel, and whether you can sharpen your knife at home. Below, we will find more of that, and of course, the list of the best budget Japanese chef knife.
Japanese Kitchen Knives – The Origin
The lengthy tradition of sword manufacture in Japan is the ancestor of the modern Japanese kitchen knife. Once the Meiji Restoration of the mid-19th century outlawed the use of samurai swords. Metalworkers refocused their efforts on producing knives for domestic usage. Seki, in the heart of Japan, is now widely recognized as the country's knife capital. It is completed with museums and exhibitions. Even festivals devoted entirely to the bladed implement.
Looking for the Best Budget Japanese Chef Knife – Why Japanese Knives?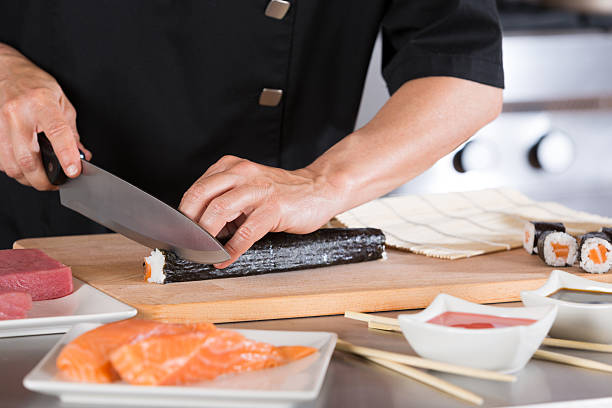 Japanese knives are known for their superior balance in the hand, as well as they are stronger. The thinner steel can maintain an edge for longer. This is why they are so well-liked among chefs and why they are ideal for the kind of precise work that cooks do all day long.
In addition, it is important to remember that each type of Japanese knife has a unique purpose.
How Are Japanese Kitchen Knives Different From Western Knives?
Japanese blades differ from their Western counterparts in a number of respects. The most noticeable difference is in the edge grind. Almost all knives made in the Western tradition feature a double bevel. Both sides of the blade have razor-sharp precision. In contrast, Japanese knives often have single-bevel blades. What this signifies is that the object has only had one side ground.
In Japan, the tradition of using a single bevel blade dates back centuries. The custom's origin is lost to time, but it continues to this day nonetheless. Its blade has a chisel grind, or single-sided sharpening, and is made for clean slicing. The blade of a traditional Western dual knife will have two converging angles ground into it. A single-bevel blade has only one side honed, producing a razor-sharp cutting edge.
Tips for Buying the Best Economical Japanese Chef Knife
Chefs worldwide have long regarded Japanese knives as the best available. It is famed for its sleekness, portability, and sharpness. However, there are a few details to think through before making a purchase of the best budget Japanese chef knife. You should take into account the following factors when shopping for a knife.
☑ Blade Style
One of the most crucial aspects to think about is the blade style. Both single- and double-bevel blades are common in Japanese knives. Both the double and single bevel blades are professional quality, but the latter is more practical for regular use.
☑ Blade Type
The type of blade is the second factor to think about. Consider the category when searching for a Japanese knife. Many knives are designed for specific tasks, but Japan produces two kinds of multipurpose blades. Gyuto and Santoku are their names. If you're used to a Santoku knife, the Gyuto blade will seem unusually long. Therefore, Santoku should be considered if you are limited by space.
☑ Knife Handle
The final consideration is the style of the handle. Both Western-style and more traditional Japanese handles are available on Japanese knives. The Western handle is curved for a luxurious grip and fastened to the blade with rivets. So, the entire blade may be grasped. However, the traditional Japanese handle is tubular, lighter, and always made of wood. 
If you aren't used to the traditional Japanese handle, it may be hard to hold at first. Once you get the hang of it, however, it can provide you with a greater delicacy of touch and command. Find the solution that suits you best.
☑ Material
Graphite vs. stainless steel: Which is better? While searching for knives, you're faced with this dilemma. In the first place, carbon is always present in a knife. It is a part of the metal source that is utilized for blade making.
When talking about material, words like "high-carbon stainless steel" mean that it needs to have a lot of carbon in it. Carbon knives are still made of steel, but adding stainless steel to them makes them last a lot longer.
Carbon steel knives are strong and keep their edges for a long time, but they rust and break down quickly. The chromium in stainless steel keeps it from rusting or oxidizing, which makes it a good addition to many metals. Moreover, the chromium in blades is what gives them their signature silver sheen and allows them to go longer between polishings without losing their luster.
☑ Upkeep
The maintenance of Japanese knives is slightly more involved than that of Western knives. Most blades are made of ice, so harsh detergents or the spray from a dishwasher could make them brittle. It causes them to break. 
Also crucial is the subsequent step of drying them quickly after washing. This prevents them from rusting or getting watermarks. Facing the high temperatures and moisture levels found in a dishwasher can cause the handles to break. Not to mention, you value the aesthetic aspect of your expensive knives.
☑ Capacity
If you're set on using only one knife at a time, you have a few choices. Protective sheaths are included with some knives. To prevent your knives from rolling around in a drawer, though, you may want to get an organizer. Knives can be safely stored in one of many different in-drawer organizers, which are available in a range of materials and sizes.
If you have the room, magnetic strips that you can mount to the wall are an excellent option. They're handy to have next to your prep area, and you can get them in a wide range of stylish materials to match any kitchen decor.
List of the Most Budget-Friendly Japanese Chef Knife
We've gathered six of the best budget Japanese chef knife money can buy to help you feel like a pro in the kitchen every day.
OUR TOP PICK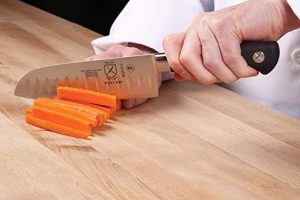 Product Name: Mercer Culinary 7-Inch Santoku Knife
Product Description: Every kitchen needs the brand-new Mercer Culinary Genesis Forged Santoku Knife, which is revolutionizing the knife market. Even when your hands are slippery from cooking oils, this knife seems like it was never there. The ergonomic Santoprene handle has been meticulously engineered to ensure a firm grip. Your hands won't get fatigued from cutting an infinite supply of fruits and veggies. If you are a professional cook or just want a high-quality knife for your house, this is the best option. It's not only one of the best-selling chef knives, but it won't break the bank either. Never before has it been so simple to debone chicken, dice fruit, and chop veggies.
Availability: InStock
Easy to hold

Ergonomic

Maneuverability

Versatility
Summary
The fact that it has been given the NSF seal of approval guarantees its reliability. The knife won't rust, corrode, or discolor thanks to the German high-carbon steel material. With that, the Santoku knife from Mercer is definitely a budget-friendly kitchen item.
Pros
Pad for finger safety
Powerful, non-slip hold
Functionally simple to use
NSF approval ensures product safety.
Germany's no-stain steel is extremely durable.
Cons
Restrictive Guarantees
Each knife must be washed by hand.
RUNNERS-UP
✪ Shun Sora Handcrafted Japanese Chef Knife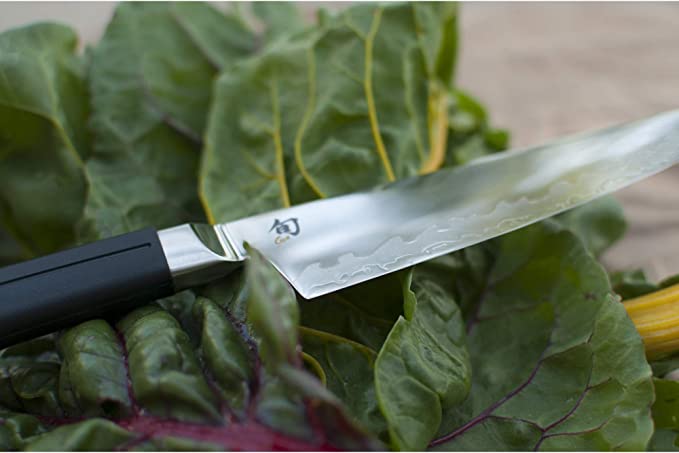 A Shun Sora knife is an investment, but you won't need to take out a loan to make the purchase. When compared to other blades, this one just cannot be beaten. Thanks to its outstanding "shun" construction, it will be a loyal companion for life. Any fruit or vegetable harvested in the spring can be securely and cleanly sliced without compromising the food's flavor or freshness. Its tiny 8-inch diameter makes it easy to hold in your hand.
This knife appears invincible due to its classic Japanese PP/TPE handle and VG-10 San Mai cutting core. The 16-degree hand-hone on the double-bevel blade is expert work, in case you're wondering how the Shun Sora can be so reasonably priced. It is known that it's an excellent Japanese kitchen chef knife. Then you can buy it for under a hundred bucks and it bears the Shun name.
---
✪ Japanese Damascus Chef Knife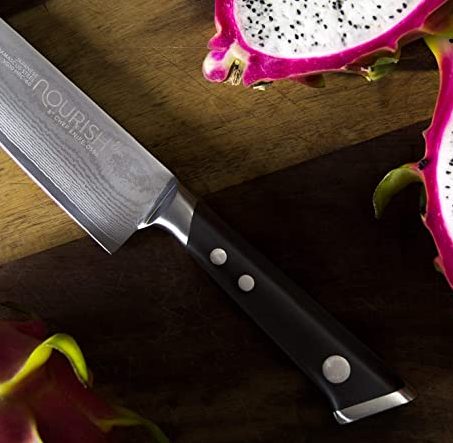 At 5 stars, it's a great deal, as 87% of buyers have said how good it is. This knife has incredible balance, but it may be too complicated for inexperienced users. Have no fear! As soon as you have a firm grasp on this knife, you won't be able to stop slicing, chopping, and dicing whatever you happen to put in its path.
The remarkable design centers your cutting motion around your index finger, where it stays balanced for maximum efficiency. Don't worry about cutting too quickly or too roughly with this knife; it won't nick or cut you.
---
✪ Dalstrong Japanese High-Carbon Chef Knife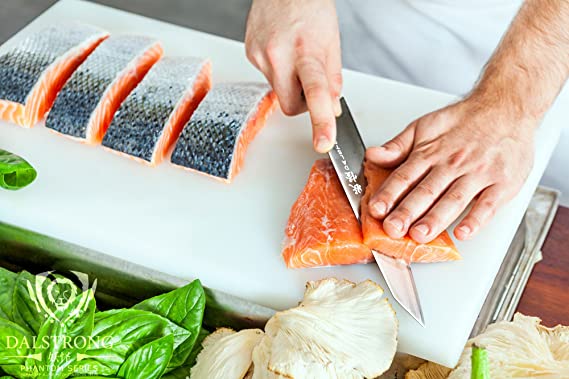 The Phantom Series Japanese High-Carbon 9.5-Inch Knife from DALSTRONG is the best cutting tool you can get. It lets you cut cleanly and precisely every time. The careful tapers, hand polishing, and honing of the long, thin blade make sure that each fish filet is good enough for sushi. The handle was made from black velvet Spanish pakka wood which is thought by many to be the best material for a heaven-sent grip.
It has been laminated and shaped such that it fits comfortably in your hand. The mosaic brass pin that runs alongside the blade gives it an air of refined elegance. This sushi knife is the best Japanese chef knife you can buy for less than $100, and it comes with a lifetime warranty and a promise that you'll be happy with it.
---
✪ Professional Gyuto Japanese Chef's Knife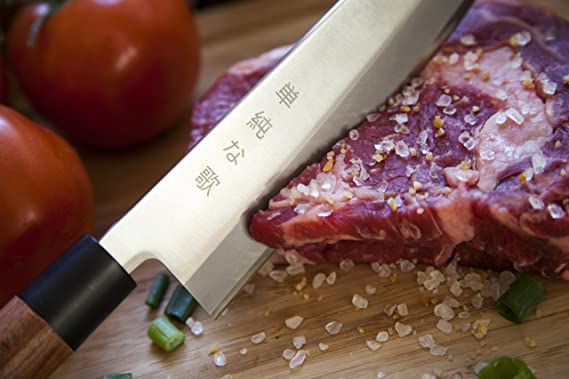 Using the traditional Japanese professional Gyuto kitchen chef's knife, you can smooth over all the bumps in the road to culinary perfection. With this knife, you can easily prepare mouthwatering sashimi, wagyu beef, turkey, pig, and beef steaks. In every steakhouse you go to, you'll find this knife because it can effortlessly slice through even the toughest cuts of meat.
This is an essential appliance for any home with a carnivorous resident. If you can achieve restaurant-quality thin slices of meat at home without tearing out the fibers, why eat out? The Gyuto Kitchen Chefs knife features a full tang and a 30-degree sharpened edge, making it an excellent choice for any serious cook. Its blades are made of rust-proof 420HC stainless steel. The heat treatment of the blade ensures that it will keep its edge for as long as possible.
---
✪ Hanzo Katana Series Chef Knife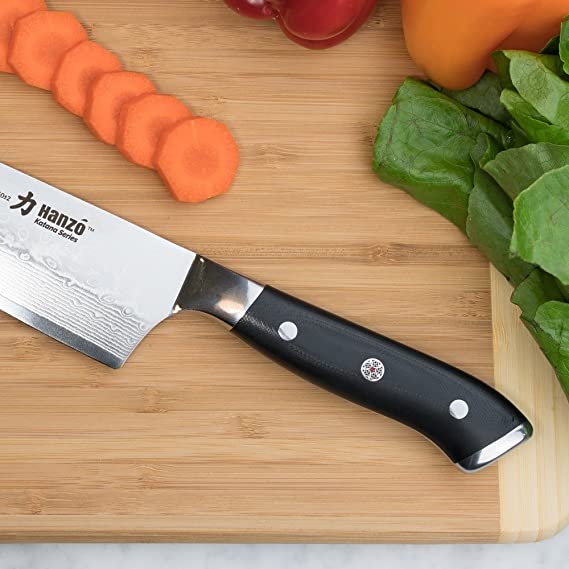 Are you sick of spending money on knives only to have to spend more money keeping them sharp and free of rust? The Hanzo 8-inch Chef Knife from the Katana collection is coming to save you from that predicament. Due to the exceptional edge retention, rusting of the knives is not a concern.
The material behind this knife's blade is stainless steel. It has been coated in an additional 67 layers for maximum luster. This knife is so effortless to use since it offers no resistance while slicing through anything from meat to carrots. Chefs like this knife because it is easy to hold and does a good job of cutting all the time.
A non-slip safety feature ensures that you can make clean cuts even if you close your eyes. Use this one-of-a-kind knife to make an impression and get others excited about cooking. In my opinion, the Hanzo chef's knife is the best option.
---
Frequently Asked Questions
Q: What is the recommended frequency for sharpening Japanese knives?
Never let your knife get so dull that it mushes a vegetable. That's a sure sign it needs sharpening. Maintaining your knives properly will ensure that they can handle any job. The intervals between sharpenings should always be determined by the frequency of use.
If you're doing a lot of cooking, you should sharpen your knives at least twice a month. The recommended frequency for knife sharpening is once a year. More often if you use your knives frequently.
Q: Are there any single-bladed Japanese knives?
Many people mistakenly believe that "blade" and "bevel" lies on a similar lane. But, they're not. The edge of a knife is the bevel, the ground surface that forms the blade. That's where the misunderstanding lies; a knife can be either single- or double-edged, but never double-bladed.
Q: Is there anything a Japanese knife can't handle?
Be sure that your cutting board comes from glass, ceramic, bamboo, Corian, or any other soft substance as its material. Use these instead of a tough surface like a tabletop, sink, plate, or chopping board. A cutting board made of end-grain wood or durable plastic is ideal. Try to keep in mind that your knives are not invincible and have their own weaknesses.
Q: How does one go about sharpening a Japanese blade?
If used occasionally, knives should be sharpened either once or twice a year. If used frequently, maybe once or twice a month. Honing your knife before and after use will keep it sharp for longer.
Final Words
Since Japanese knives tend to be somewhat pricey, it is wonderful to be able to get one for less than $100. With the information above about the best budget Japanese chef knives in your price range, you can get the high-end kitchen knives of your dreams. Every time you go knife shopping, make a well-informed choice. Hoping that the product list will help you to filter down your choice!